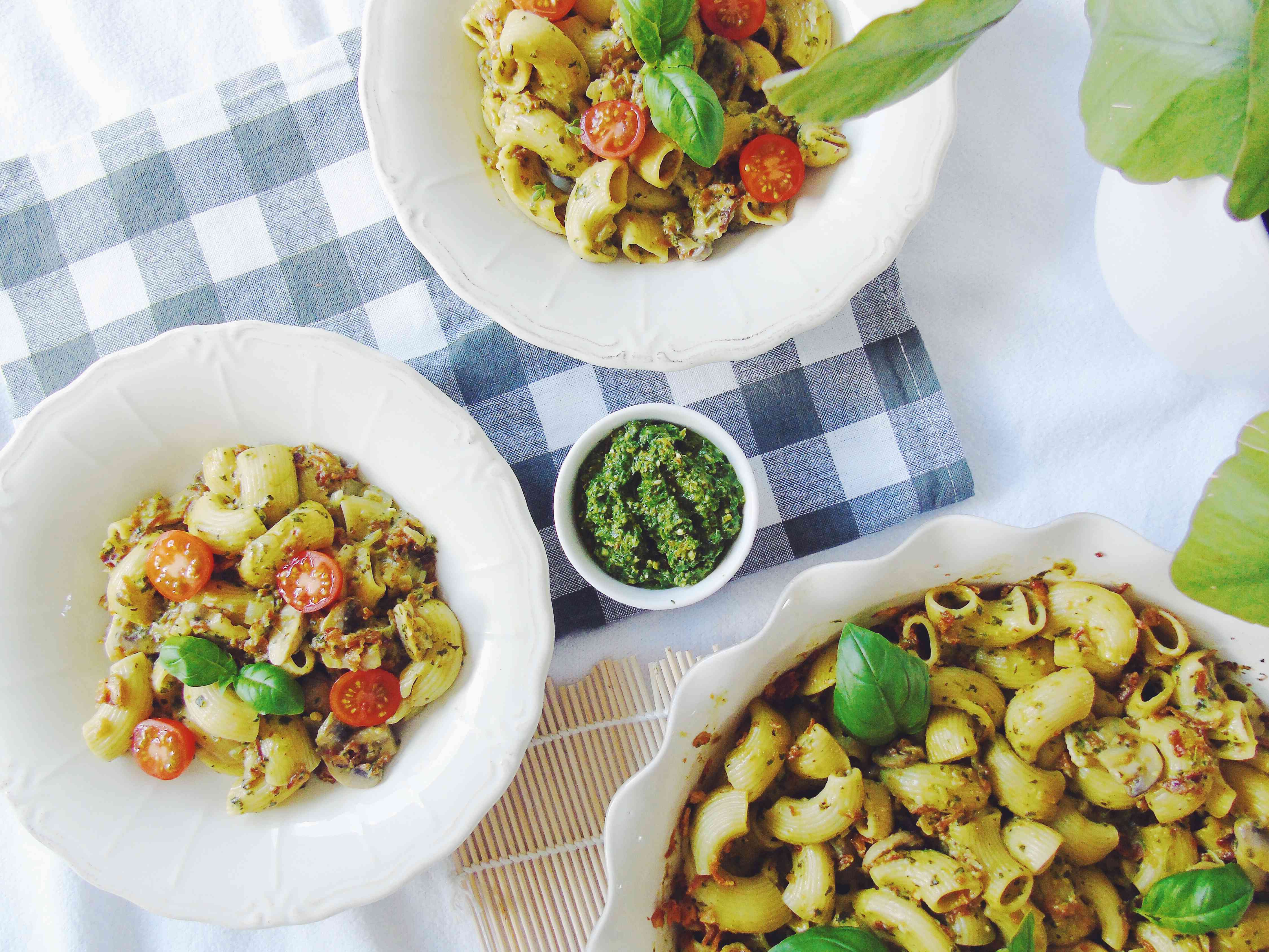 Do you also like tricking others (and of course yourself) into eating more vegetables, without them having a clue? Well this dish will do just that, you kids, significant other, friends or whoever youre serving this too will never guess the amount of spinach you've sneaked into this dish. You just sell it to them as a "pesto" pasta, and watch them munch down all of that spinach laced pasta. And since this is a two recipe post you can easily skip making the pasta and just use the spinach pesto on whatever you like, maybe a sandwich?
Growing up I used to hate spinach, I would eat it, but not without gagging. If my parents would have tricked me like this, I'm sure I would have been as strong as Popeye, right!
This is just one handful of spinach out of the four handfuls I've sneaked into this pesto, and guess what, you don't even notice it. To make the pesto I used wild spinach, but feel free to try using baby spinach, or whatever spinach you can find to make this pesto and let me know how it turned out! Apart from juices and smoothies I can't think of any other way to sneak this much spinach into someones food, its genius.
Besides being sneaky and delicious this pesto and dish work great when your low on time. To make the pesto you just pulse a couple of ingredients in a food processor and your done. To make the creamy sauce you also won't need more than 15 minutes. Another thing I love about this dish are the leftovers. You can simply store the pesto in the fridge and keep it for a couple of days and the pasta will taste just as amazing the next day, guess what I'll be having for breakfast?!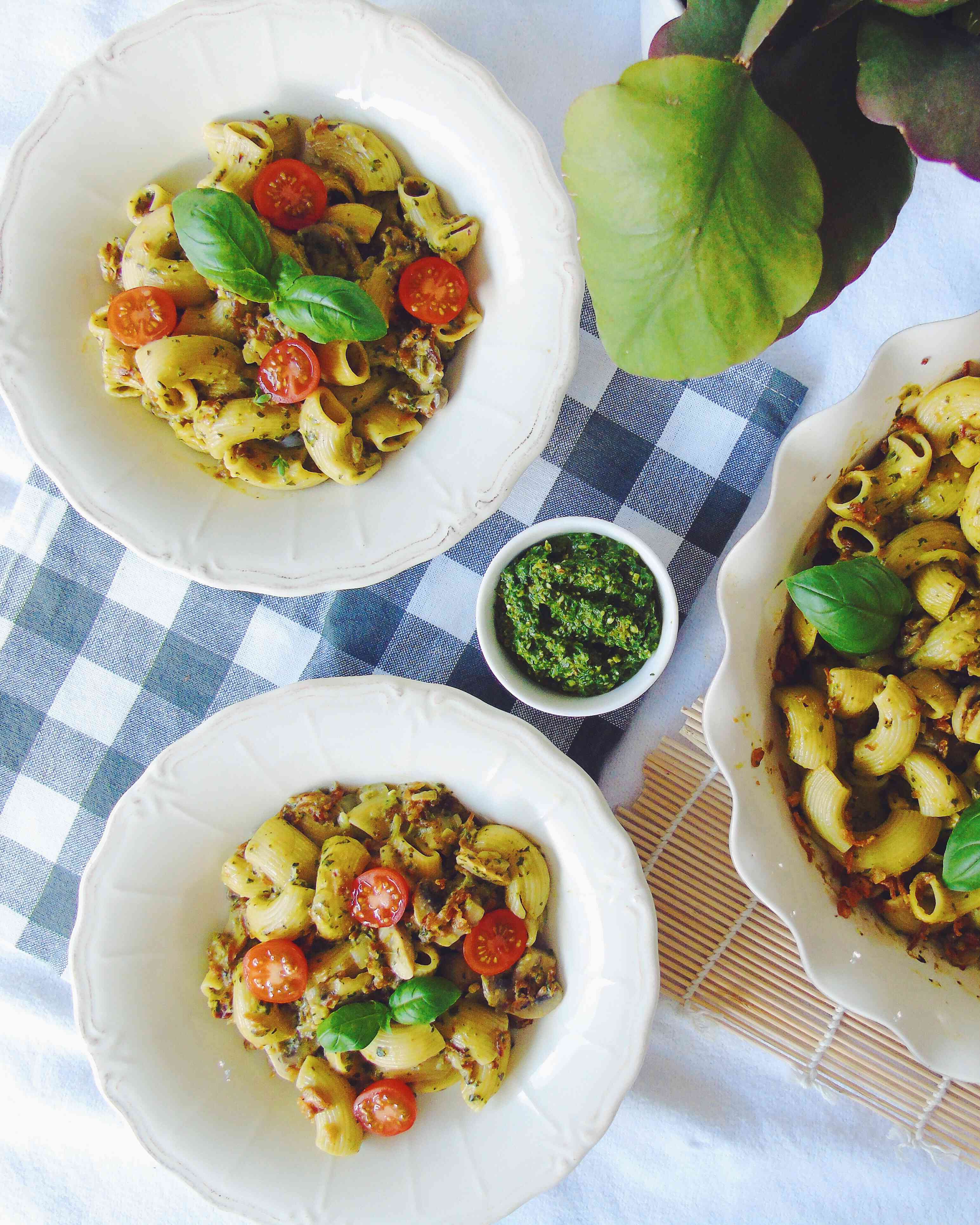 Now let's get to the kitchens and trick people into eating veggies! I hope you'll like the recipe and if you make it feel free to leave a comment or tag me in your recreations on Instagram!
Bless,
A.J.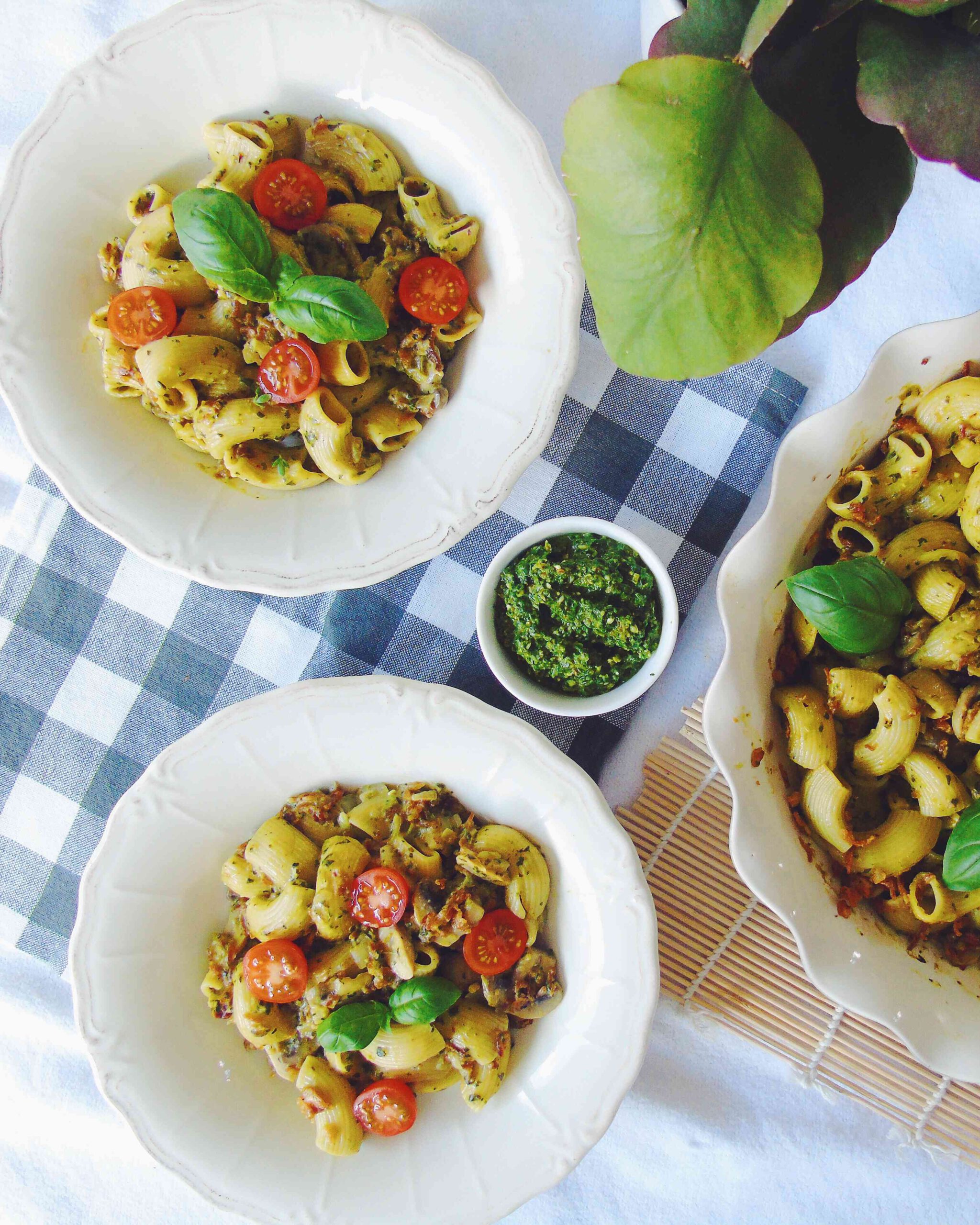 Spinach Pesto & Creamy Pesto
Ingredients
Pesto
400

grams

spinach

4 big handfuls (I used wild spinach)

5

sun dried tomatoes

1/2

lemon

lemon juice

handful

basil

1/4

cup

pine nuts

2

tbsp

extra virgin olive oil
Creamy Pasta
250

grams

pasta

cooked

1

can

coconut milk

1

onion

chopped

4

cloves

garlic

chopped

250

grams

mushrooms

1/4

cup

nutritional yeast

2

tbsp

cornstarch

3/4

cup

spinach pesto

made earlier

1

tbsp

miso

(optional)

100

grams

baked onions

(optional)
Instructions
Pesto
Add everything to a food processor and pulse until everything's broken down and well combined, it should still have a bit of texture and not be a sauce.
Creamy Sauce
Start boiling your pasta. Sauté the onion, garlic and mushrooms with a pinch of salt for a couple of minutes over low/medium heat. After they are done add the coconut milk and boil the sauce. Now in a separate bowl mix the cornstarch and miso with water until everything's dissolved. Once the coconut/mushroom sauce comes to a boil add the cornstarch and miso mixture and stir until the sauce becomes creamy. Turn the heat back to low and add the cooked pasta, pesto and nutritional yeast and stir until everything's well combined. If you want you can mix 100 grams of baked onions through the pasta (this is completely optional)