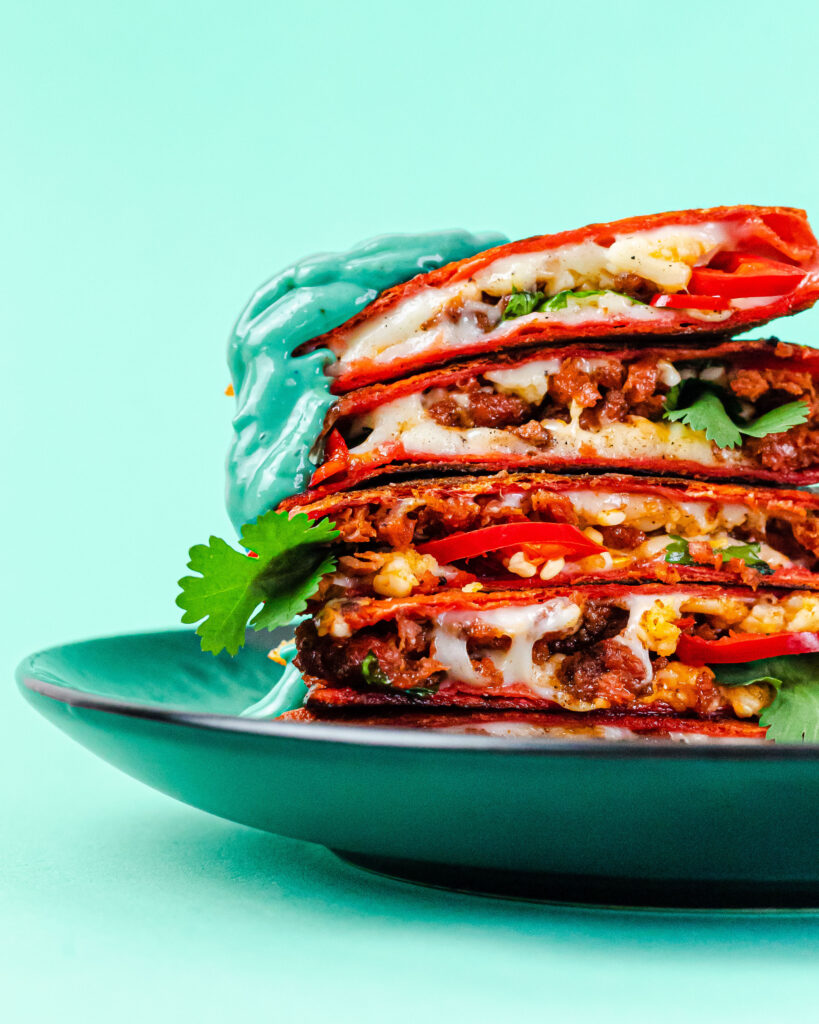 Allright, let's get one thing straight! These vegan ground "beef" quesadilla obviously have no meat, but they are just as comforting. So look no further if you need to full-fill your cravings.
As a teen quesadilla's were some of my go to meals. Let me just say that around this time I wasn't exactly know for my cooking skills, but I made a mean quesadilla. Yes, they were actually quite mean as I'd fill them with a criminal amount of hot peppers, but I loved it!
These vegan ground beef quesadilla are a less hostile so don't you worry! You can of course skip the heat by dropping the chili pepper. As for ground "beef" I went with the garden gourmet brand (not-sponsored). You can use whichever brand you prefer.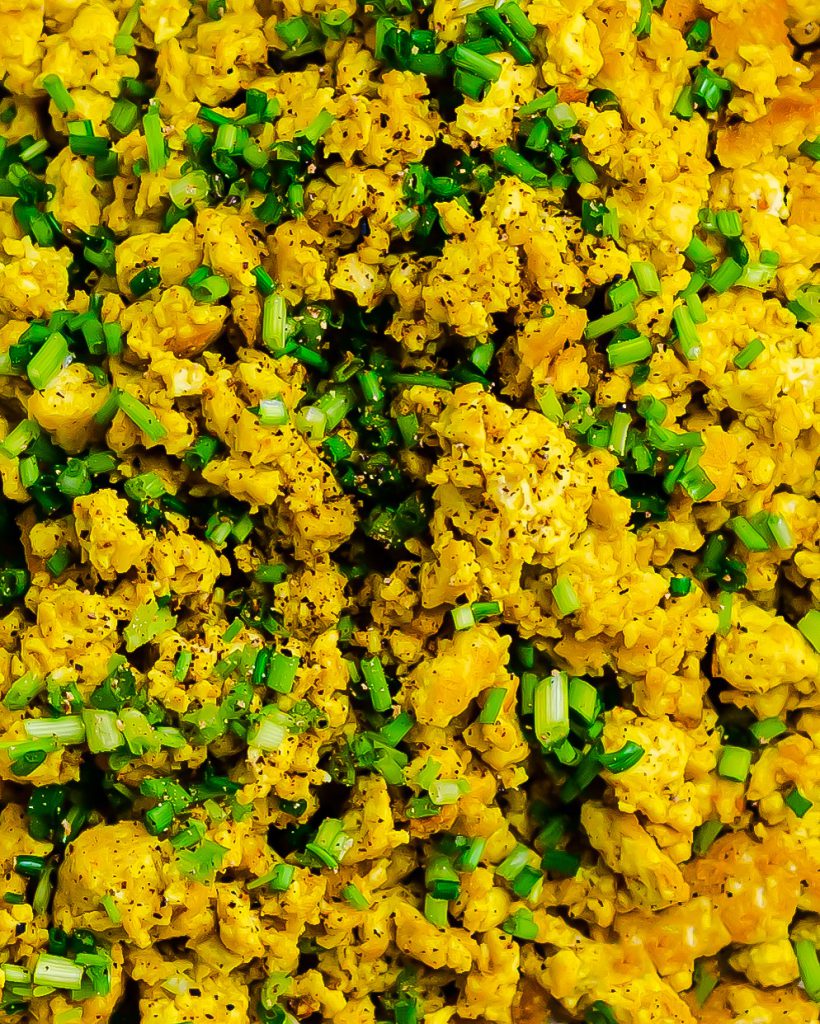 Making these vegan quesadilla without ground "beef"
If you don't want to use a vegan meat replacement and rather have a less processed form of vegan protein I've got you covered. You can swap it for tofu and if you want to up it you can use this classic tofu scramble as a base. If you do so you can skip the chives and use the spices in this recipe.
When you use the tofu make sure to squeeze out the moisture and cook it in enough oil. When the tofu has browned remove the excess oil and finish prepping with the ingredients listed below.
To finish these I added some cilantro and the blue garlic mayo from my cookbook. You can get a dutch, signed copy from the book over here. You can of course serve it with your sauce of choice.
Be sure to follow me on Instagram for daily vegan updates and recipe videos on my story highlights. I also have a Pinterest account where you can find more food inspiration.
One love, Jason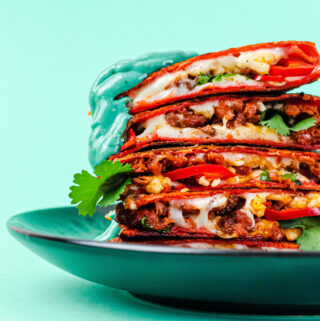 vegan ground meat quesadilla
A comforting recipe for a vegan cheesy and meaty quesadilla
Ingredients
4

tortillas of choice

200

gram

vegan ground meat

whatever brand you like best. for example, beyond meat

1

red onion

chopped

3

cloves

garlic

minced

1

chili pepper

finely chopped

1

tbsp

tomato puree

1

tsp

cumin

ground

1/4

tsp

nutmeg

ground

1/2

tsp

all spice

ground

1/2

tsp

smoked paprika powder

1/2

tsp

black pepper

ground

1/4

tsp

salt

or more to taste

200

gram

vegan cheese

shredded
Instructions
Warm a pan over medium/high heat, add a splash of oil and cook the onion, garlic and chili for about 2 minutes. Add the vegan ground beef and cook this for 5 minutes. Add the tomato puree and spices and stir well, cook for 1 minute and taste for salt.
Assembling the tortilla
Lay the tortilla on a flat surface, cover half of it with some shreds of vegan cheese, add a bit of vegan ground "meat", top off with some more cheese and fold to close.

Warm a pan over medium/low heat and add a gentle splash of oil (about a tsp), place the tortilla and press lightly. Cook with a lid until the bottom is brown and crisp. Flip and press gently, cook without a lid until the other-side is crisp too.

Serve with some cilantro and sauce of choice. Here I used the blue garlic mayo from my cookbook. Enjoy!