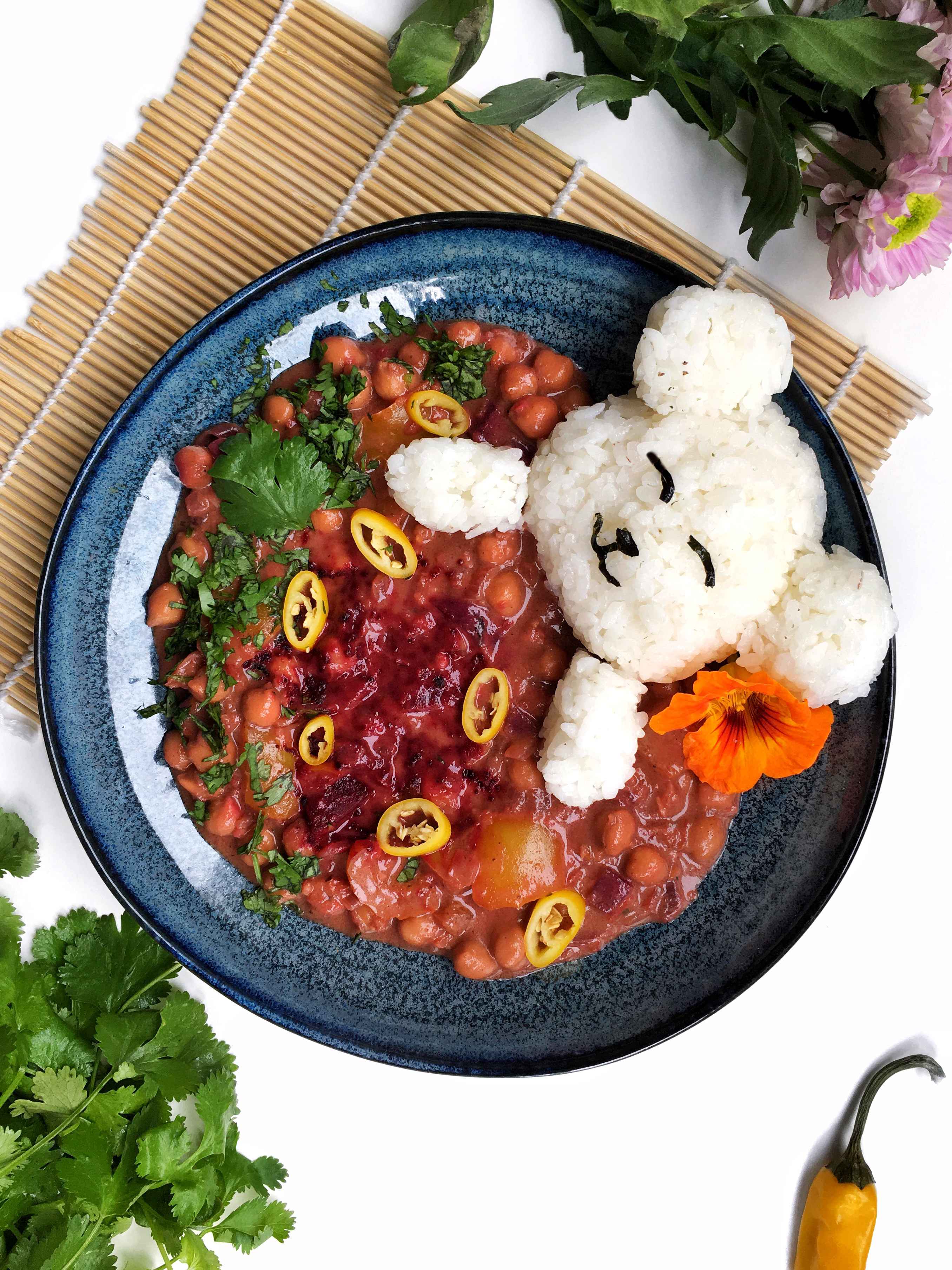 With Autumn being around the corner it's time to reintroduce some comforting foods! What am I saying, I'll have dishes like this in the middle of summer, still they are your best friends during fall and winter. This dish is made for all those beet haters out there, because I'm pretty sure that even you won't hate this curry! I mean look how comforting this dish is, even teddy is having a moment!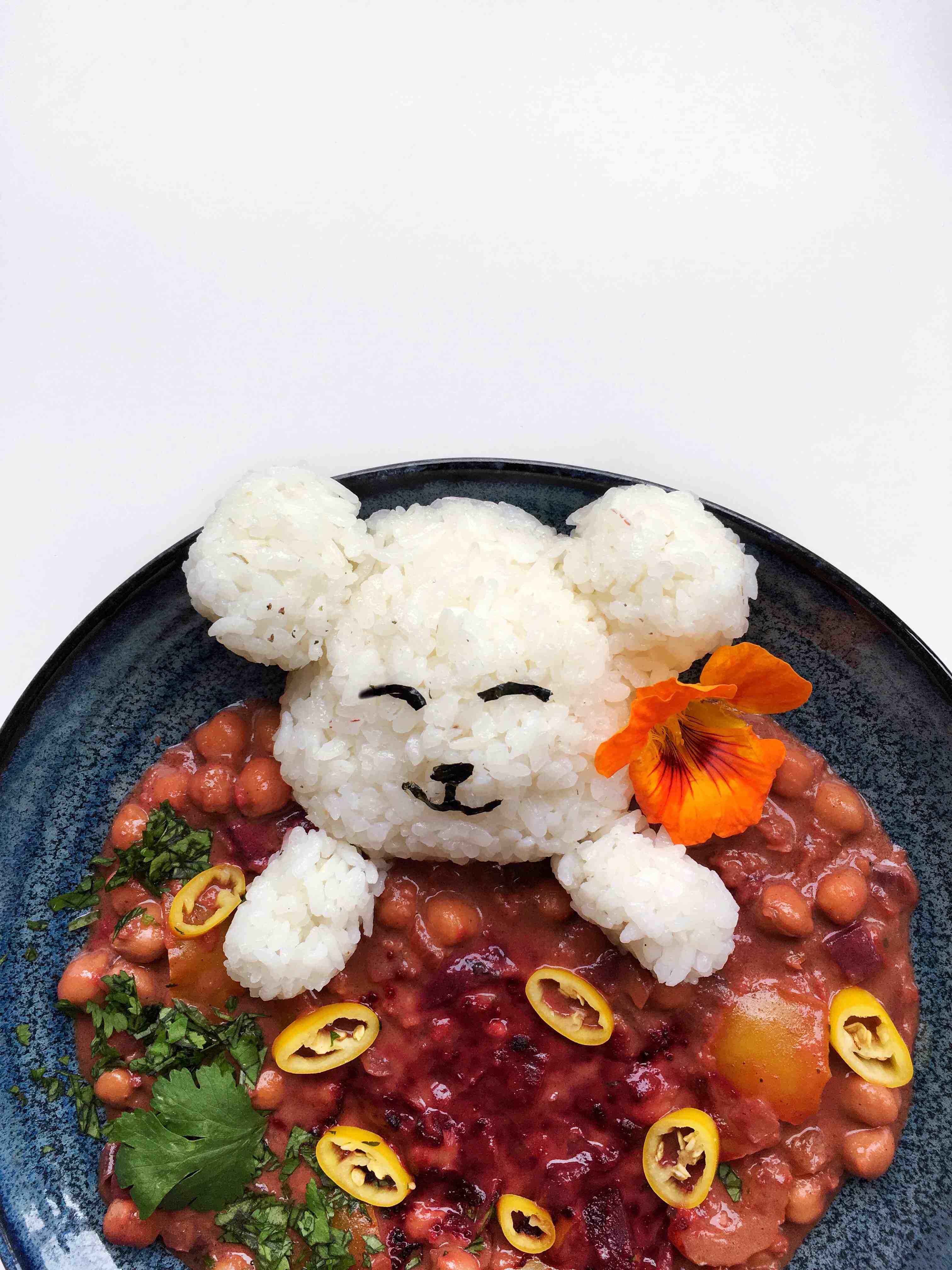 The idea came to me when I was sitting in the bus thinking what to have for lunch, I wanted to have a pink/red curry! So immediately my mind started creating a curry involving beet, garam masala and delicious aromatics. When I came home I jumped into the kitchen and brought this dish to life. My veggie bouillon cube contained some turmeric so the colour came out a bit different than planned, but my oh my, I couldn't wait to share this dish.
My family happened to be staying over and I'm not joking when I say that I had to secure a bowl to photograph the dish because it was gone in seconds. Oh and you'll be fooled thinking I ate this bowl, my father ended up bringing it home. But I love sharing my food, it makes me incredibly happy so I don't mind!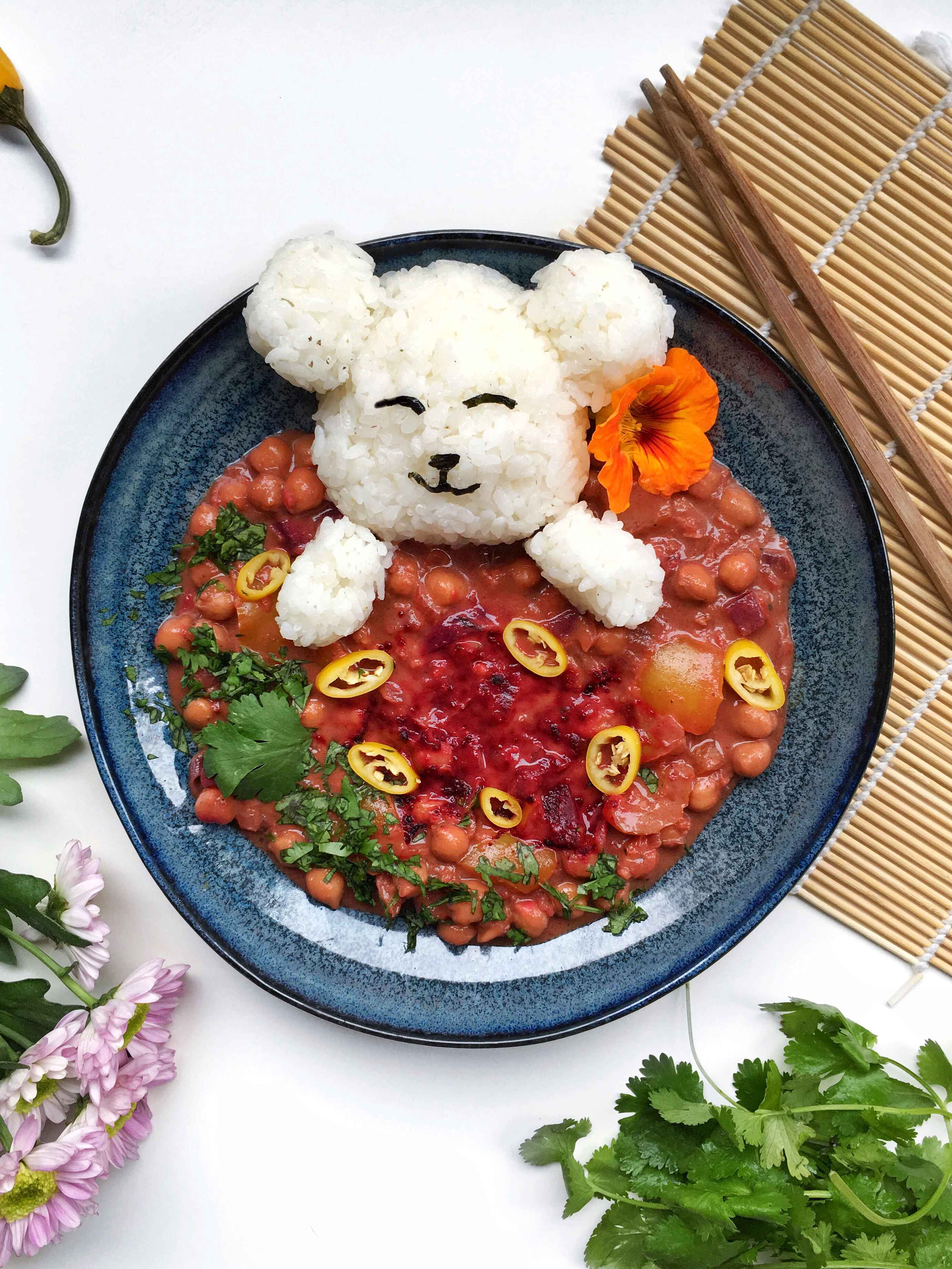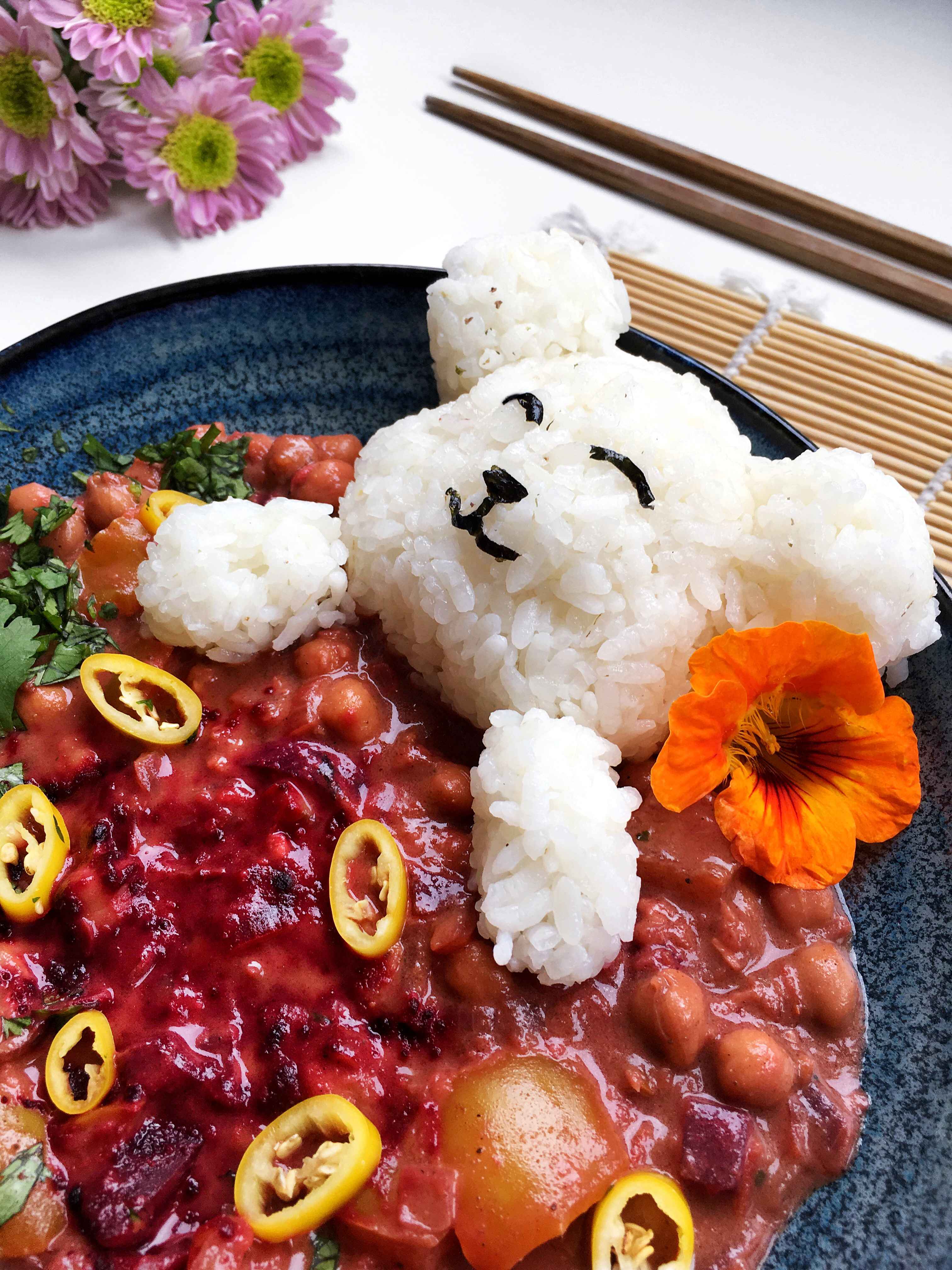 Now what are you waiting for, haven't I convinced you enough? Go get some! And be sure to make extra because nothing beats leftovers, leaving this in the fridge for a day will allow the flavours to mingle and create something even more magical, trust me!
Now it is time to hit the stoves and create something delicious, and let me know in the comments down below what your favorite comfort food is!
If you decide to recreate this dish feel free to tag me on Instagram as I'd love to see your creations, and find me on Facebook!
One Love,
A.J.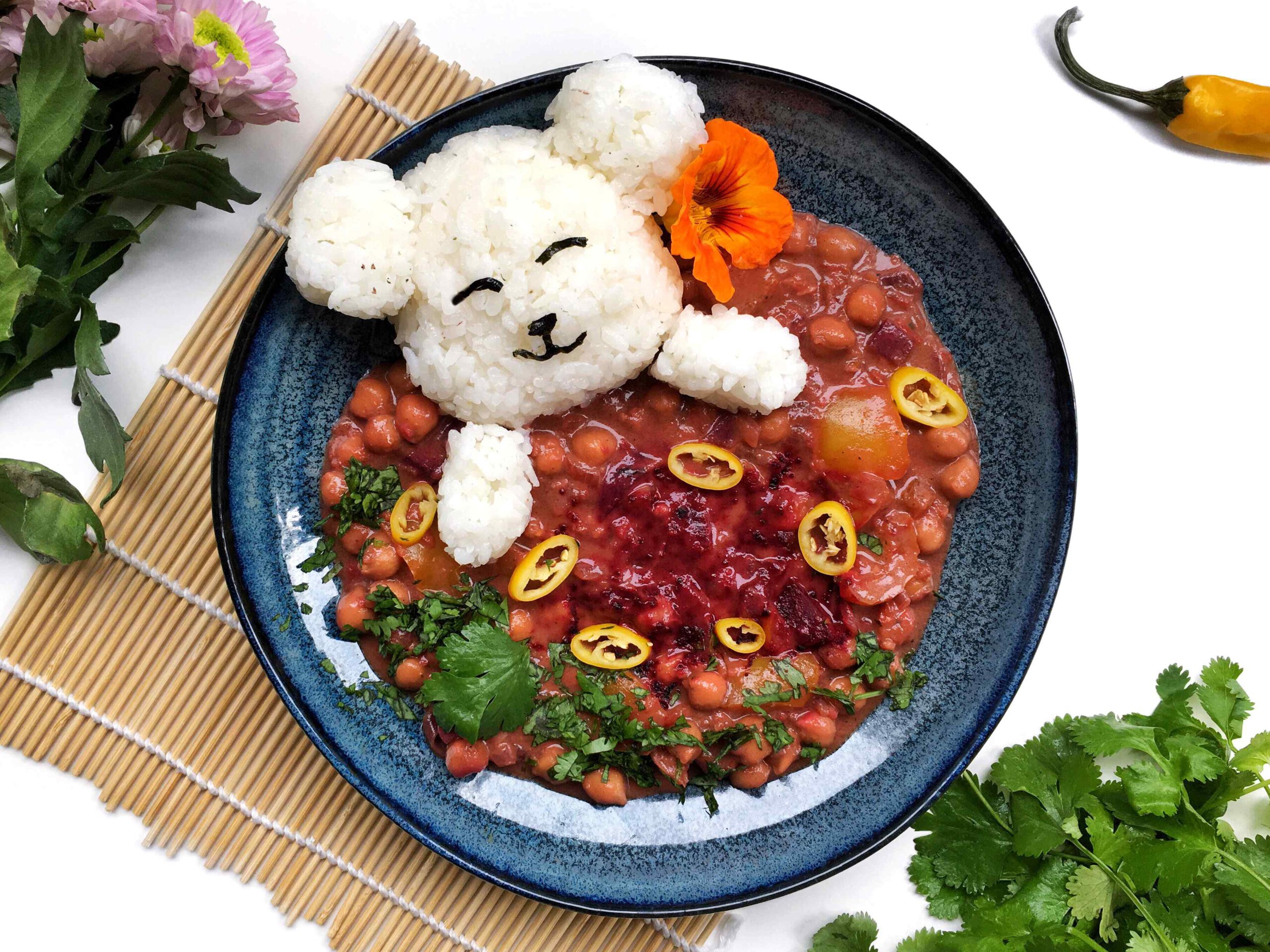 Beet Coconut Curry
Do you hate beets? Think again, this comforting dish will probably change your mind!
Ingredients
1

red onion

chopped

6

cloves

garlic

minced

1

beet

diced

2

tomatoes

chopped

1

bell pepper

diced

1

can

chickpeas

1

can

full fat coconut milk

1

tbsp

garam masala

1/2

tsp

ginger

1/2

tsp

chili powder

1

cup

water

1

handful

cilantro

1

cube

veggie bouillon
Instructions
Start by sautéing the onion in some oil for about 2 minutes before adding the garlic and cooking it for another minute on medium heat. Now add the tomatoes and cook until most of the liquids have dissolved. Now add the beets, chickpeas, spices and bell pepper and add about 1 cup water and a can of full fat coconut milk with the bouillon cube*.

Bring it to a boil and simmer with a lid, while occasionally stirring, until the sauce reaches your perfect consistency. I like mine thick so I let it simmer between 15 and 20 minutes. Serve with rice or any form of bread for example roti would be nice. Top with some cilantro and peppers (optional) and enjoy!