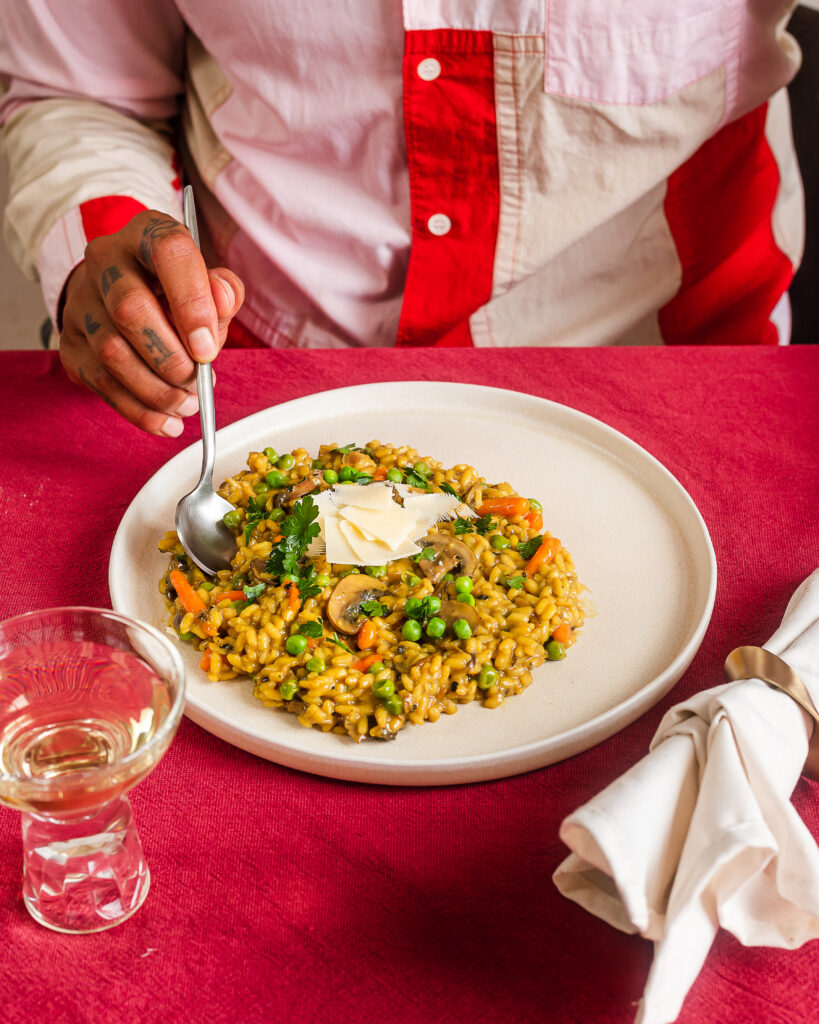 For world vegan month, I've teamed up with Violife to serve you a creamy vegan mushroom risotto. I feel like risotto is one of those dishes most people tend to love. So you wouldn't want to miss out on this comforting meal.
Disclaimer: This is a sponsored post.
Making the perfect creamy vegan mushroom risotto
Making risotto is a labour of love. You continuously stir the pot while adding broth (or water) for the rice to soak up. Texture is an important thing, this is why I advise you to try the rice every now and then, you can always add a little bit of water but you can't take it away.
You can customise this recipe to your own liking. Think about different toppings and vegetables to make it the perfect dish for you. If you don't have carrots and peas on hand you can always add something like spinach or broccoli. You could even try adding some beans. Or add some other mushrooms, like shiitake to the mix. I bet it would be delicious with some wood ear fungus as well.
When it comes to toppings you can play around as well. You can add some fried sage on top or add some toasted nuts like almond. Whatever kind of mix you decide to make, you'll still end up with a creamy vegan mushroom risotto, which is our final goal.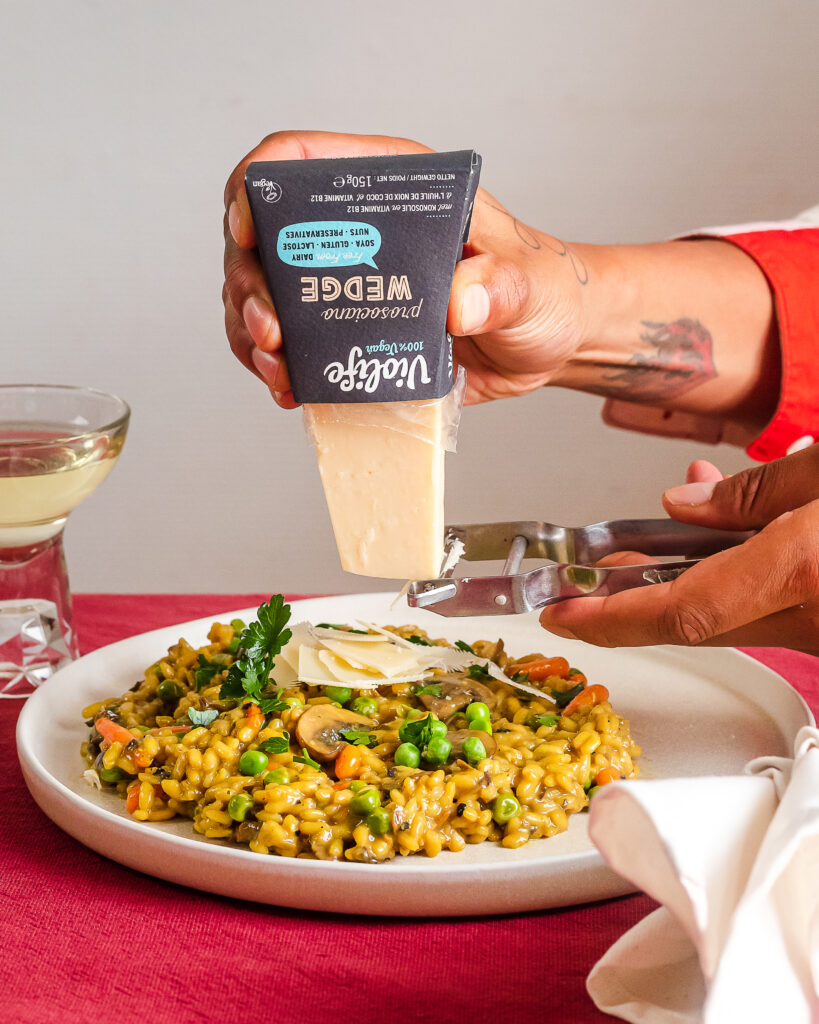 At the end I added some vegan Prosociano but feel free to use the Violife parmesan instead. Both work great and add a delicious umami flavour to the dish. I'm so excited to share how easy it is to make a cheesy dish now that we have great vegan alternatives! On top of being completely vegan, the Violife products also contain B12, which is an essential Vitamin. It's a win for me!
Be sure to follow me on Instagram to stay updated on all new recipes and find my cooking videos on my highlights and reels. You can also find me on Pinterest to find more vegan food inspiration.
Soso Lobi, Jason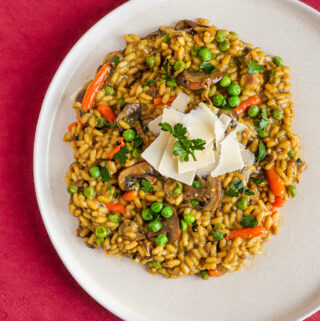 Mushroom Risotto
Creamy & cheesy vegan risotto
Ingredients
15

grams

dried porchini mushrooms

2 1/2

cups

water

more if needed

2

tbsp

vegan butter

like vioblock

1

red onion

chopped

7

cloves

garlic

minced

250

grams

cremini mushrooms

1

tbsp

black pepper

ground

1/2

tsp

turmeric

powder

2

cubes

vegetable bouillon

2

bay leaves

1 1/2

cup

arborio rice

2

cups

white wine

250

grams

frozen peas and carrots

100

grams

grated vegan cheese

like Violife
Toppings
1

tbsp

fresh flat leaf parsley

chopped

15

grams

hard vegan cheese

like Violife prosociano
Instructions
Add the dried porcini mushrooms to a bowl and add 3 cups of boiling water. Let them soak for about 20 minutes, remove the mushrooms and chop them finely. Safe about 2 ½ cups of the water.

Warm a large pot over medium heat. Add the vegan butter, once melted add the onion, garlic and the cremini mushrooms, stir and cook until most of the moisture has evaporated.

Add the porcini mushrooms, black pepper, turmeric, vegetable bouillon, bay leaves and rice. Stir and cook for about 2 minutes before adding a cup of wine.

Stir and cook over low/medium heat until the rice has absorbed the wine, add the remaining wine and keep stirring until the rice absorbs the wine.

Start adding a cup of the porcini water at the time while stirring until the rice absorbs the liquid. Do this until you've used all the water. Try the rice and if you're happy with the texture you can add the peas & carrots and vegan cheese. Stir to mix well. You can always add a splash of water if you want less of a bite.

Serve on a plate with some chopped parsley, grated vegan prosociano