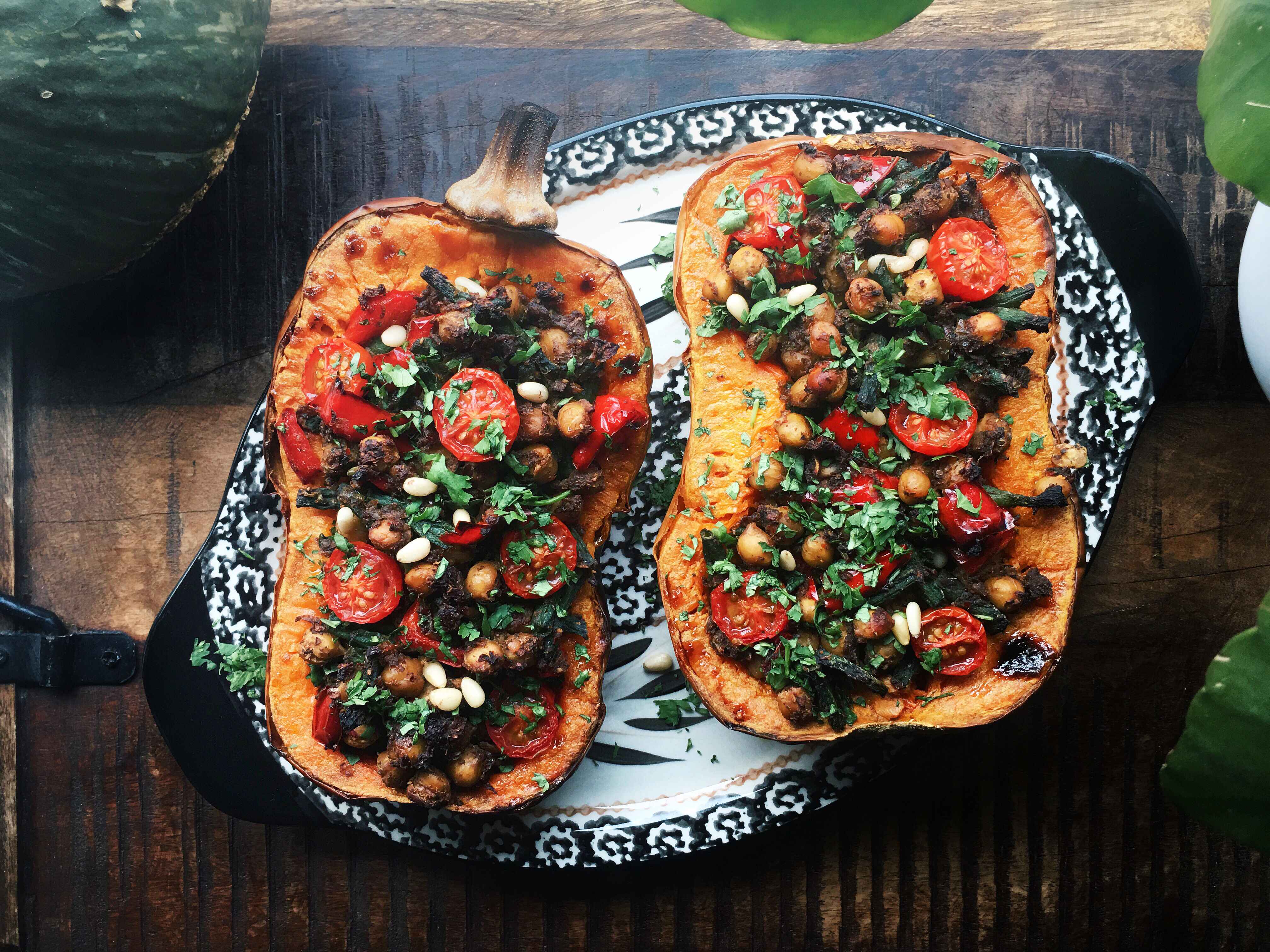 Since the squash season is almost coming to an end, and the holiday season is right around the corner it's about time we'd be making some stuffed butternut squash. Stuffed butternut squash is one of the first dishes I ate when deciding to go vegan and since that day it holds had a special place in my heart stomach. The recipe I made that day is hidden somewhere in my note books, I remember it had the most delicious quinoa filling, but today we'll be making a chickpea stuffed butternut squash.
The chickpeas are cooked with delicious warming spices, mushrooms, bell peppers and long yard beans which are absolutely optional, you can swap them for green beans or skip them all together. You can easily eat this stuffing on a wrap or with some rice, because you might be having some leftovers depending on how big your butternut squash is.
Preparing this meal will take you about 75 minutes to 2 hours depending on how fast you work, and although this could be considered quite some time, it's totally worth the effort. It's funny how you can spend almost two hours on a dish only to have it disappear in minutes.
Lets see how many squash recipes we can create before we have to say our final goodbyes to these delicious and warming winter squashes. I really love squashes, they come in many different shapes, sizes and colours, each with its own unique taste.
I really hope you like these recipes and feel free to leave a comment below letting me know which squash is your all time favorite, or to tag me in your recreations on Instagram and don't forget to like my Facebook page.
One Love,
A.J.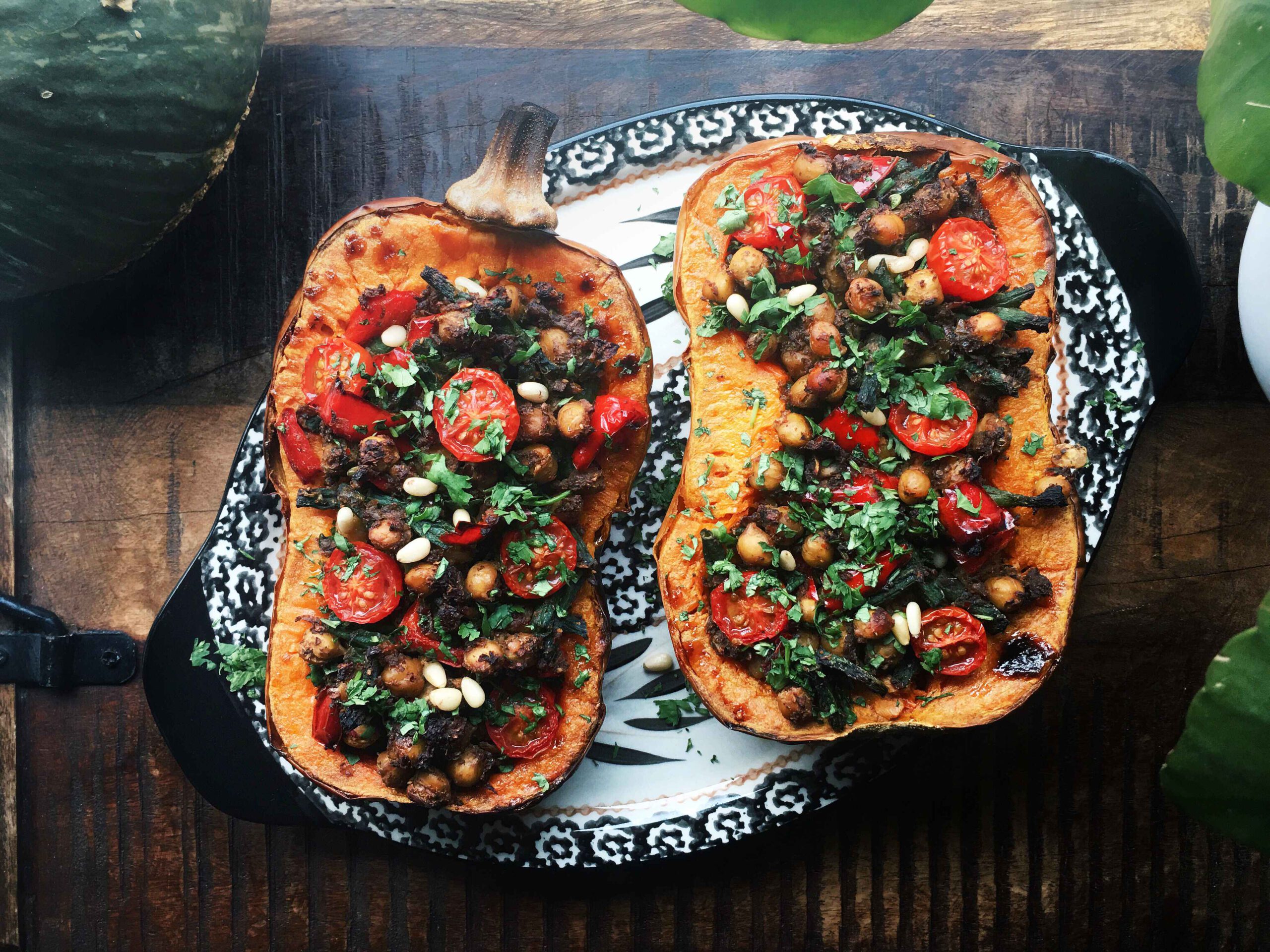 Chickpea Stuffed Butternut Squash
Ingredients
1

butter nut squash

200

grams

mushrooms

220

grams

chickpeas

or a can

6

cloves

garlic

1

red bell pepper

1

handfull

cilantro

2

big handfulls

longyard beans

optional
spices
1

tsp

chilli powder

1

tsp

cumin

1/2

tsp

lemongrass

powder

1 1/2

tsp

garam masala

to taste

salt

1/2

tsp

smoked paprika
Instructions
Roasting Butternut Squash
preheat the oven to 200 degrees celcius. Start by prepping the butternut squash, chop it in half and cut out the seeds. Now brush it with some olive oil and roast it cut side up in your oven for about 45 minutes or until its fork tender.
Stuffing
Start by chopping the onion, garlic and mushrooms. I was lazy so threw them all in my chopper, which resulted into them being minced, you can also go for a rougher chop. Sauté these for about 8 minutes over low/medium heat before adding the spices, bell pepper, chickpeas and optionally the chopped longyard beans. Cook this over medium/low for about 15 minutes while stirring regularly

After about 50 minutes remove the butternut squash from the oven and scoop out some of the flesh to make a well for the stuffing to go in. Use the scooped out butternut squash however you like, I cooked it a little and turned it into a spread. Scoop in the stuffing and optionally top it with some cherry tomatoes before putting it back in the oven for about 20 to 25 minutes. Remove it from the oven and sprinkle it with fresh cilantro and pine nuts (optional) and its ready to be served.