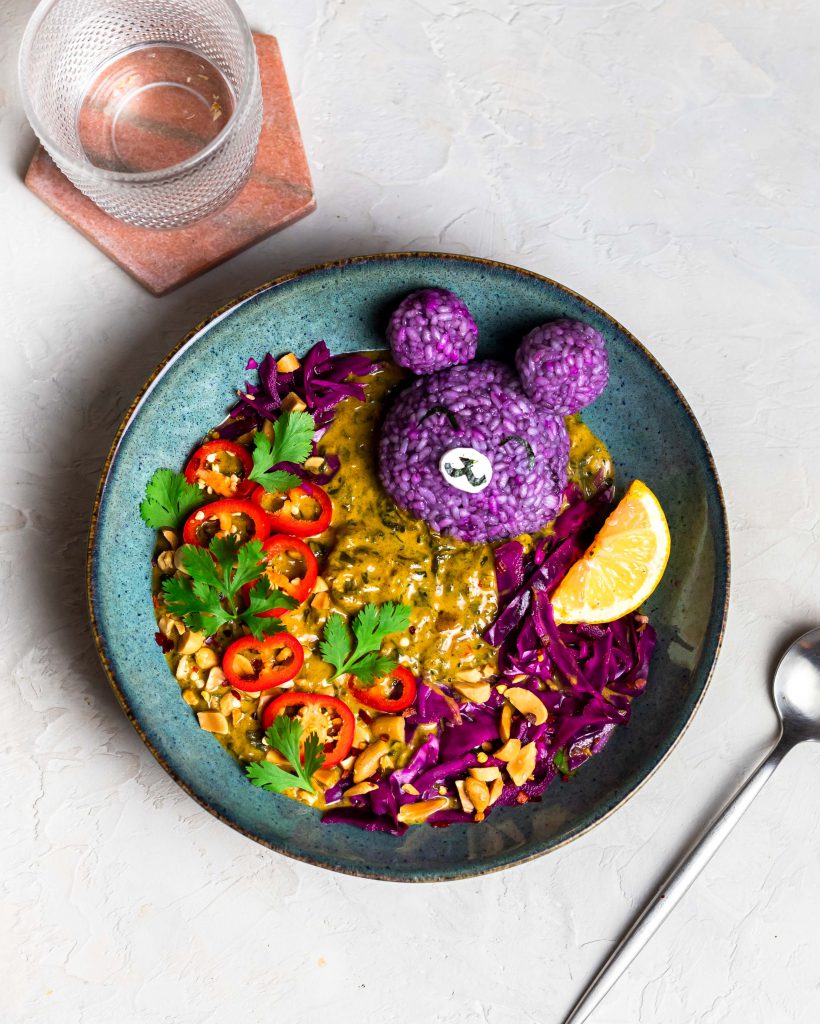 The moment I pull out the jar of peanut butter while making dinner you know it is about to get real. Adding peanut butter to a stew or soup instantly turns it into a comforting indulging dish that will make the best leftovers. Trust me, you need this comforting peanut spinach stew on your dinner table.
Growing up I used to love peanut soup, a traditional surinamese dish. This dish is loosely inspired by that dish and closely resembles an African peanut stew. Due to colonisation the Surinamese kitchen has a lot of dishes rooted in West African cuisine, so it is possible there is a correlation.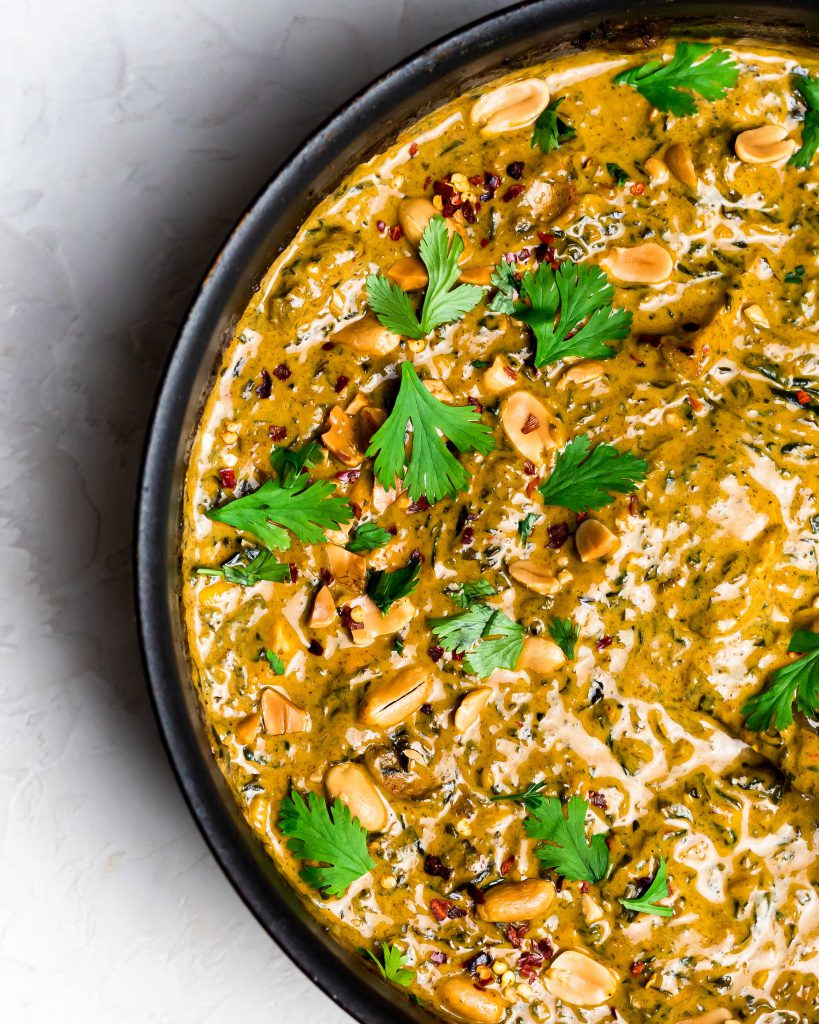 As shown on the picture above, this peanut spinach stew isn't the prettiest dish. But don't be fooled by its looks, this dish delivers in taste and comfort. And if you have leftovers, you'll get an even more delicious meal for the days to come.
I used tofu to add some protein to the dish, but feel free to fry up some tempeh instead or to chuck in some extra vegetables like potatoes or carrots. And pair it with whatever kind of rice you'd like. You can create a rice figure like I did here or use my recipe for spiced rice for a bolder dish.
This rice ball will turn this peanut spinach stew into a show stopper
To create this particular bowl I cooked a short grain rice. I coloured the rice purple using a vibrant acai berry powder. The powder doesn't add much flavour but does create a beautiful vibrant rice to create a contrast of colour. For the mouth and eyes I used nori and a little piece of vegan feta to make the snout.
If you love seeing colourful dishes like this comforting peanut spinach stew be sure to visit my Instagram account. Here where I frequently share new dishes. While on there you can check my highlights for cooking videos of some of the recipes on this blog. So let's get cooking 😀
Much love, Jason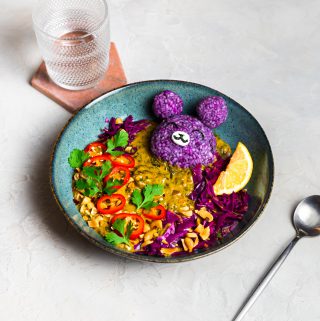 Peanut Spinach Stew
A comforting and warming peanut and spinach stew
Ingredients
1

red onion

chopped

5

cloves

garlic

minced

1

chili pepper

chopped

1

tsp

cumin powder

1

tsp

turmeric powder

1

tsp

ginger powder

or fresh chopped ginger

7

tbsp

peanut butter

1

tbsp

tomato pureé

1

cube

vegetable bouillon

300

grams

spinach

I used frozen

1

lime leaf

1

bay leaf

500

ml

water

1

can

coconut milk

400 ml

1

brick

tofu

1 cm thick and 4x4 cm width

15

gram

cilantro
Instructions
Squeeze as much liquid from the tofu as possible. Preheat the oven to 200 celcius. Cut the tofu in 1 cm thick 4 x 4 cm squares. Place them on a parchment paper lined baking sheet and bake them for 25 minutes. You can also panfry the tofu to make it extra crisp, I prefer this. Just make sure to remember that the tofu has liquid which will react with the oil in the pan so be sure not to add to much oil. Lastly you can try using an air fryer.

Warm a pan over medium heat, add a tbsp of oil and saute the onion, garlic and chili pepper for about 3 minutes. Now you add the cumin powder, turmeric, ginger powder, peanut butter and tomato puree. Cook this for one minute before adding the vegetable bouillon cube, spinzach, lime leaf, bay leaf and water. Bring it to a boil, turn the heat to low and let it simmer for 20 minutes.

Add the coconut milk and tofu and add salt and pepper to taste. Serve with rice, and your favourite sides like sambal, pickles and herbs. Top with cilantro and add salt and pepper to taste