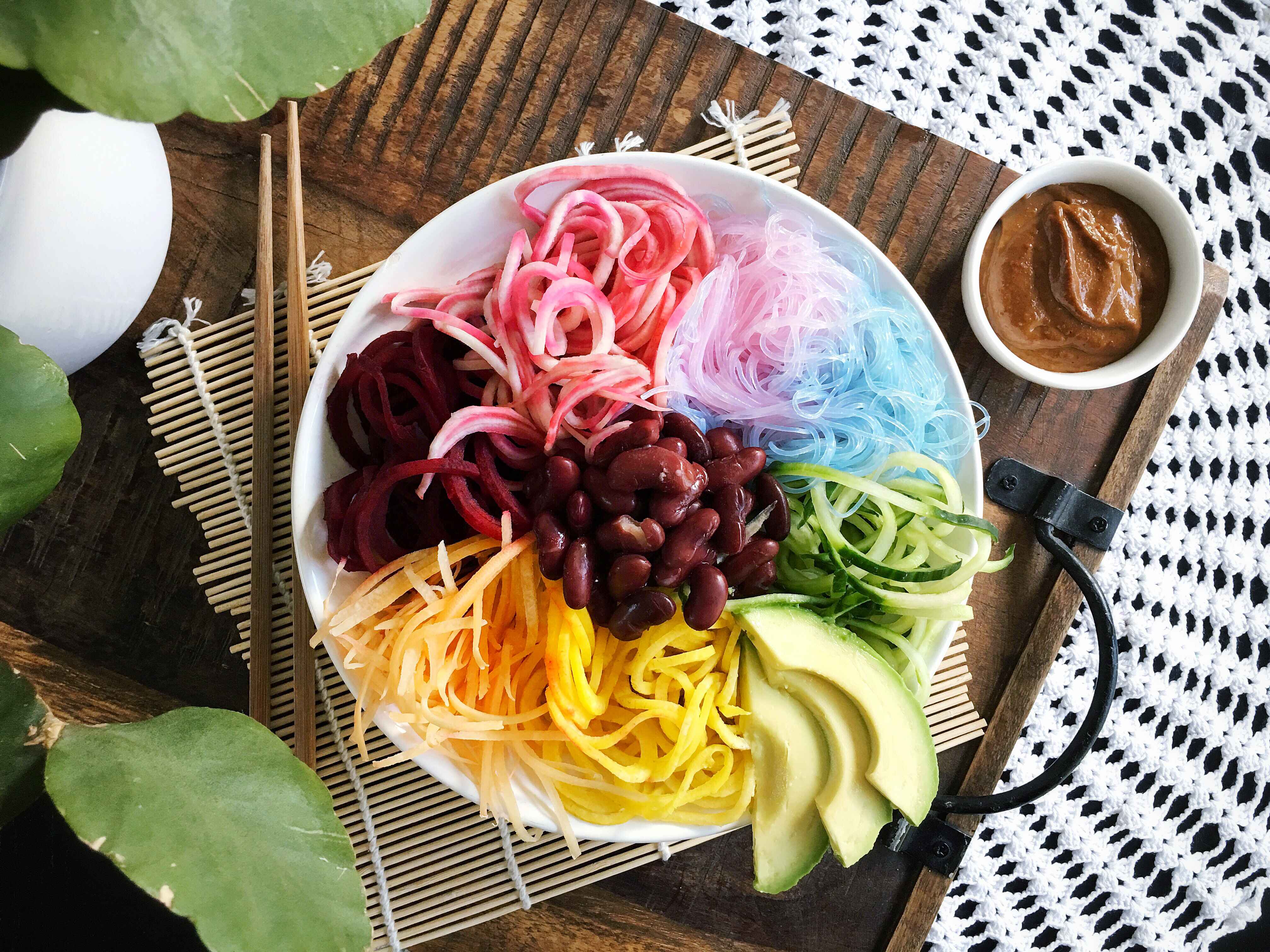 This recipe is a big contradiction for beet haters, because you'll probably love it! I myself do not like beets whatsoever, the closest I get to eating beets is using the powdered form as a food colouring or eating the occasional beet chip, but raw or cooked beets? No thanks! Now as someone who's always open to giving foods that I know are healthy, but don't really like, a second chance, I decided to not give up on beets! One thing that also caught my attention is that the more I eat of these foods I do not like, the more my taste buds get used to them, to the point I can even start craving them!
Beets come in many different colours, from deep red to white and I've noticed that the lighter colours have a more subtle beet taste with a more dominant sweetness to them, which I can definitely tolerate. A while back when I went raw I decided to give veggie noodles a go and didn't really like them, so since I dislike both I felt it was about time that I gave them a chance of redemption. How did I do this? By smothering them in a home-made satay sauce of course!
I was scared that it wouldn't work with the beets but since I love using satay sauce on most of my noodle salads it only made sense to try it in this noodle salad, right!? Well I might even like it more than on my usual salad, this might be my new favourite salad! It's very filling and satisfying.
To spiralize the noodle I used a handy spiralizer but if you don't have one you can use a mandolin slicer or just cut them in thin strips.
You can definitely play around with this salad, try using different kinds of beets or add some blue noodles to the mix, try adding some zucchini noodles or maybe add some grilled tofu? There are no rules when it comes to salad, so you do you! I also like adding a healthy dose of pumpkin seeds and beans for protein.
I really hope you like these recipes and feel free to leave a comment below or to tag me in your recreations on Instagram and don't forget to like my Facebook page.
One Love,
A.J.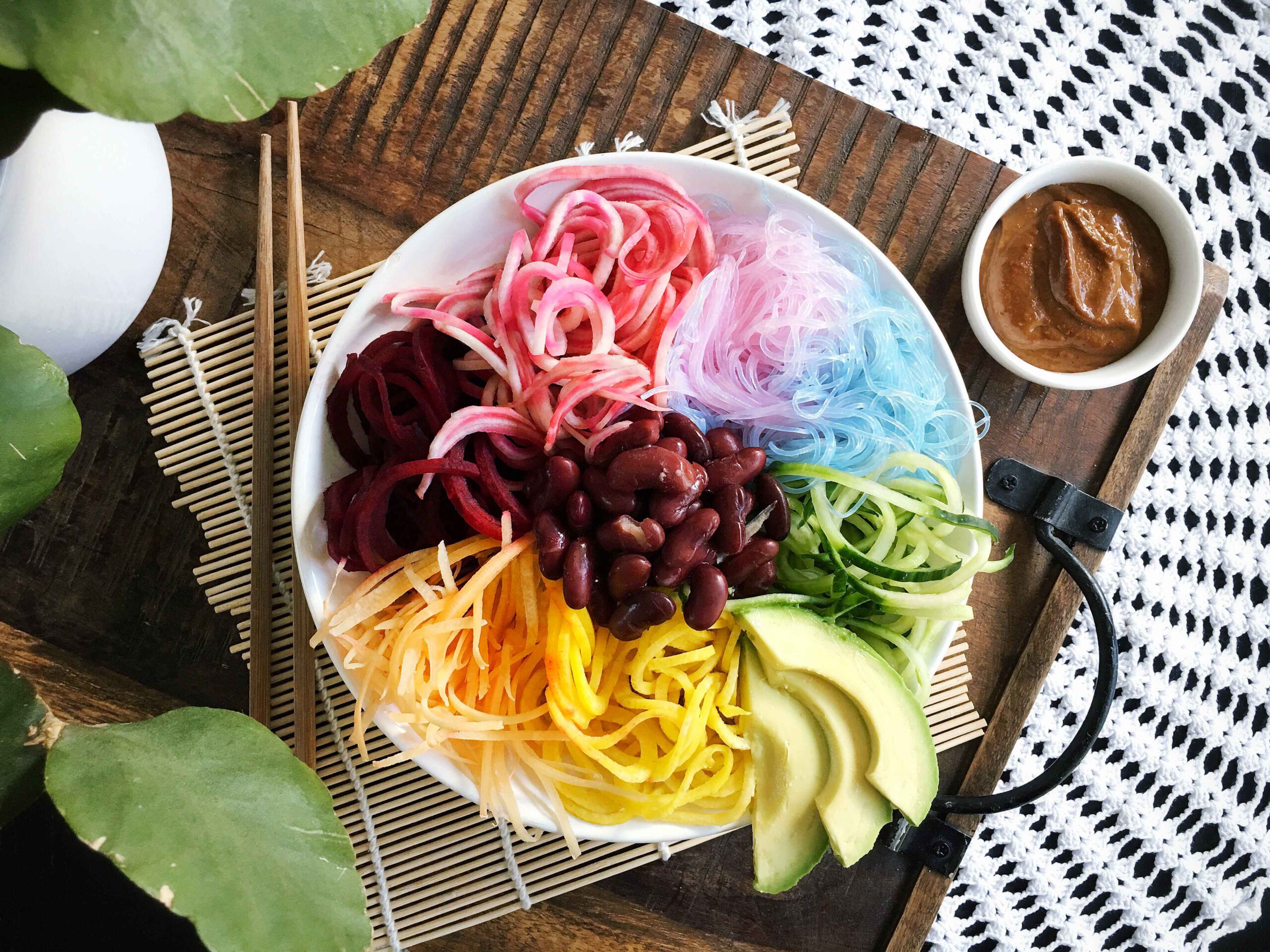 Rainbow Beet Noodle Salad w/ Satay Sauce
A Rainbow salad that will convert any beet hater into a lover!
Ingredients
3

beets

1

carrot

1

avocado

1

handful

arugala
Satay Sauce
1/4

tsp

ginger powder

2

tbsp

soy sauce

6

tbsp

peanut butter

1

tbsp

agave

1

tsp

garlic powder

or 2 garlic cloves

1

tsp

chilli powder

or szechuan pepper powder (I use 2 tsp since I love hot food)

1/2

cup

warm plantbased milk

I use coconut
Instructions
Sauce
To make the sauce you can everything to a bowl and whisk it together, just make sure to mince the garlic very fine (if using raw garlic). I always use a nutribullet to get a really creamy sauce, which is especially convenient when you are using raw garlic, which I like.
Salad
To make the spiralized beets I peeled them and used my spiralizer to make noodles, you can also use a mandolin or cut them into match sticks. The rest of the salad is up to you to decide! Enjoy.