Trying new vegan product is always something that excites me, especially as I'm literally seeing new vegan products hitting the shelves almost every month, it gives me hope for a more sustainable future. Most of these products are good but there are some hits and misses out there so why not try some product out together to see how they turned out!?
Most of these products might only be available in the Netherlands, some world-wide, and if you can't find the product like these black noodles, I can at least give you an impression of these products so you can find something similar! I'll be brutally honest in my opinion, but also love almost all foods so remember that this is my own opinion, and it might differ from yours, which is perfectly fine!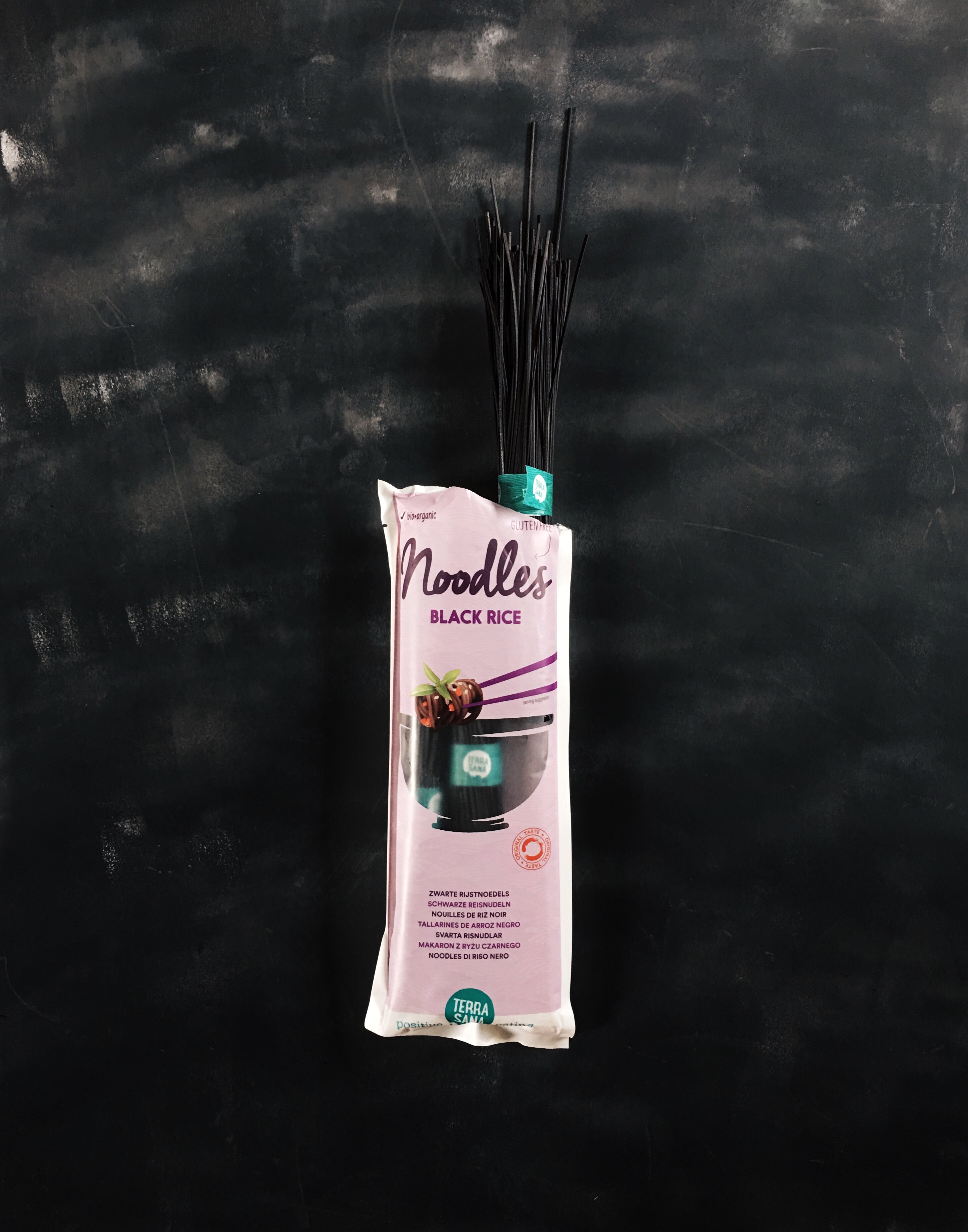 Now since were still working with the Halloween theme I decided to try black noodles, the moment I saw these in the store I couldn't resist throwing them in my basket, could you!? I bought them at Ecoplaza which is a store found throughout the Netherlands, but I'm sure more stores will stock this item, and I've seen their brand in multiple stores as well.
The brand is called TerraSana and this company makes almost only vegan products, which is awesome! They also have a vision that resonates with me as they want to keep things clean, organic, don't do any animal testing, care about the environment and are fair trade, now lets hope that these noodles are as great as their vision! What I already love about these noodles are that the ingredients are super clean, they only used black & brown rice flour and water, that's it!
I'm gonna try these noodles in a bowl of miso soup and will add a quick and simple miso soup recipe to this post so you can try it yourself. Also try adding some smoked tofu to this soup, compared to the regular soft tofu I'd add to a miso bowl this, the smoked kind really takes it to the next level. And pure out of laziness and convenience I used garlic and ginger powder but feel free to use the fresh stuff! This will cost you about 10 to 15 minutes, I told you it would be quick!
1 large serving or 2 small servings
Ingredients:
2 Tbsp Miso paste
1 Scallion
few shiitake mushrooms
few baby corns
few cubes of smoked tofu (optional, but highly recommended)
1 Tsp ginger and garlic powder
1 Tbsp dried seaweed
1 Tsp Sichuan pepper powder
1 Tsp Sesame oil (Optional)
1 serving Black noodles
Directions:
to a big bowl add the 2 tbsp of miso paste and dissolve it with a few tbsp of warm water.
Add 3 cups of water to a small pot and bring it to a boil. Once it starts boiling you can add the mushrooms, corn, scallion, ginger, garlic, seaweed and pepper and let it simmer for about 7 minutes.
While the soup is simmering you can prepare the noodles as mentions on the package.
After 7 minutes turn the heat of and add the broth to the bowl of miso and add the noodles and additional toppings such as smoked tofu, bean sprouts and fresh veggies, for taste and texture.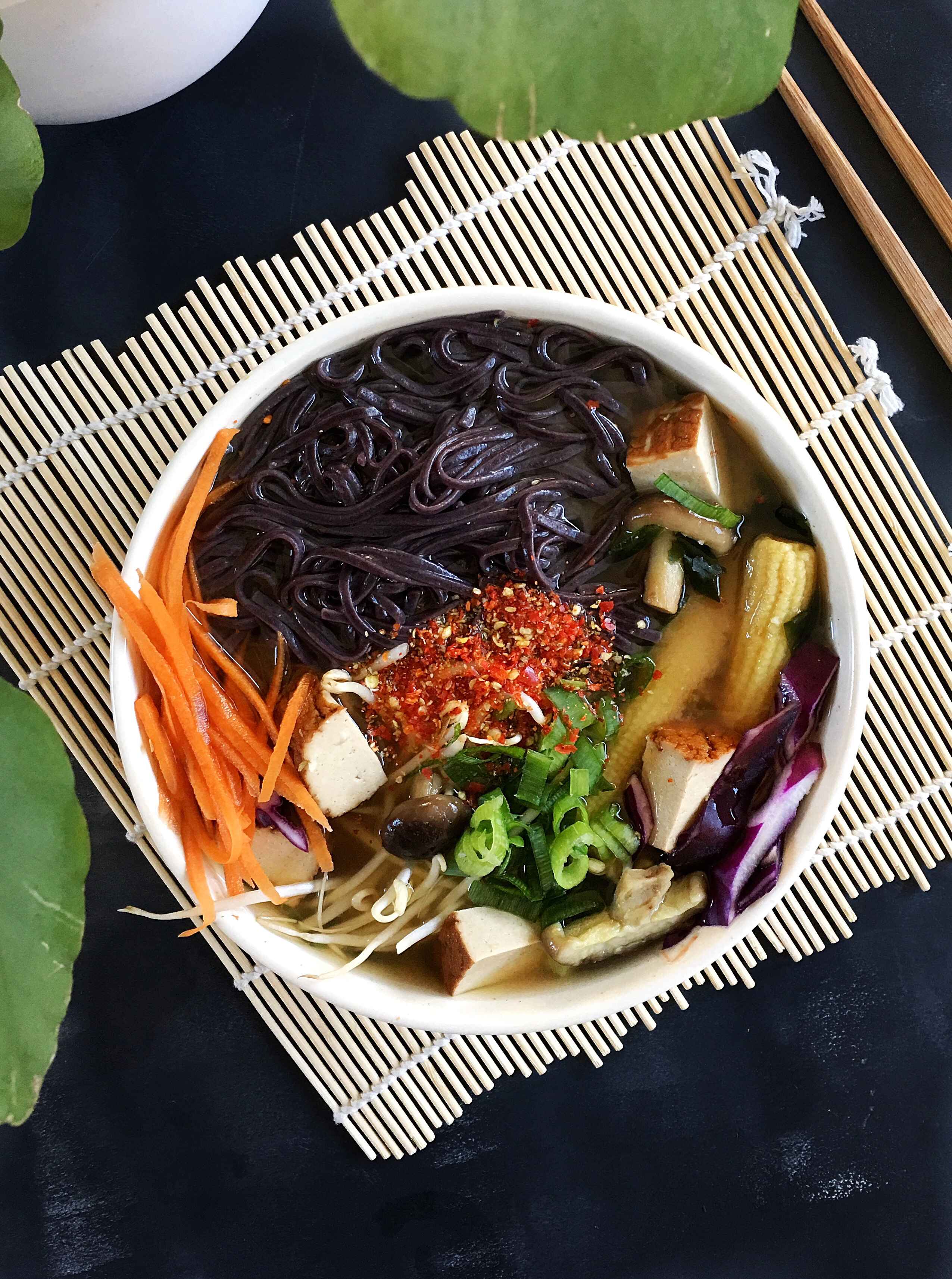 Review:
For me these noodles work best when used in a miso soup, I tried using them to make a noodle salad and although it was ok, using it in a soup is the way to go for me. The texture was quite nice for gluten-free noodles, and the noodles themselves where quite filling. Another thing I love about these noodles and the brand is that they come separated with bands (which I assume are made from sustainable materials) to make easy portions, so you always get the right serving of noodles.
As to if I'd buy these noodles again?
Definitely yes, I'm a sucker for noodles and since these taste great, are super clean, gluten-free and black/purple I can't help throwing some in my basket next time I see them. When it comes to price they are also not to expensive, costing €2,60 for 3 servings.
I really hope you like these kind of posts and feel free to leave a comment letting me know what you'd like me to try out next or if you've had these noodle yourself! Also fee free to tag me in your recreations on Instagram and don't forget to like my Facebook page.
One Love,
A.J.