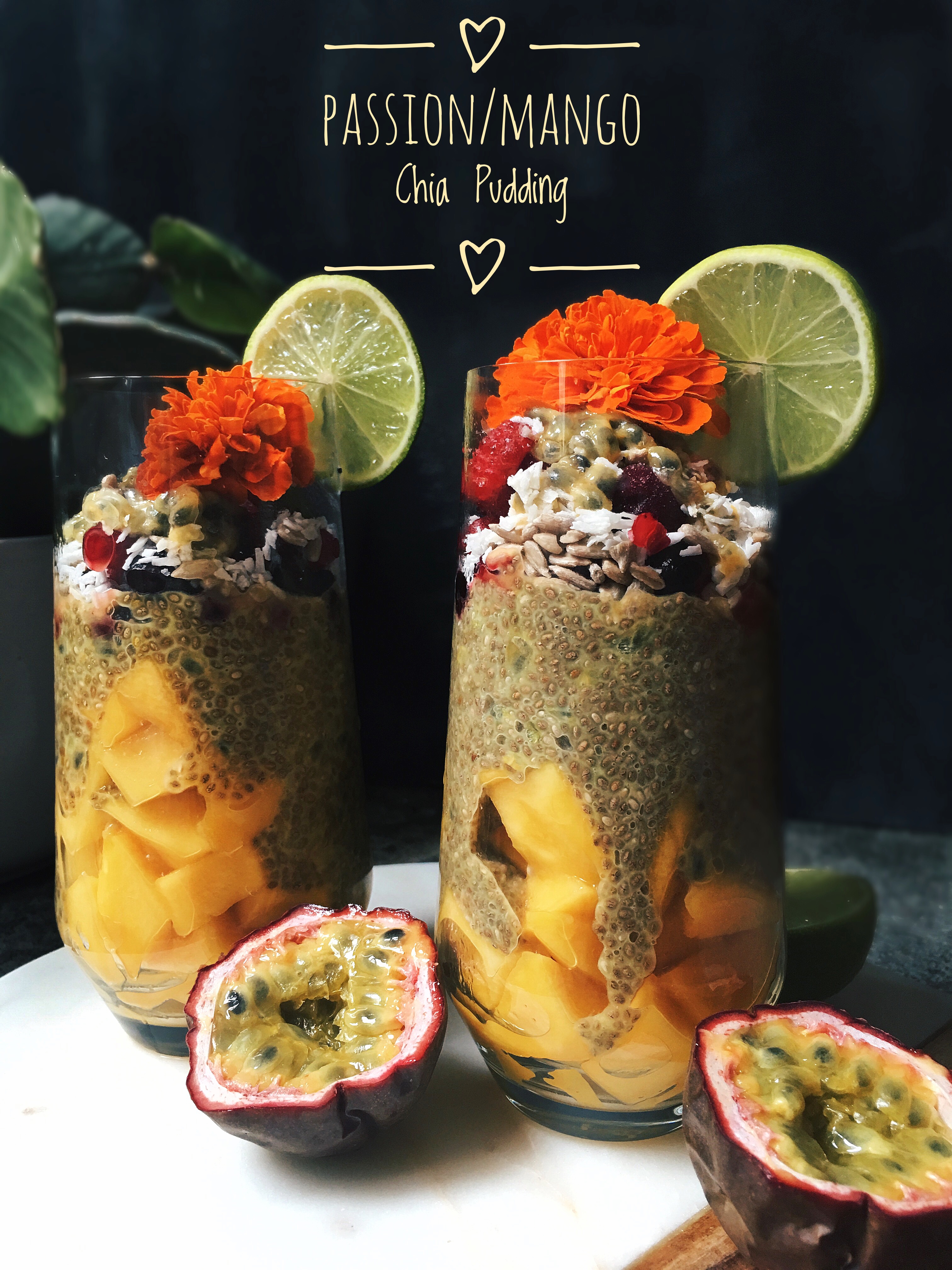 Since chia pudding is one of my favourite quick and simple breakfasts at the moment, it's always nice to have some variations, so not every single morning is the same. During summer I like to eat tropical and summer fruits, and since I got an awesome deal on some passion fruit and mangoes at my local market the only natural thing to do was to turn them into a delicious pudding, which I topped of with some summer berries which are in season right now!
I'm trying to eat more seasonal and local foods but sometimes you get an offer you can't refuse and for me that came in the form of a whole box of mangoes for 5 euro and 20 passionfruit for 4 euro. Tropical fruit prized so low is a major win here in the Netherlands.
To make the chia pudding I also used some lime juice, knowing that lemon juice curdles soy milk I assume lime does the same so I avoided using this non dairy milk but rather went for a nut milk. You can keep this recipe 100 percent raw by making your own nut or seeds milk.
When you make the pudding you can leave the chia seeds to soak for an hour, but for best result I suggest leaving it in the fridge overnight. It's very convenient if you ask me, before going to bed I just add everything to a jar, give it some stirs, leave it in the fridge overnight and the next morning my breakfast is served, yup major win!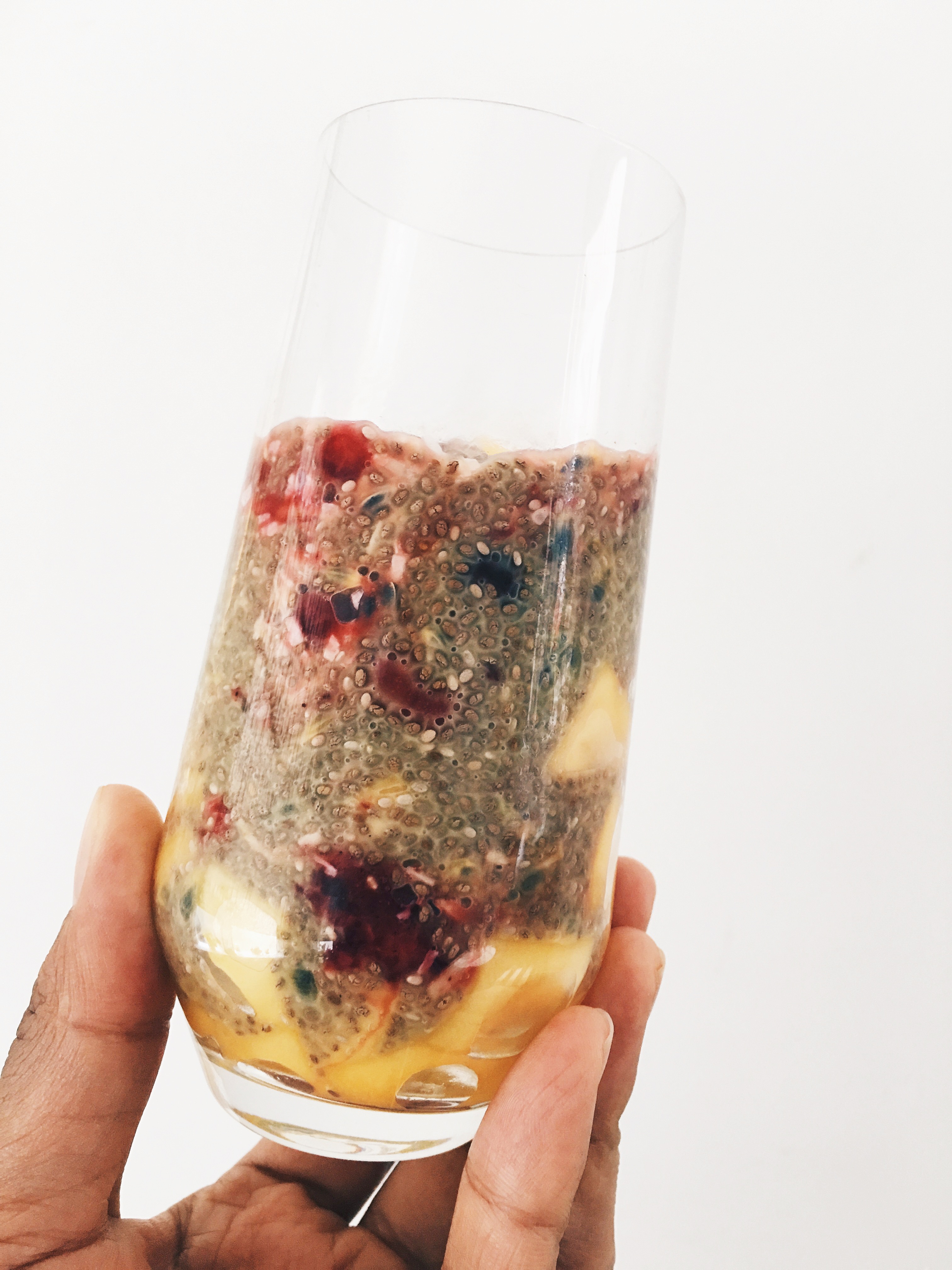 You can customize the pudding to your own liking by leaving out the lime juice or adding more sweetener or maybe topping it of with some coconut yoghurt, these are your puddings! And let me know what your favourite summer fruit is in the comments below.
Speaking of customisation, if you've been following me for a while you might notice a few changes in the lay out of this website, well actually almost everything has changed, for the better. I'm still adding some little changes here and there, such as font and some widgets, but the overall look will stay the same, and I hope you like the design!
Now let's make some chia pudding shall we?!
Enjoy.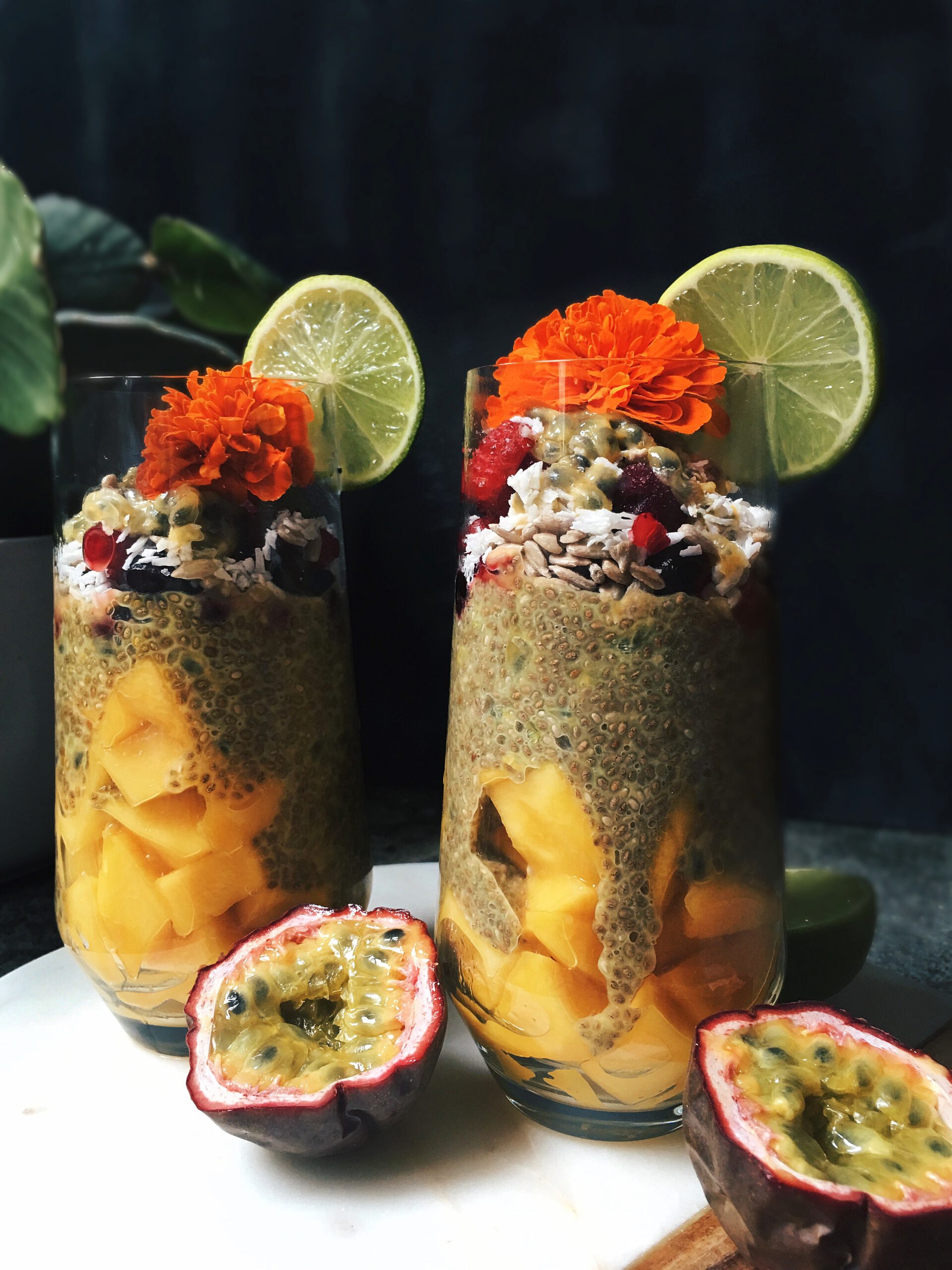 Passion/Mango Chia Pudding
A tropical chia pudding perfect form the summer season.
Ingredients
3

passion fruit

1/4

cup

chia seeds

1/2

cup

non dairy milk

(not soy)

1

lime

juiced

1

pinch

turmeric

1

tbsp

sweetener of choice

1

mango

cut in cubes
Instructions
To a jar add the chia seeds and top it with the turmeric, passion fruit, lime juice, non dairy milk and sweetener of choice. Now give it a good stir and give it another stir after about 10 minutes and place it in the fridge to soak overnight.

to make the parfaits you cut the mangoes into cubes and add the to a jar or glass, top it with the chia pudding and some other fruits (I used a mix of summer berries) and seeds. You can also add some non dairy yoghurt, top it with whatever your hearth desires. Enjoy.