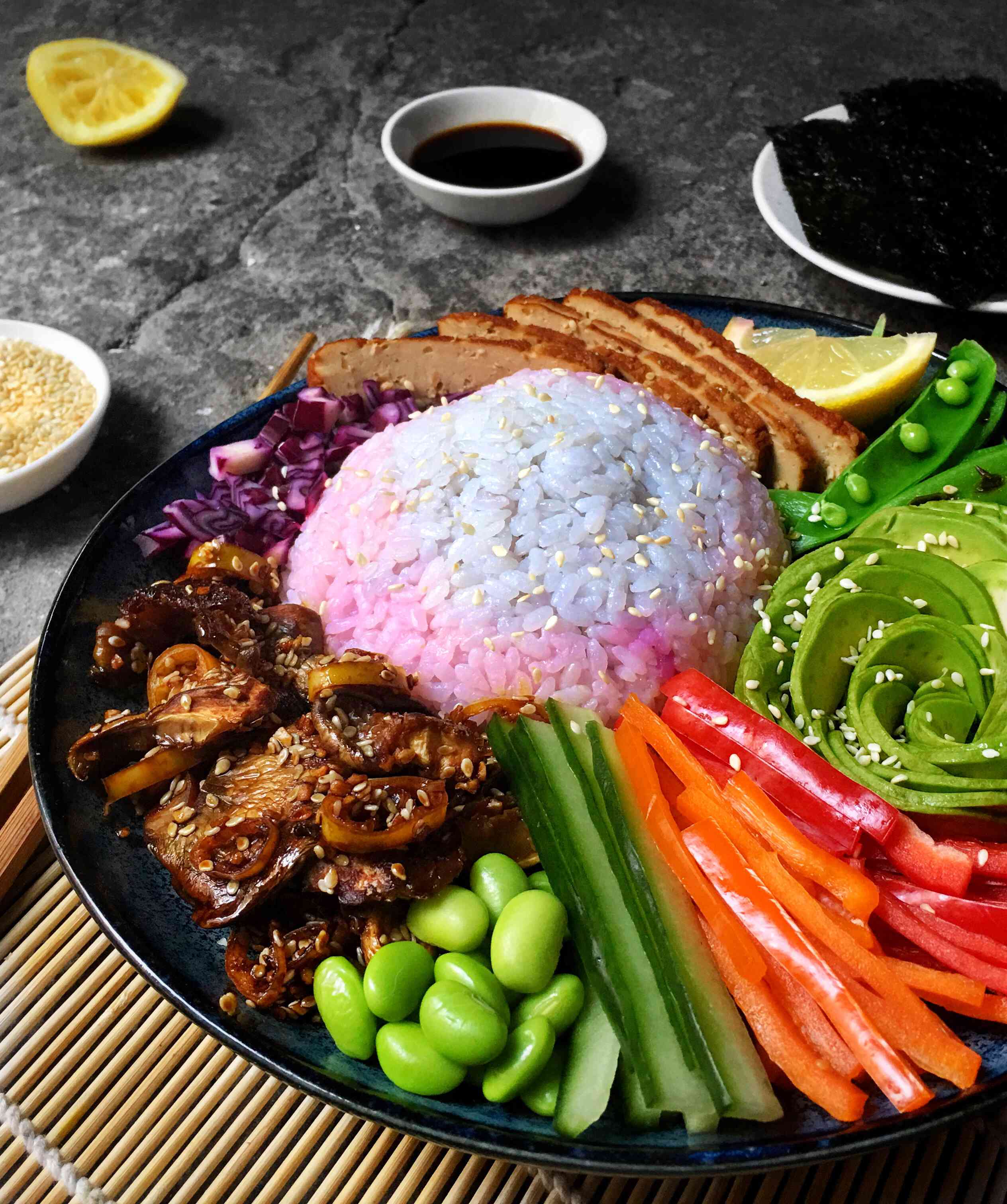 If you like sushi you will love these bowls! They're great if you're feeling a little bit lazy bit still and don't feel like rolling out that sushi mat. I myself am a big lover of sushi and honestly don't mind the prepping, but this bowl might win it over those delicious maki rolls, well at least when I'm eating alone that is. There's just something fun about enjoying a big platter of maki rolls when dining with friends, right!?
The reason I love this bowl so much is that I'm able to pack it with many different ingredients you normally wouldn't find in a maki roll, such as sweet & spicy oyster mushrooms, edamame and sugar snaps. It also helped me to eat more mindful, which in the end satisfied me more than stuffing my face with delicious maki. It's also easy to bring for lunch and quick to prep, what else could you wish for? Oh maybe Unicorn rice? You can easily cut down on time and make it quicker by using plain white rice, or you can go the extra mile and add some magical colour to the rice, that with some acidity turns from lilac/blue to a hot pink. For this batch I used a less concentrated broth to create a more faded look, find details on how to make this rice over here.
Like many of my other recipes you can easily modify this one to your own taste, maybe you hate mushrooms, but want to make a marinaded tofu, thats fine. You could also add some carrots to the dish or maybe even drizzle it with some vegan wasabi mayo, go nuts!
I chose to add some edamame for some extra protein and I simple love them, smoked tofu because it's pure deliciousness and sweet & spicy mushrooms.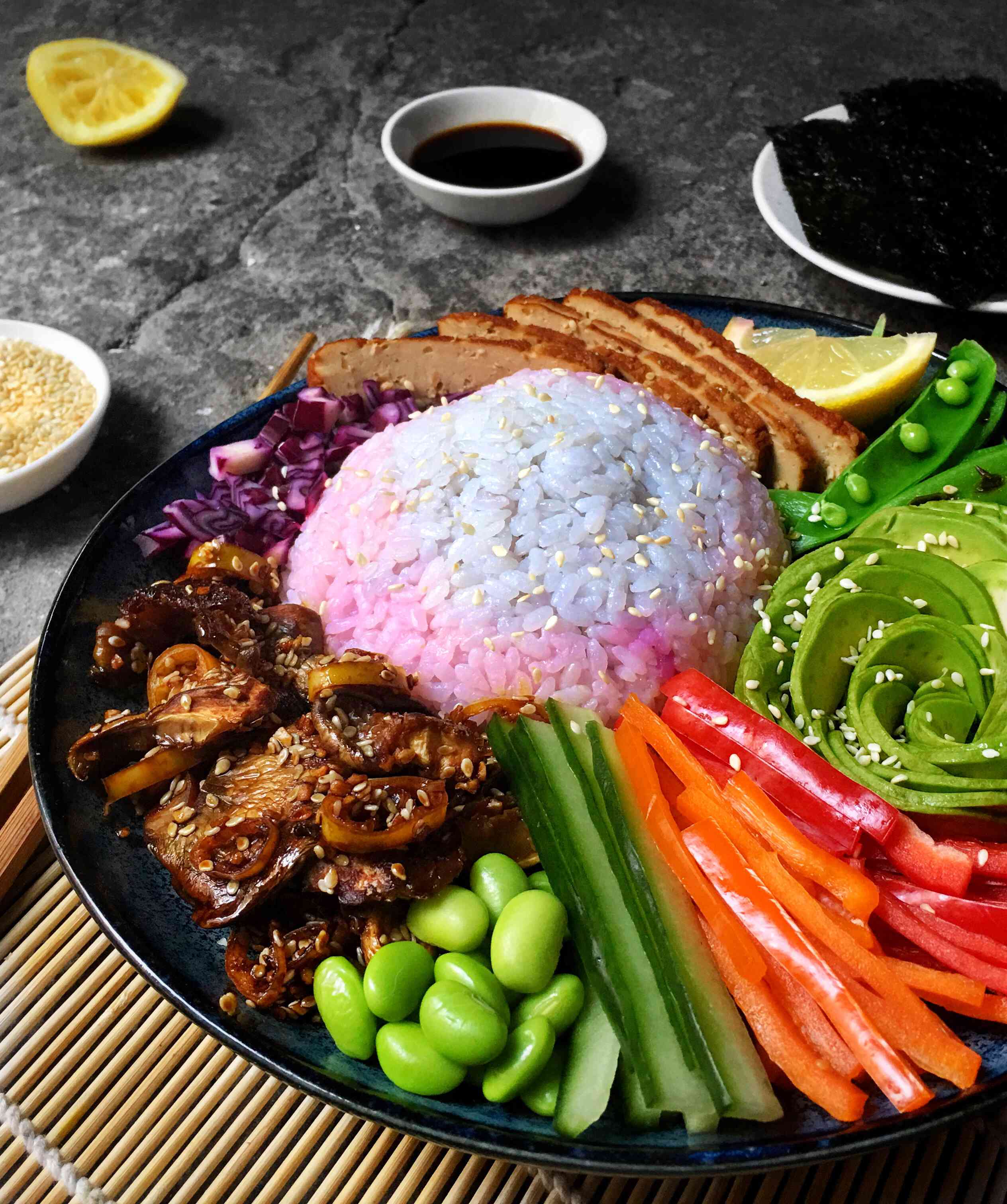 Let me know if you liked the recipe in the comments below and if you decide to recreate this dish feel free to tag me on Instagram as I'd love to see your creations!
One Love,
A.J.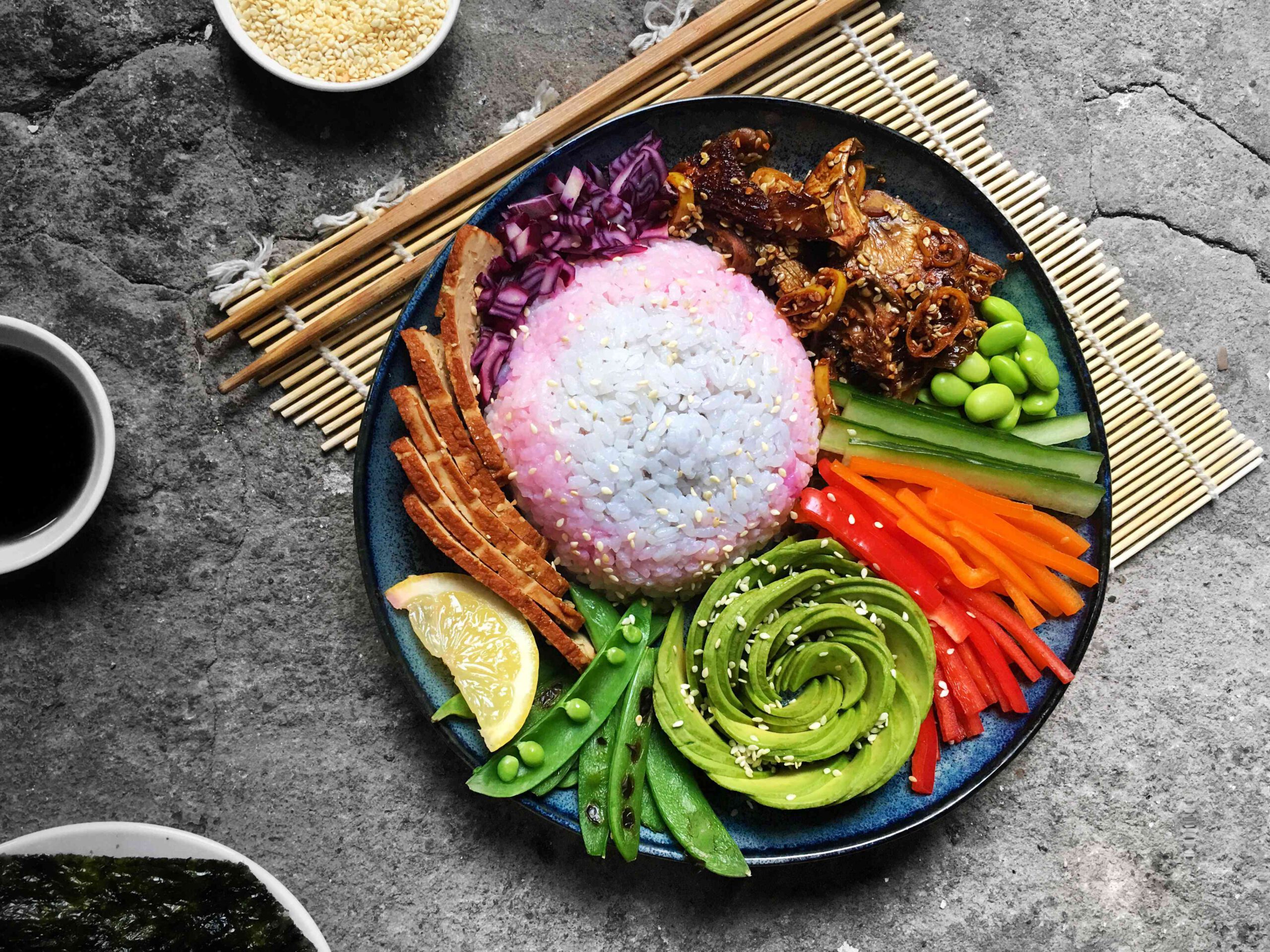 Magical Sushi Bowl
Feel like having sushi but don't feel like rolling? Well I've got something even better for you!
Ingredients
Bowl
1

serving

rice

1/2

avocado

1

serving

bell pepper

sticks

1

serving

cucumber

sticks

1

serving

smoked tofu

or marinaded tofu

1

serving

edamamme

(optional)

1

serving

sugar snaps

(optional)

1

serving

toasted nori

1

serving

toasted sesame seeds
Oyster Mushrooms (2 Servings)
150

grams

oyster mushrooms

1

tbsp

soy sauce

1

tbsp

agave

1

tbsp

sesame seeds

2

tsp

garlic chips

1

chilli pepper
Instructions
Sushi Bowl
Start by cooking the short grain (sushi) rice and making the oyster mushrooms. After these are made you can cut the remaining ingredients and optionally roast the sugar snaps and sesame seeds. Now assemble the bowl the way you prefer, you can add more or less of your favourite ingredients. I had some nori, soy sauce and wasabi on the side. Enjoy!
Sweet & Spice Mushrooms
Start by sautéing the oyster mushrooms over a medium/low heat until they get golden brown, this will take about five minutes. Now add the remaining ingredients and cook for another minute. Additionally sprinkle with some spring onions when serving. Enjoy!