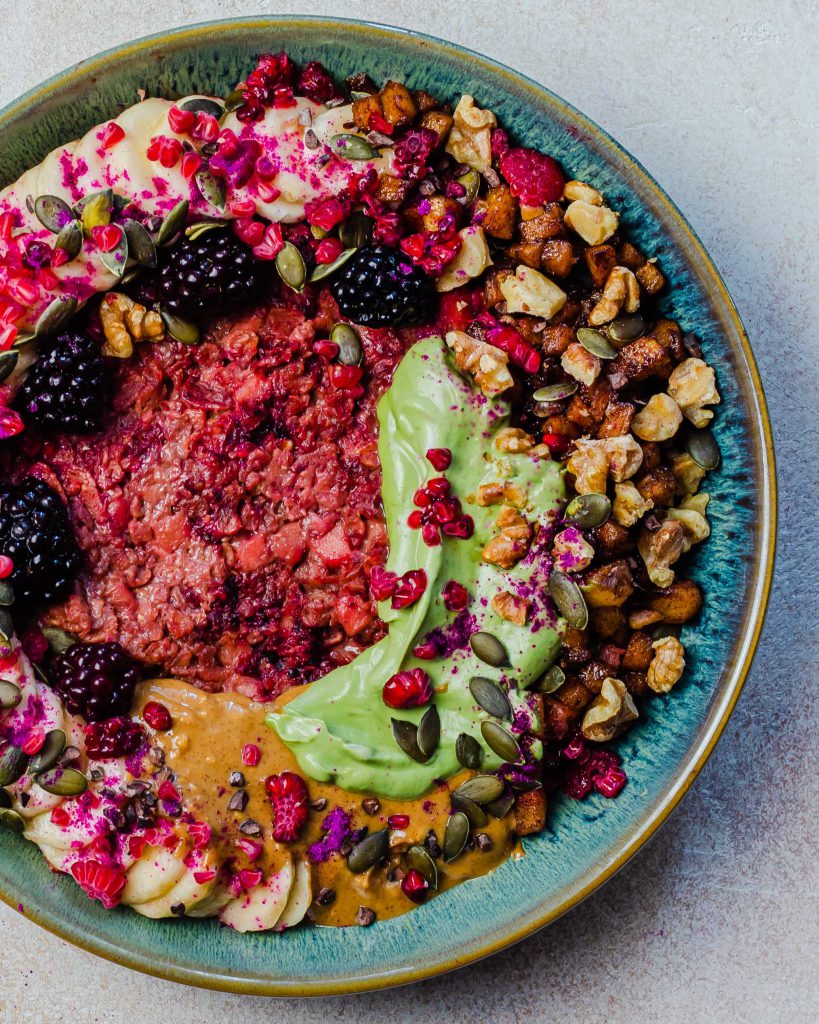 Look, as much as I'd love to wake up and smash my face into a piece of apple pie, it's most likely not going to happen. So instead I created this bowl of oatmeal to emulate a healthier version of apple pie. Let's just call it healthy apple pie oatmeal. Oh and we added a touch of colour, inspired by the red fuji apples used in this recipe. Let's make some breakfast.
There is a reason why so many people eat oatmeal in the morning. It's nutritious, keeps you full during the morning (or afternoon) and it is a very versatile dish. This version uses apples, walnuts and cinnamon. These three flavours combined create a perfect breakfast. If you love apples and cinnamon you should try these apple cinnamon pancakes, another perfect breakfast option.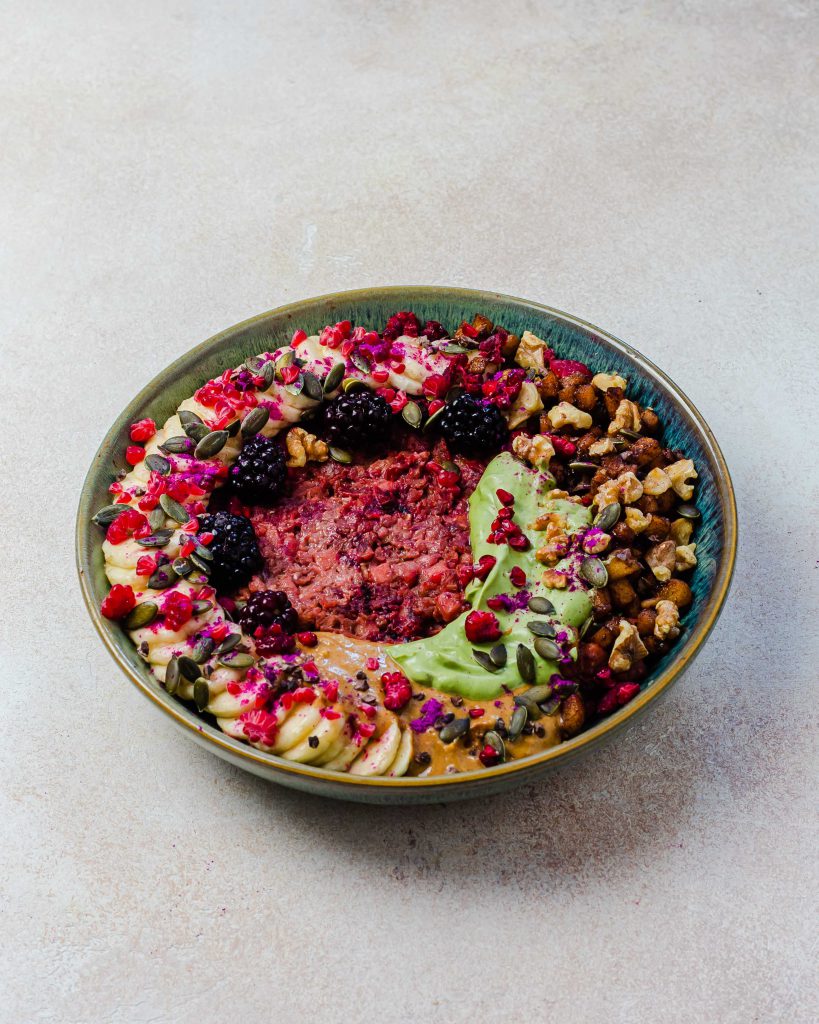 What would you top your bowl of healthy apple pie oats with?
As you can see pictured above, this oatmeal is topped with more than just apples and walnuts. I added banana, peanut butter, pumkin seeds, frozen berries and a matcha flavoured coconut yoghurt. This is my take on this breakfast, but you can make it however you love. Like swapping the frozen berries for fresh strawberries or just skipping them all together. Play around with whatever fits your palate.
Being inspired by fuji apples, I decided to add a tsp of beetroot powder to add the pinkish red colour. This of course is totally optional. I choose to use natural food colouring because it adds extra nutrients and experience to the overal meal. Sometimes complementing its flavour and sometimes pure visual.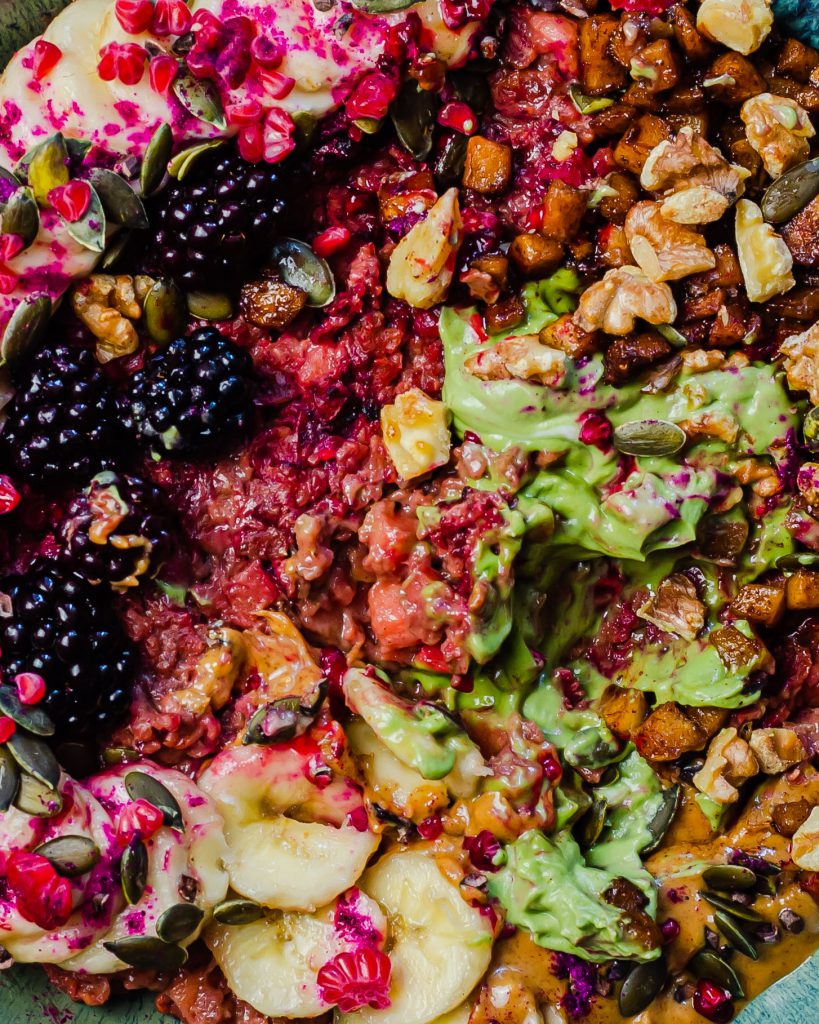 My sweetener of choice is coconut sugar. Sugar is sugar, wheter it's regular sugar or coconut sugar. Still coconut sugar has a slightly lower GI score which makes me justify it, lol. If you avoid sugar, you can skip it all together. Now you have the ultimate healthy apple pie oatmeal. Honestly just go with whatever makes you feel good.
Be sure to check my Instagram for more food inspiration. And if you'd like a savoury breakfast dish you should try this recipe for classic tofu scramble.
One Love, Jason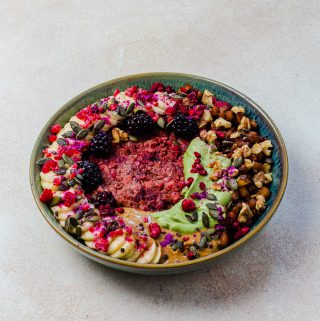 Apple Pie Oatmeal
Oatmeal infused with some apple pie flavours!
Ingredients
1

apple

chopped

1

tsp

cinnamon

3/4

cup

oats

1 3/4

cup

non dairy milk

3

tbsp

sweetener of choice

2

tsp

chia seeds

(optional)
Instructions
I simply added everything, except the chia seeds to a pan and put turned on the heat to medium/low. Keep stirring the oatmeal until you get your desired consistency, you might want to add some extra non dairy milk. The oatmeal should be done in 10 to 15 minutes. When the oatmeal is almost done add the chia seeds and stir them trough.

To make it extra yummy you can top it with things like walnuts, coconut yoghurt, extra cinnamon and fresh fruit.
Notes
For this dish I used quick oats, but feel free to use rolled oats instead, I always vary on both oats. Keep in mind that using rolled oats the cooking time might be a bit longer.