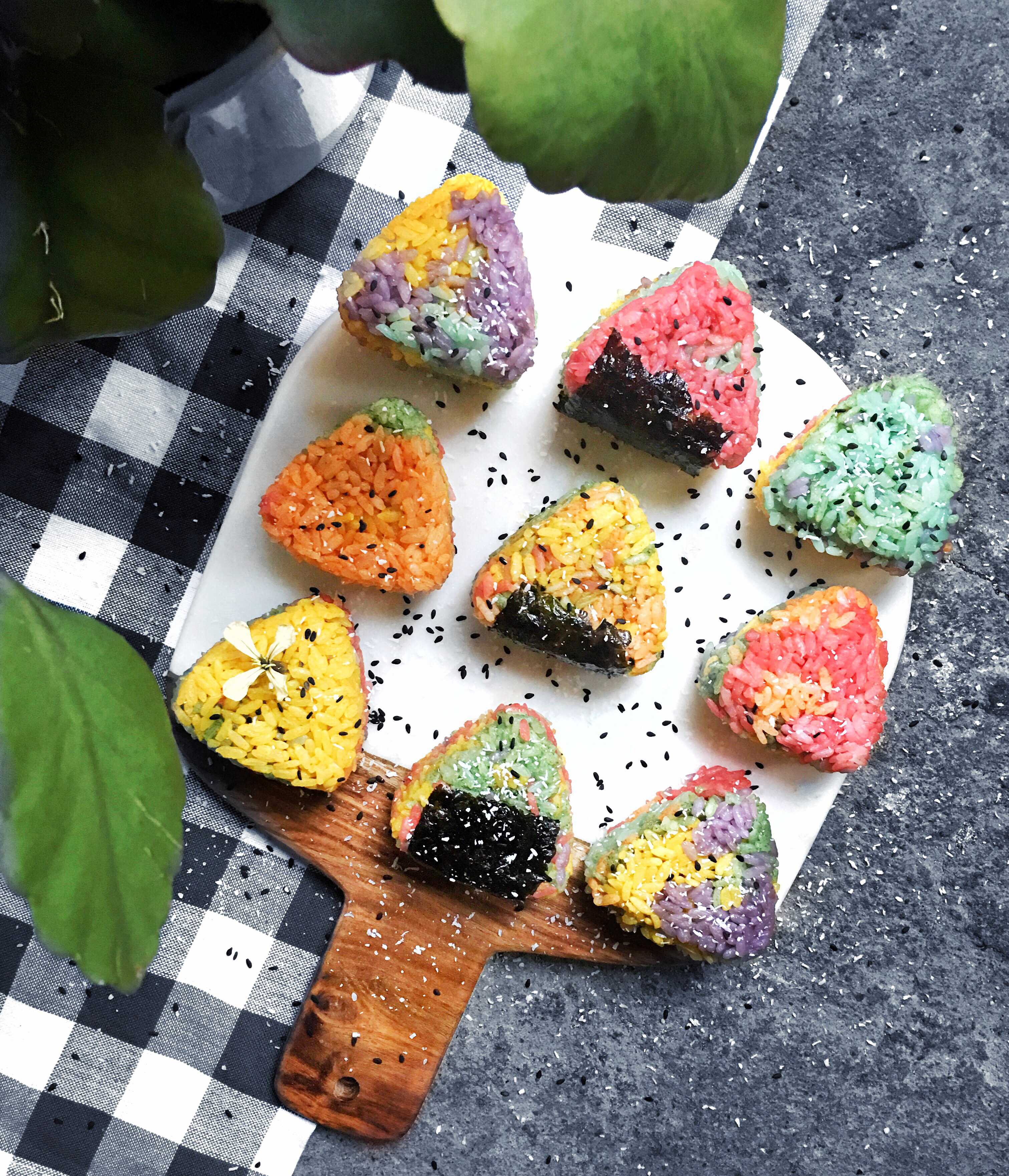 One of my favourite recipes so far has to be my rainbow sushi recipe, which you'll find over here, be sure to check it out to see how I made the rainbow rice. Now there are many other uses of rainbow rice and this time I'll share one thats fun, versatile and very delicious, rainbow onigiri!
Onigiri are japanese rice balls often filled with umeboshi (pickled ume) which is a kind of plum, kombu and many other fillings, but for these ball where gonna use a pea filling. They are great as a snack and in japan there are whole stores dedicated to these rice balls, selling many variations. You can eat them as is but often they are wrapped in seaweed. You can cover them with furikake (japanese seasoning) or wasabi powder if you're feeling brave.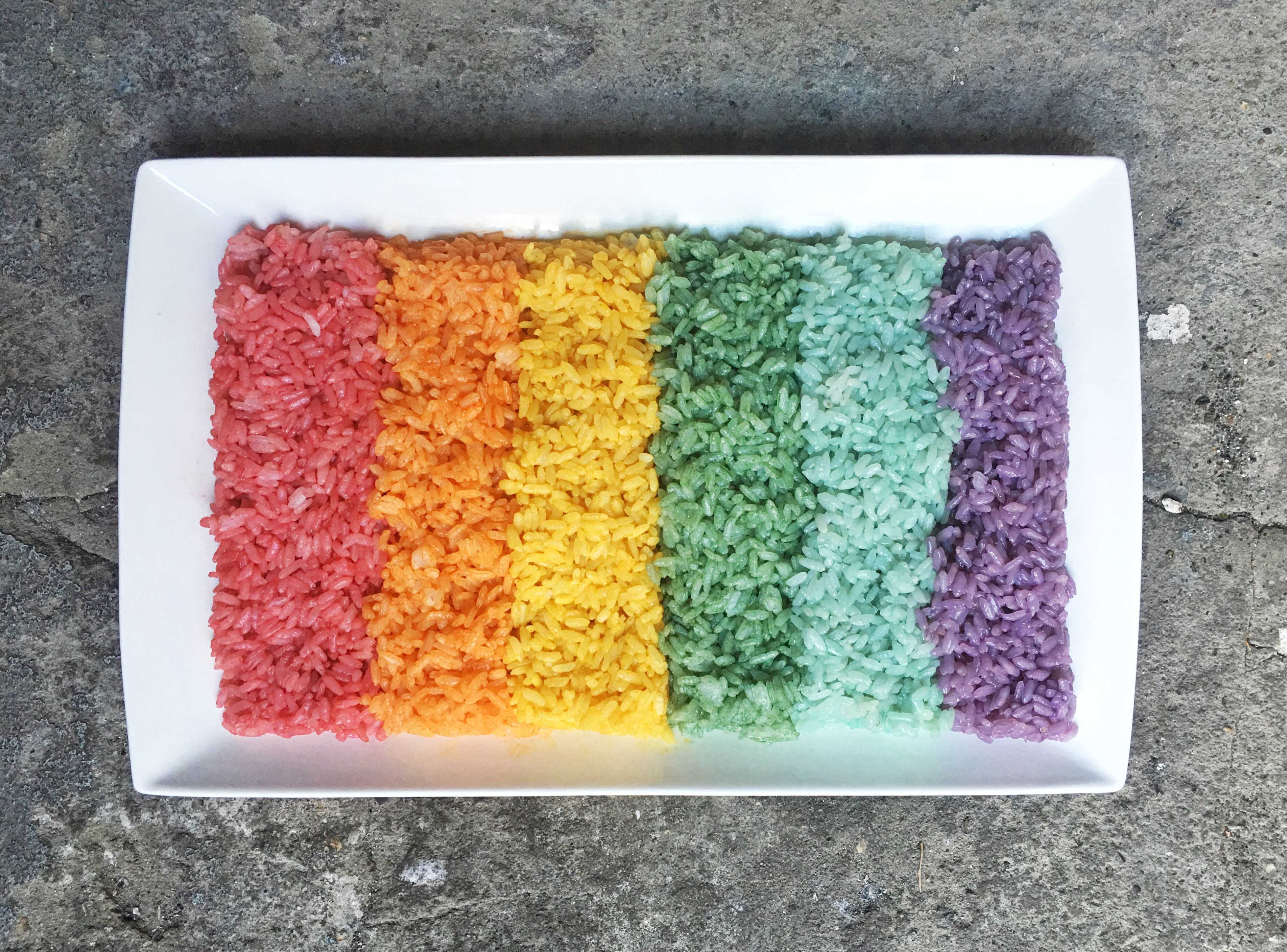 To make the rainbow rice you I cooked white sushi rice and added the colours afterwards apart from the purple, to make the purple I cooked the about 1/2 cup of rice with water I cooked purple cabbage in.
To make all the other colours I separated the rice in 5 and diluted the colouring with a little bit of water except from the blue because that one is already liquid.
I didn't want to use any artificial food colouring, but chose to go for all natural food colourings, such as:
Spirulina powder to make green, you can also use matcha powder
Turmeric to make the yellow (if you combine a bit of turmeric with spirulina you get a light greenish colour)
Beet powder (or juice) to create a red colour (and combining this with a bit of turmeric makes orange)
Gochujang although red makes a nice orange if u use a little
Purple cabbage make a nice purple and adding baking soda to the purple cabbage water turns it blue.
Now of course you don't need to make these rainbow coloured to make this recipe, it's all about the filling here, but don't get me wrong, rainbow coloured anything is a feast for the eyes (and chakra's)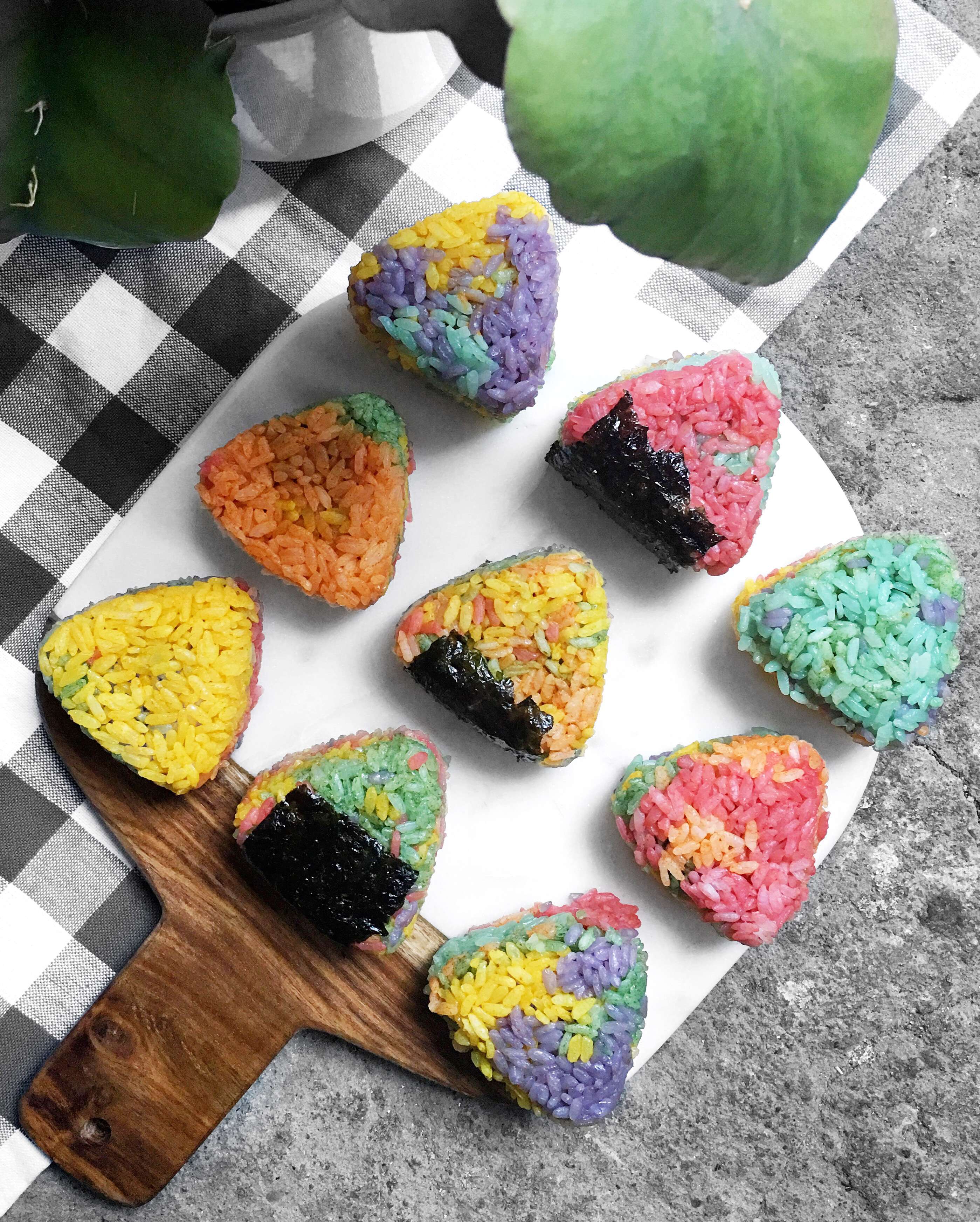 These are perfect as a snack to take to work, school or on a picnic, scratch that, just take them wherever, whenever because there is always a reason to have some onigiri!
Don't forget to tag me in your recreations or leave a comment below.
One Love.
A.J.
Rainbow Onigiri with a Coconut Curried Pea Filling
Ingredients
Filling
1

cup

peas

1

onion

chopped

4

cloves

garlic

minced

2

tsp

garam masala

1

tbsp

gochugaru

100

ml

coconut cream

1

pinch

sugar

1/2

cup

water
Rice
2

cups

cooked sushi rice

2

tbsp

sesame oil

2

tbsp

sugar

seasoning of choice

try furikake
Instructions
Filling
sauté the onions and garlic with a pinch of salt for about 3 minutes. Now add the garam masala, gochugaru, sugar and peas, also add about half a cup of water and the coconut cream. Cook it for another 7 minutes or so until the sauce becomes thick.

Once the mixture cooled down add it to a blender or mash it until you get a thick and chunky sauce, leave some texture. Keep in mind that the filling should be quite thick, otherwise it will spill out of the onigiri.
Assembling
You can make them by hand by wetting your hand and taking some rice, making a well to put the filling and then closing it to encase the filling within the rice and shaping the ball into a triangle. But to make things a bit easier I used a triangle mold so I could pieces of coloured rice piece by piece. When I used half of the rice I added a teaspoon of the filling and topped it with the other half of the rice, now press it down tightly so the rice will stick together. Enjoy.