I'm back from vacation and starting things of slow I decided to make a quick and easy recipe which is also very delicious! The recipe is quiet versatile as you can use whatever vegetables you'd like, for this recipe I used mushrooms, asparagus, carrot, spring onion and baby corn, but feel free to add your own additional veggies like bamboo shoots, mung bean sprouts, cabbage, leek or any other vegetable you prefer. Also feel free to leave out any vegetables you might not have on hand as this is supposed to be quick and easy and should not require additional trips to the grocery stores, ain't nobody got time for that!
From now on I'll post a quick and easy recipe every single week for you and for me because it's always handy having some healthy fast food options on hand, where the only time-consuming part is having to chop my food.
As much as I love vegan instant noodles and noodle soups they aren't always the healthiest options and apart from a little bit of oil and a pinch of sugar this recipe is quite clean. Now all I need is a perfect instant ramen recipe and I might just be able to resist my favourite brand of vegan ramen, but then again its all about balance right!?
Now let's get cooking and enjoy some yummy stir fried noodles! And if you are making this for more than just yourself just double, or triple the recipe. And don't forget to check back in next week for another quick and easy recipe!
Always feel free to leave a comment below or tag me in your creations on Instagram!
Much Love.
A.J.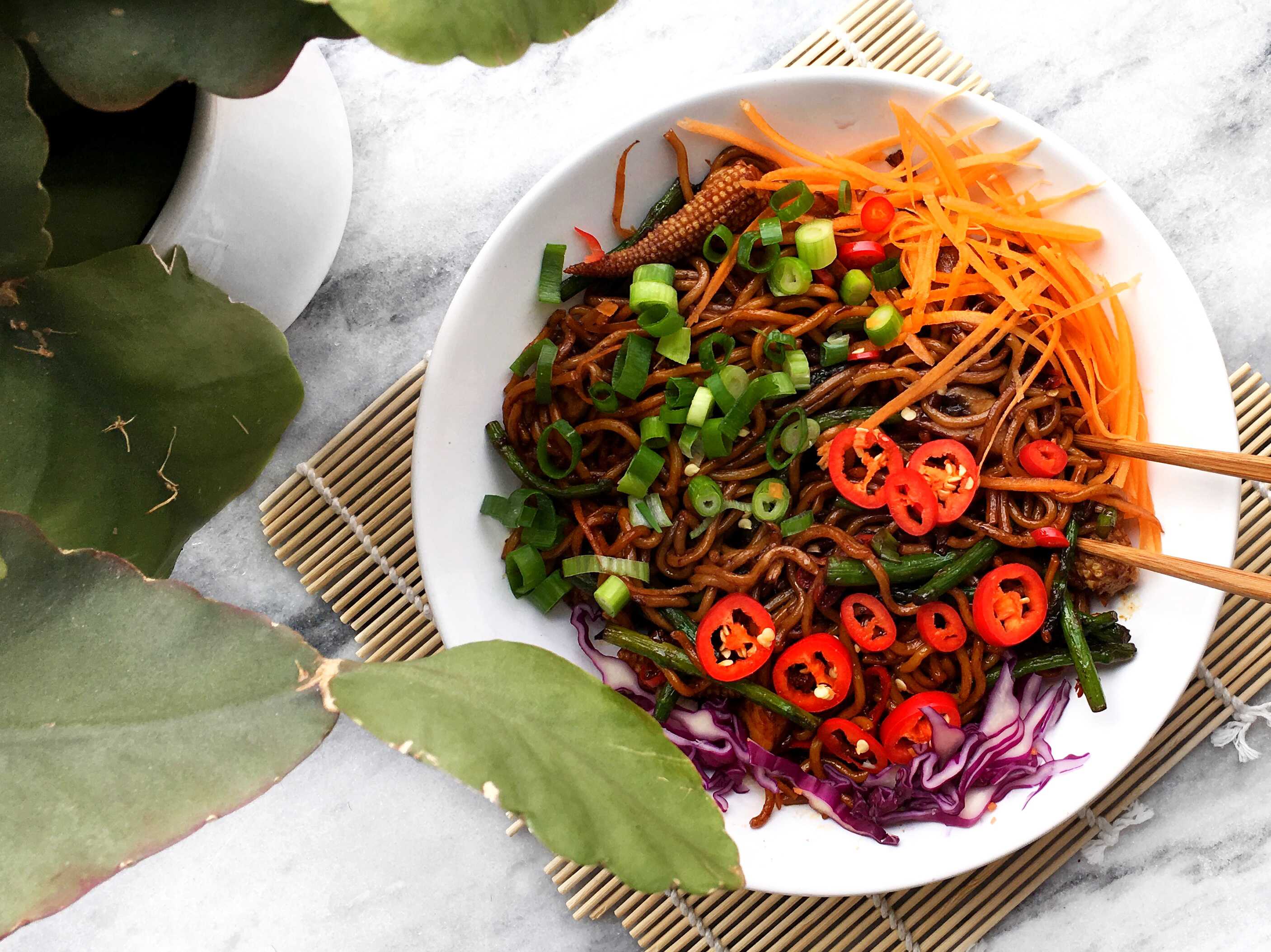 Stir fried noodles
A quick and easy recipe for stirred fried noodles, filled with veggies and ready in about less than 20 minutes.
Ingredients
2

tsp

soy sauce

1

pinch

sugar

1/2

tsp

sesame oil

1/4

tsp

ginger

150

grams

wok noodles

5

mushrooms

50

grams

green asparagus

4

cloves

garlic

1

red chilli

1

carrot

2

spring onions

6

baby corn
Instructions
Get your noodles ready (check package for directions) Now add a little bit of oil to a pan and turn the heat to medium/high. Once the pan is hot add the vegetables and turn the heat to medium. After about 5 minutes add the noodles, ginger, soy sauce and a pinch of sugar and stir fry for another 2 minutes before adding the sesame oil, turn of the heat and you're ready to eat. Enjoy!