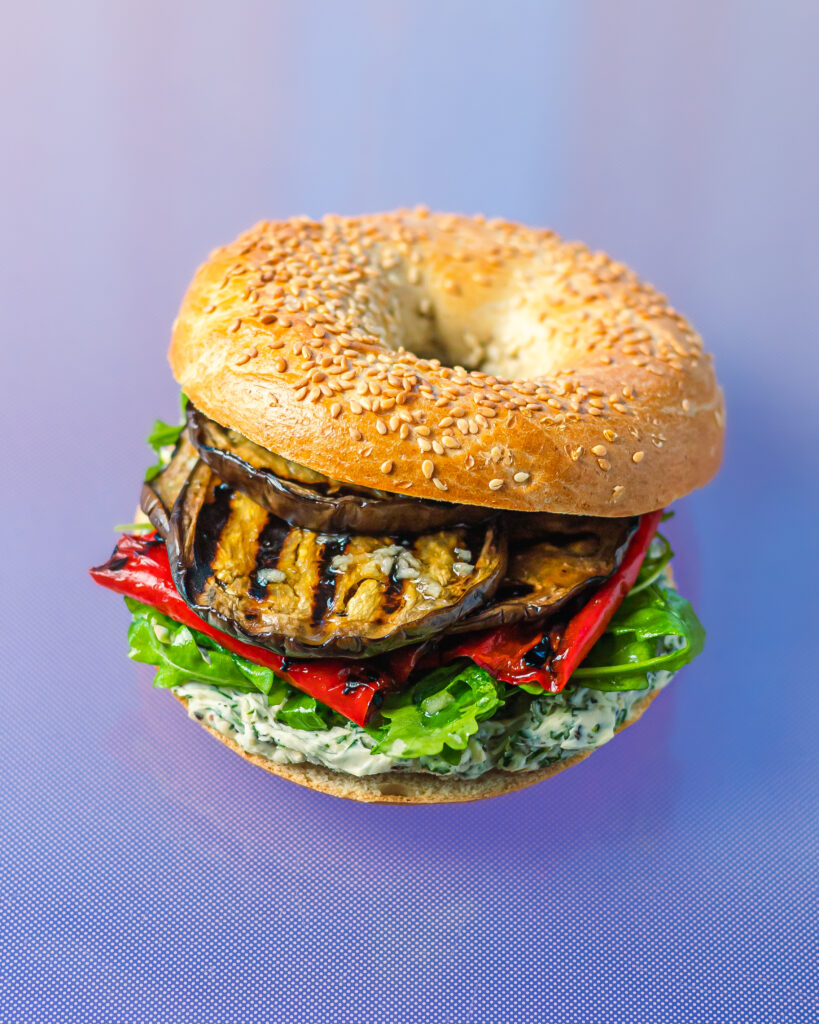 For Vegan World Month I've teamed up with Violife to bring you this delicious herbed cream bagel. Together with Happn my favorite plantbased cheese brand did research into vegans and dating. Happn & Violife found that 89% of non vegan singles would have no problems dating someone who is. This leaves me wondering who those 11 procent are because I'm sure that they would be down to try this delicious vegan cream cheese bagel!
This is a perfect lunch for a romantic breakfast or lunch. Who doesn't love a vegan cream cheese bagel with tender eggplant and garlic kisses? Come and get it!
The research also showed that 82% of vegans could fall in love with non vegans and 76% of the non vegans could fall for someone who is.
I personally never had a problem dating or falling for someone who isn't vegan. Especially looking at the fact that everyone I've dated or fallen for happened to be non vegan. The only rule of thumb is that I would never cook something that isn't vegan, and so far I haven't had any complaints.
They always tend to love the food I cook and some even said that they prefer most of my vegan dishes over the ones with animal products. Thus my boyfriend leaves the cooking to me.
Still 54% of the questioned people believe a vegan lifestyle to be more complicated and 41% think that vegan food is less tasty.
Personally I think that it depends on what you get used to. When I first went vegan it was a struggle to adept and to make crowd pleasing meals. Fast forward to now, I've grown so accustomed to this lifestyle that all its facets have ingrained into my life.
And to the claim that it would be less tasty I'd say that it depends on the person cooking it, but the same goes for non vegan food.
Eggplant is one of my favourite vegetables but I find that many people have a hard time getting it right. This recipe will hopefully bring you one step closer to understanding this wonderful vegetable. When cooked right it has a lovely soft texture and mild taste that goes well with almost anything. Especially with the super creamy and 100% plantbased cream cheese from Violife.
Enjoy this recipe and show your date (or yourself) how delicious vegan food can be.
Soso Lobi,
Jason