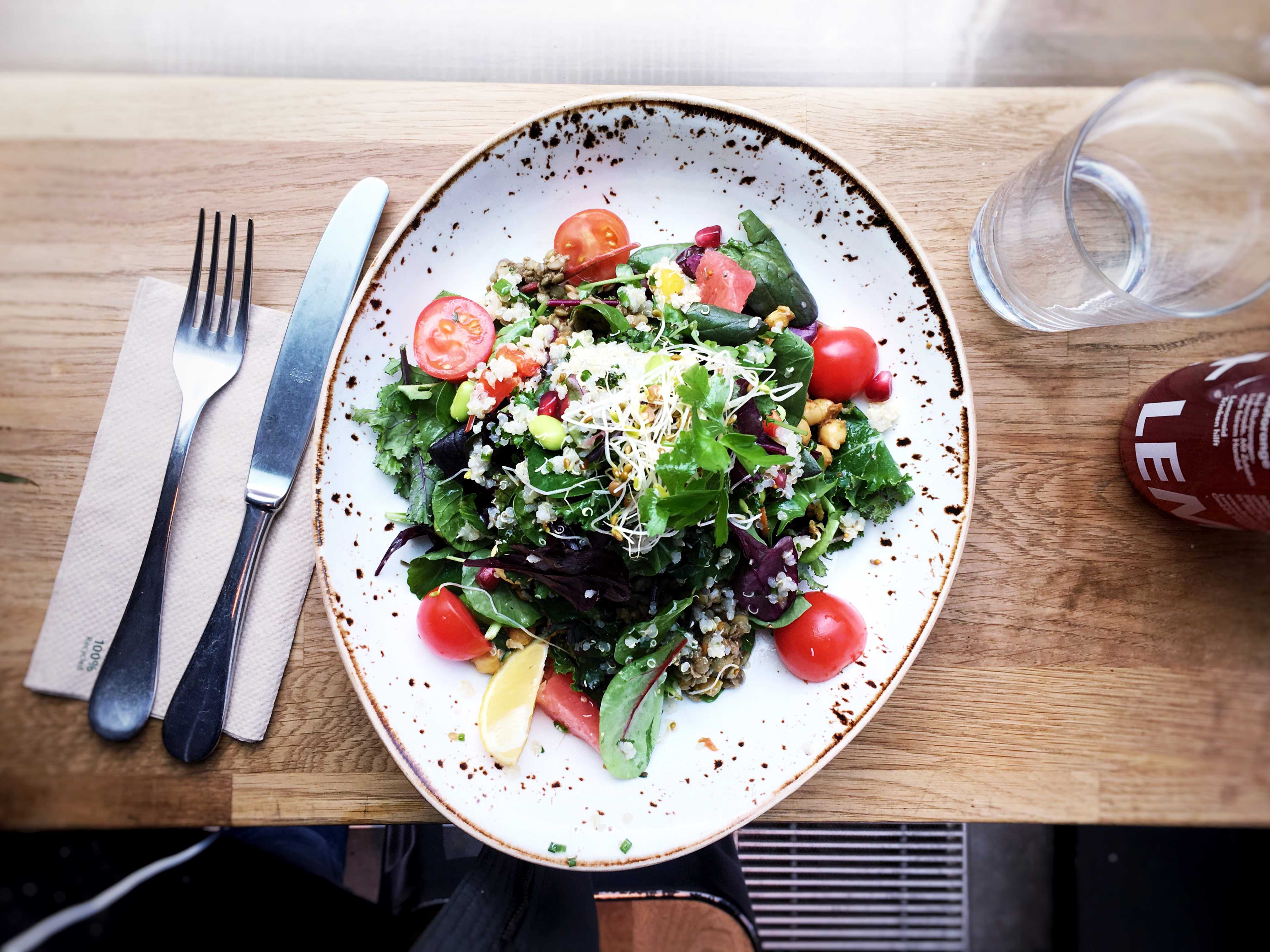 When I'm visiting a new city I can't leave without sharing at least one vegan hot spot. These type of posts help me decide where to eat when I'm visiting a new place so I'm always able to enjoy a vegan meal. I did some searching on happy cow and found some spots that caught my attention, due to a shortage of time I decided to only visit Vevay, and I'm happy I did!
It's located in the city center across the Frankfurt opera house. My first impression was good, they had an impressive vegan menu (which also comes in English) and the service was nice. One thing to keep in mind is that you can only pay with cash!
I statred by ordering the power salad, but there was a little miscommunication so I ended up getting the protein salad, which I only found out after eating half of the salad. I didn't really mind tho, because this salad was really good, otherwise I wouldn't have figured it out halfway through! The protein salad came with quinoa, lentils, mixed greens, edamame, sprouts, cashews, tomatoes and a mustard chia vinaigrette.
In the end I'm happy I got the protein salad, with the most delicious bread on the side and an organic blood orange lemonade. I decided to take a slice of their peanut butter cake to go to share with my friend. And yes all their cakes were vegan! The peanut butter cake was nice, the texture was good but it didn't blow us away. Next time I'll try one of their raw vegan cakes, sadly this one wasn't ready yet when I came.
I will definitely return to get my power salad, it come with smoked tempeh and avocado, and a slice of that raw vegan cake, oh yes! I'll be back.
Conclusion: Whenever you find yourself in Frankfurt I'd definitely recommend visiting Vevay. Their prices are reasonable and their menu has something for everyone. The costumer service was great in my opinion and it's easily accessible. Also if you do decide to hop by please try the power salad and make sure report back to me, I'm ever so curious!
Let me know if you like these kinds of posts, cause I'd love to share more vegan food spots, making plant-based eating accessible at all places and all times! feel free to let me know in the comments below. And of you'd like you can follow me on Instagram or like my Facebook page.
One Love,
A.J.