Hi friends, I've got another product to test which (for as far I know) is only sold in the Netherlands, but don't click away yet if you're not from here, cause I've got a delicious recipe waiting for you at the end of this post.
Note: Although this product was sent to me, this does not influence my opinion of the product I am about to try!
When I'm cooking for my family, I love using meat replacement products since they still have to have a piece of "meat" with their meal. And honestly some meat replacement products are simply delicious. Hey I am still making an effort to eat more clean and less processed products, but I like to enjoy everything in moderation. And I honestly do believe these meat replacements to be a healthier option than meat.
Now when vivera send me some of their products to try, I knew I was gonna make some delicious meals for me and my family to enjoy! You can find another recipe using one of their products right here.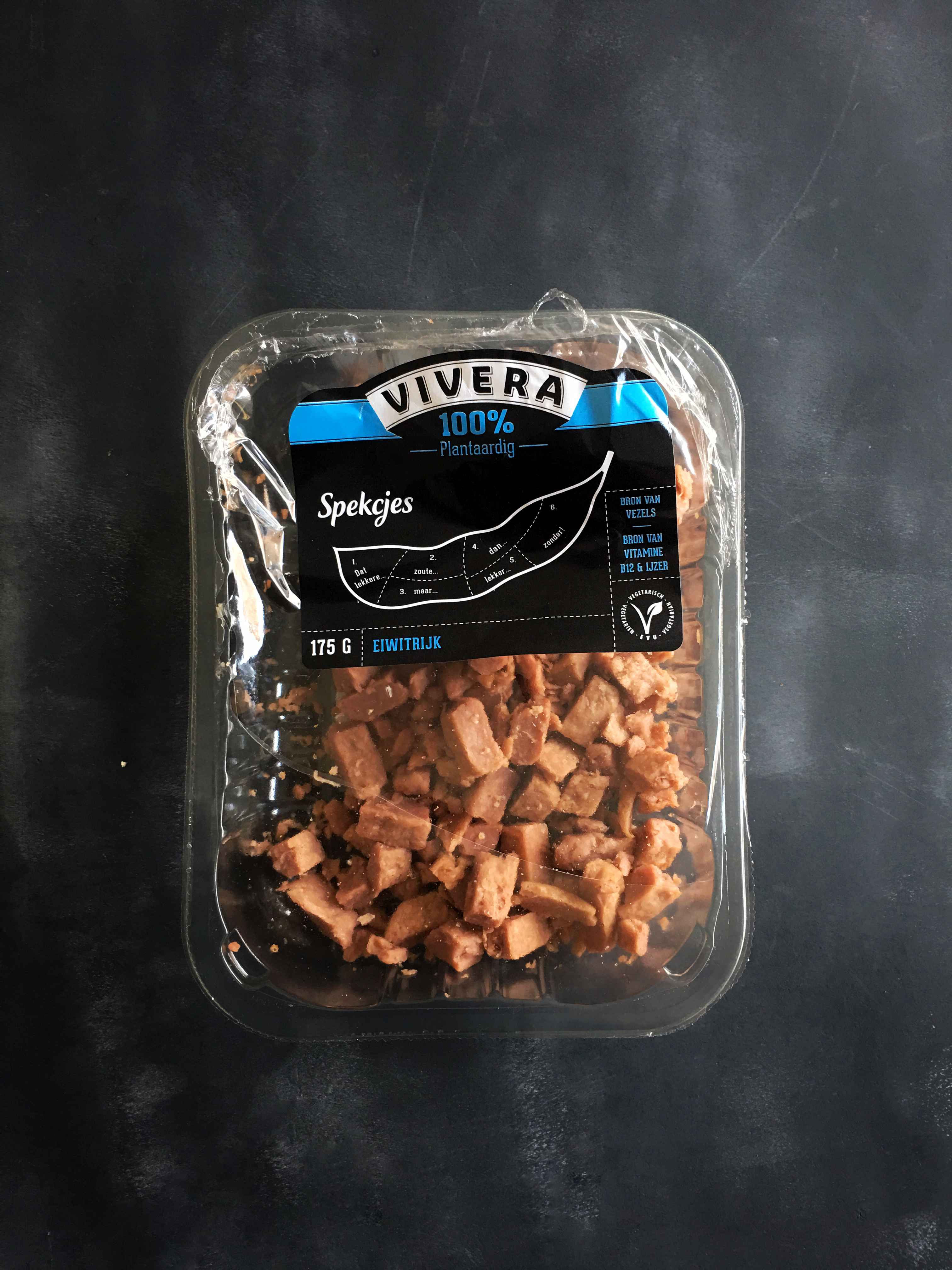 The first product I decided to try were their spekcjes, which are like mock bacon bits. I thought of making it with some boerenkool, which is a dutch dish made from mashing potatoes with kale, but my mind was quickly drawn to another dish I enjoy even more, creamy pasta! And this time I decided to not use gluten-free pasta since I was felt like indulging, sometimes you've simply got to treat yourself! I made a white sauce, cooked the "bacon bits" and some pasta and combined everything in a large pan and voila, one of my favorite dishes was born.
This dish was served to my mother and grandparents, and they absolutely loved it! I know I'll be making more of this in the near future, it was a winner. My mother loves bacon bits and this products scored great points in here book, I myself enjoyed it as well.
Now of course I can't send you away without a recipe, scroll down to find it!
---
Ingredients:
Vivera Spekcjes (optional, but recommended)
Pasta of choice
3 Tbsp Vegan butter or vegetable oil
4 Tbsp Flour
2 1/2 cups plant-based milk, I used oat since it has a mild taste. And make sure the milk doesn't contain vanilla.
A generous pinch of nutmeg
salt and pepper to taste
Directions:
First let's start by making the white sauce. Add the vegan butter or oil to a sauce pan and bring the heat to low, once the butter has melted you can add the flour and stir it well until combined, this will make the roux that will thicken the sauce.
Now add the milk and spices and whisk well to avoid lumps, turn the heat to medium/low and keep stirring for about 10 minutes, or until you reached your desired consistency.
Now make the pasta and cook the bacon bits, once ready I added everything in a pan and combined it well. You can also simply pour the sauce over the pasta and add the bacon bits.
---
I hope you enjoyed this post and if you decided to recreate this dish feel free the tag me in your recreation on instagram.
One Love,
A.J.