Looking for granola without any honey, processed sugar and oil, but still crisp and deliciously sweet? I've got you covered with this wholesome recipe!
All we need are some whole foods home made date paste (or store bought if you don't have a food processor) and we're ready to go. We added some lovely spices to create a nice and warming chai blend that goes perfectly in your morning smoothie bowl, or any other dish you like to add granola on, heck you could even have these as a snack.
Customise this recipe to your own liking by adding different kinds of dried fruit, nuts and maybe by switching up the spices. For this recipe I chose to go with mainly hazelnuts as they pair well with the spice mix we use in this granola.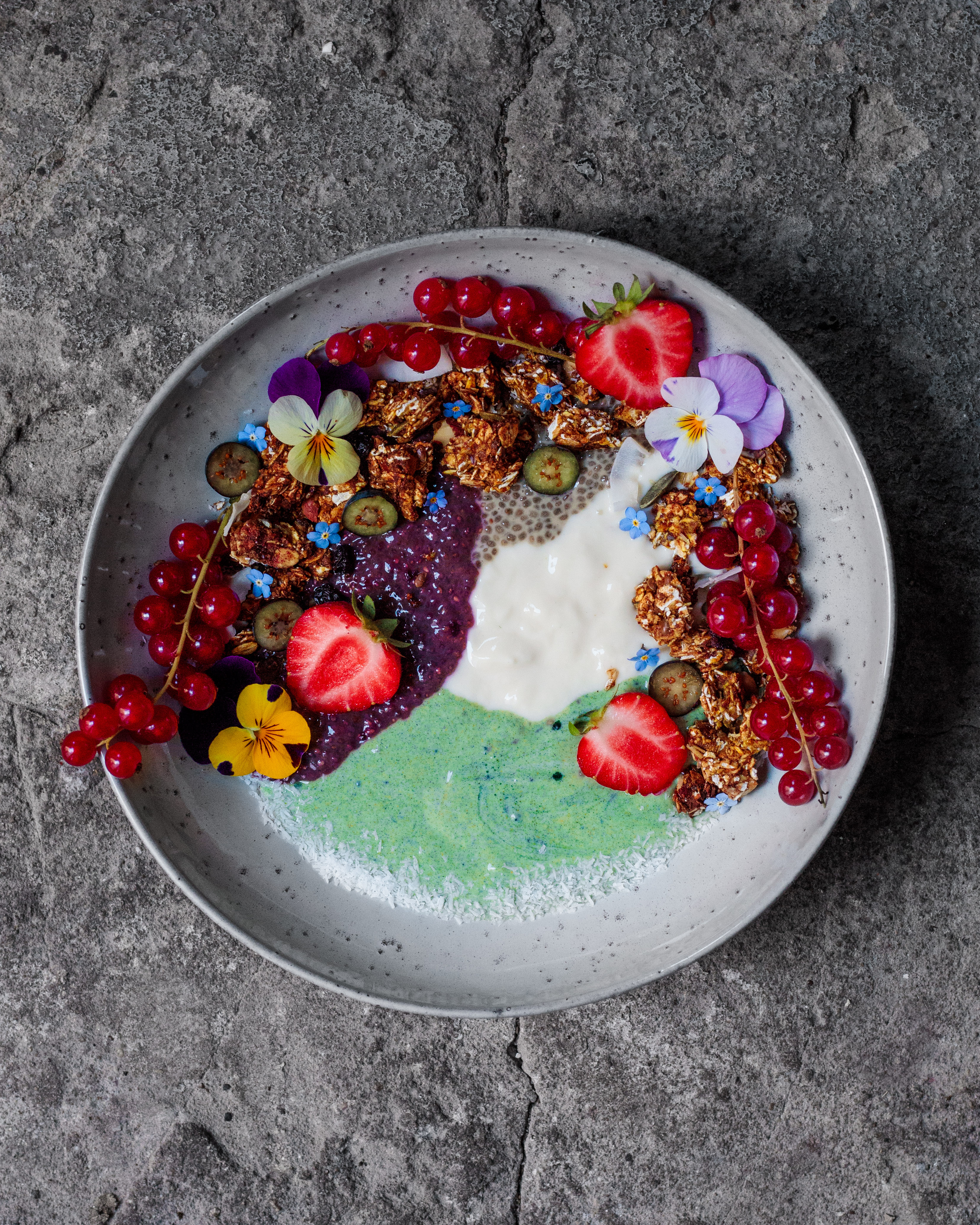 I love having this granola with some non dairy milk or yoghurt, but also added on top on chia pudding or simply as a healthy snack.
Store this yummy granola in an air tight container to keep it fresh and crunchy for up to 2 weeks, if it will even last for that long. I hope you'll enjoy this recipe as much as i did!
If you make this granola don't forget to tag me on Instagram as I'd love to see your creations, and you can also find me on Facebook
One Love,
A.J.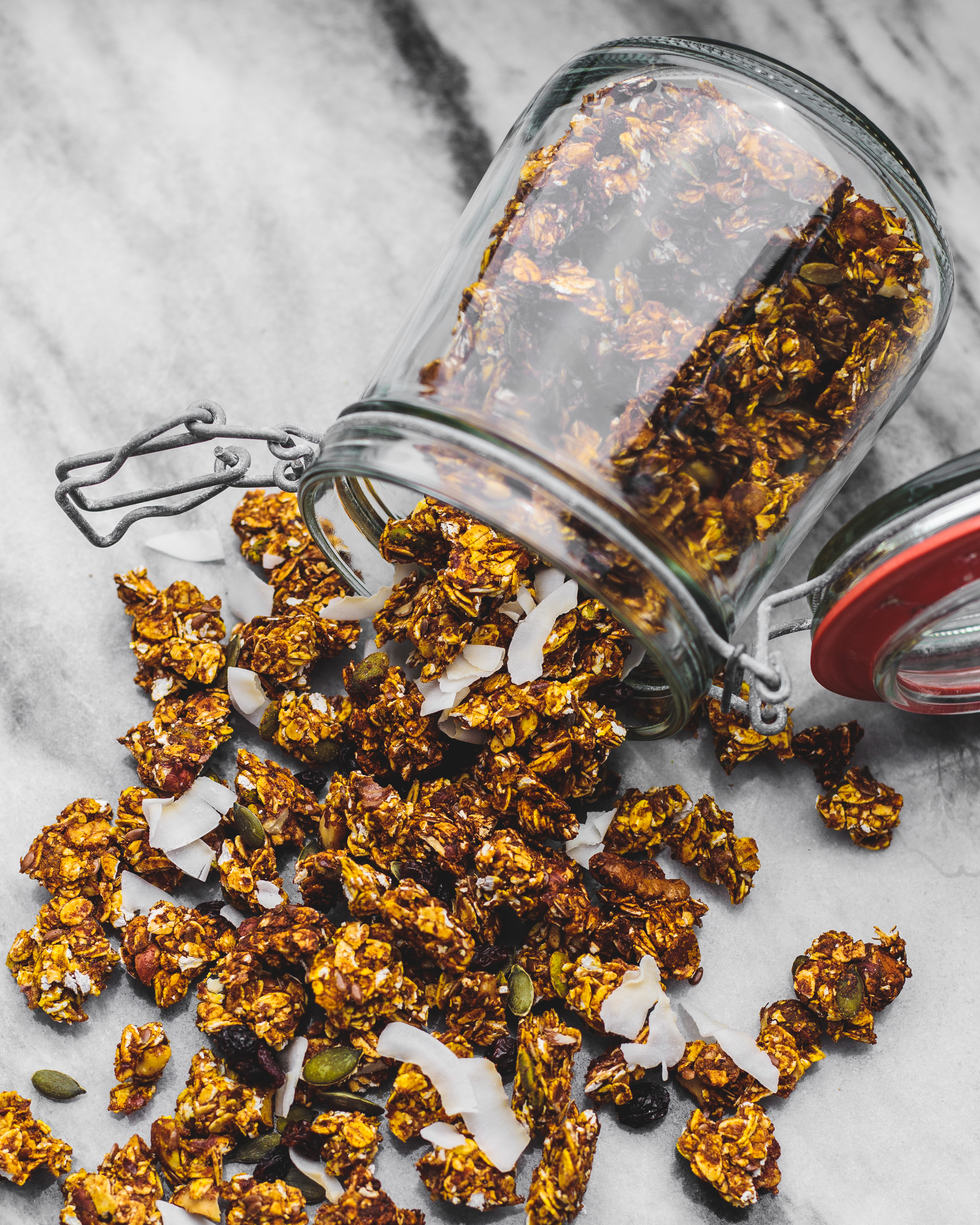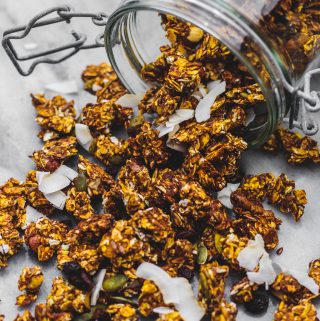 Chai Spiced Granola
An easy and delicious recipe for big granola clusters.
Ingredients
2 1/2

cups

oats

235 grams

1

cup

nuts of choice

chopped (hazelnut is a great combination) about 90 grams

1

cup (packed)

dates

250 grams

2

tbsp

flax seed

2

tbsp

pumpkin seed

2

tsp

cinnamon

1/2

tsp

cloves

1/4

tsp

cardemon

1/4

tsp

star anise

1

tsp

ginger powder

1/2

tsp

all spice

1

cup

dried fruits

(optional)
Instructions
preheat your oven to 300 degrees F (150 celcius) add your pitted dates in a food professor or blender and process until it becomes like a very thick paste. You might need to scrape down the sides from time to time. If you are using nuts then chop them up into small pieces.

In a bowl combine the oats, nuts, spices and seeds and mix until combined.

Now add the date paste to the bowl and mix well until everything's combined. Don't be afraid to get in there with your hands.

Lay a piece of parchment paper on a baking tray and add the granola mixture spread it out evenly (about a quarter inch thick)

Now place the tray in your preheated oven and bake about 30 minutes (depending on the oven and how thick you spread the granola) until golden brown. check on the granola from time to time to make sure it doesn't burn. When removing from the oven, let the granola cool to crisp up and break it into chunks.

now add your dried fruits and put your granola in an air tight container to last for up to 2 weeks.
Notes
Instead of making your own spice bland you can also use 1 tbsp store bought chai mix.
You can play around with the dried fruits. I used a combination of dried coconut flakes, cranberries, mulberries and dehydrated mango.