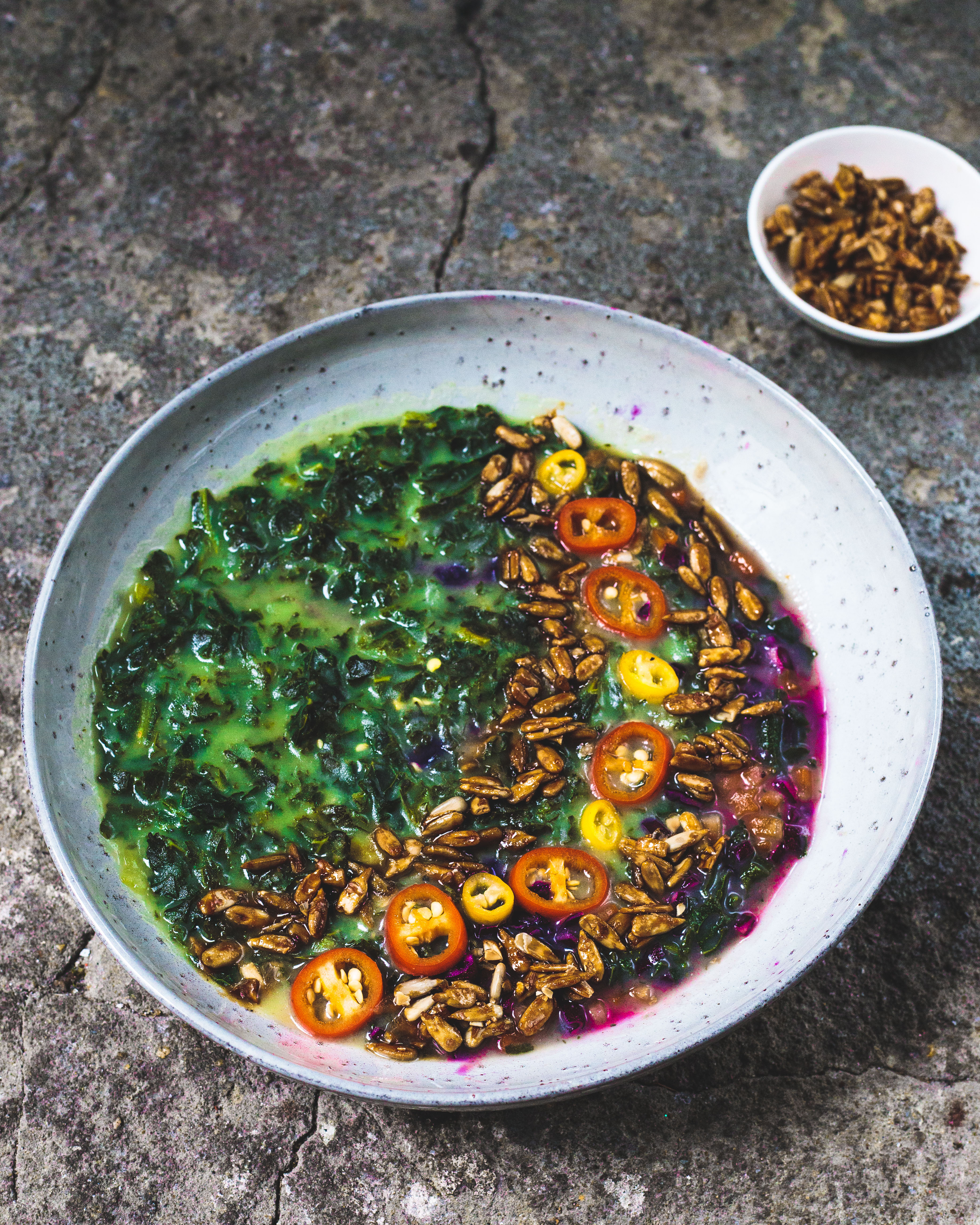 I'm starting a new segment! One where I'll be trying recipes and reviewing vegan cookbooks. Over the past few months I've been growing an appreciation for all the hard work and effort that goes into creating a cookbook, this is why I'd like to support my fellow vegans who are sharing their recipes with us. So to spread the love and hard work I'll be sharing some vegan cookbook reviews every single month.
To kick things off I'm sharing a recipe from "Vegan Smaak Souvernirs", the new dutch cookbook by Jolijn Pelgrum from Vegadutchie and Sjoerd Schotten from Sam Greens. Their recipes are inspired by their travels and the dishes they enjoyed. It's a book filled with a variety of dishes from Surinamese Roti to a Belgian Waterzooi.
After going through the book one particular recipe caught my eye. It was a recipe for a Portuguese kale soup called Caldo Verde. Traditionally this includes sausage so for this recipe they just omitted the meat to create a simple yet delicious soup. Instead of sausage they added some savoury goodness with crunchy and umami roasted sunflower seeds.
I found the soup to be very easy to make and it was quite filling. I added some extra veggies for texture and a bunch of chili peppers because you know I like my food spicy!
If you're looking for a cookbook with simple recipes and lots of inspiration from dishes found around the world be sure to check this one out. Click this link (dutch) for more information.
Check the recipe below and if you recreate this recipe don't forget to drop a comment down below and feel free to tag and follow me on instagram and facebook.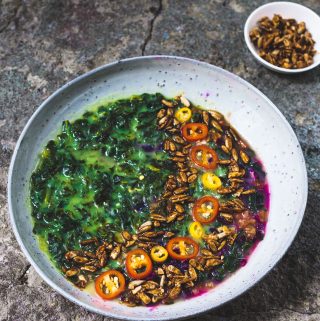 Cookbook Review #1 - Vegan Smaaksouvenirs - Caldo Verde
Ingredients
1

red onion

3

cloves

garlic

750

grams

floury potatoes

450

grams

kale

3

tbsp

olive oil

1 1/2

liter

vegetable broth

1/4

tsp

salt

1/2

tsp

black pepper

4

tbsp

sunflower seeds

1

tbsp

soy sauce

1

tsp

maple syrup
Instructions
Soup
Chop the onion and garlic. Peel the potatoes and cut them in cubes. Wash the kale and chop it into small pieces.

Heat a soup pot with 1 tbsp off the oil and saute the onion and garlic over medium heat until translucent. Now add the potatoes and veggie stock, bring it to a boil and let it simmer for about 25 minutes. Once the potatoes are boiled puree the soup with a handmixer.

Now add the kale and remaining olive oil and cook the soup for another 15 minutes before serving.
Sunflower seeds
Roast the sunflower seeds until golden brown in a pan. Keep stirring and make sure they don't burn. Once golden turn off the heat and add the maple syrup and soy sauce, stir well. Set aside to cool.