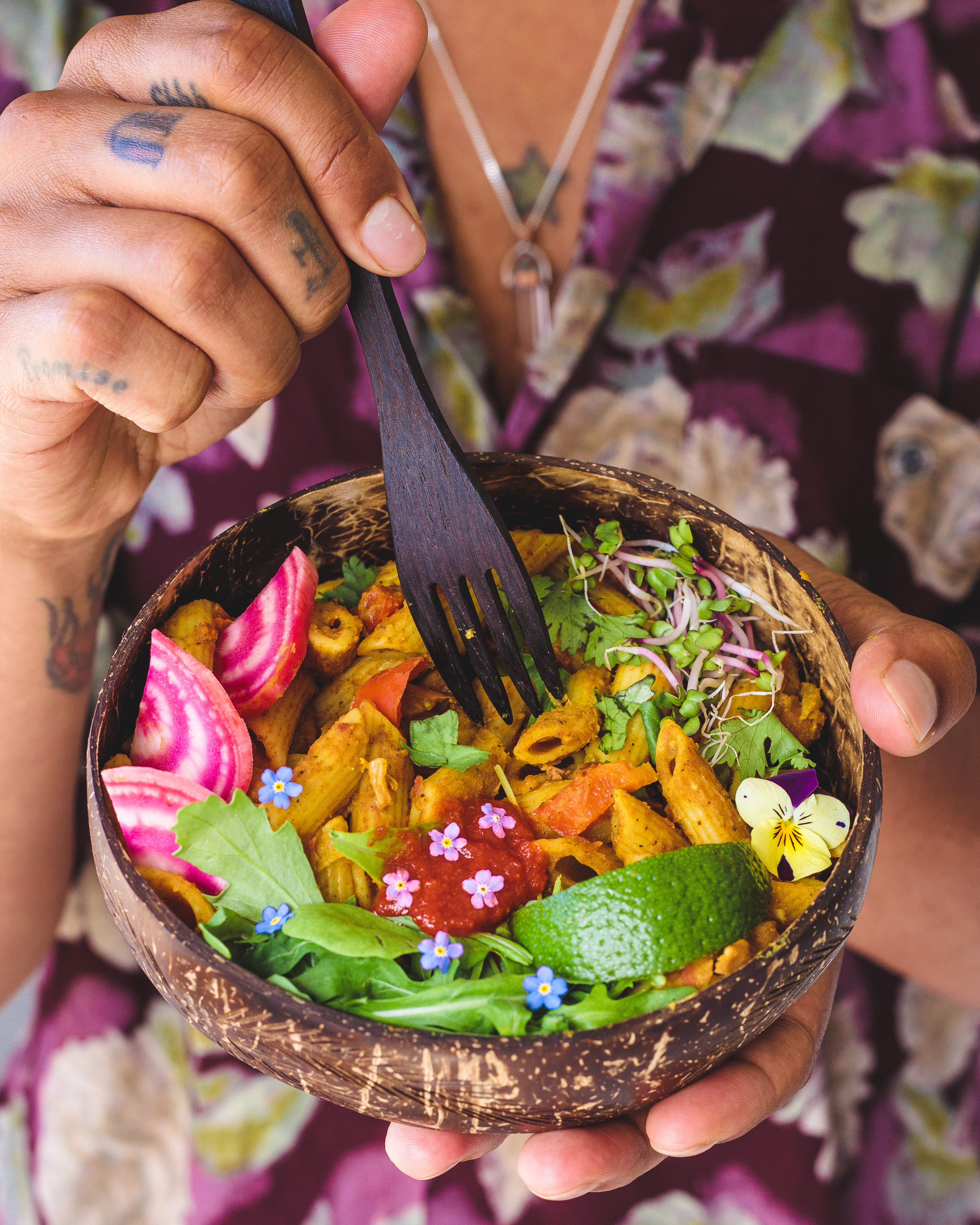 As an adult one of my favorite dishes are curries, this is something that hasn't changed from my childhood, therefore these dishes instantly transport me to another time. Curries are, for me, some of the most comforting dishes, but there's another comfort food that's high on the list. Pasta.
I was feeling a bit gloomy and in need of some comfort, not knowing what to eat I took a stroll through the supermarket. Standing in front of the beans it suddenly hit me, like lighting strikes, an image of a dish popped into my head. The beans had evoked a memory of having beans and rice, a dish I hold very dear, but instead of rice I saw the dish with pasta, without questioning why, I immediately took all the ingredients that fit this image.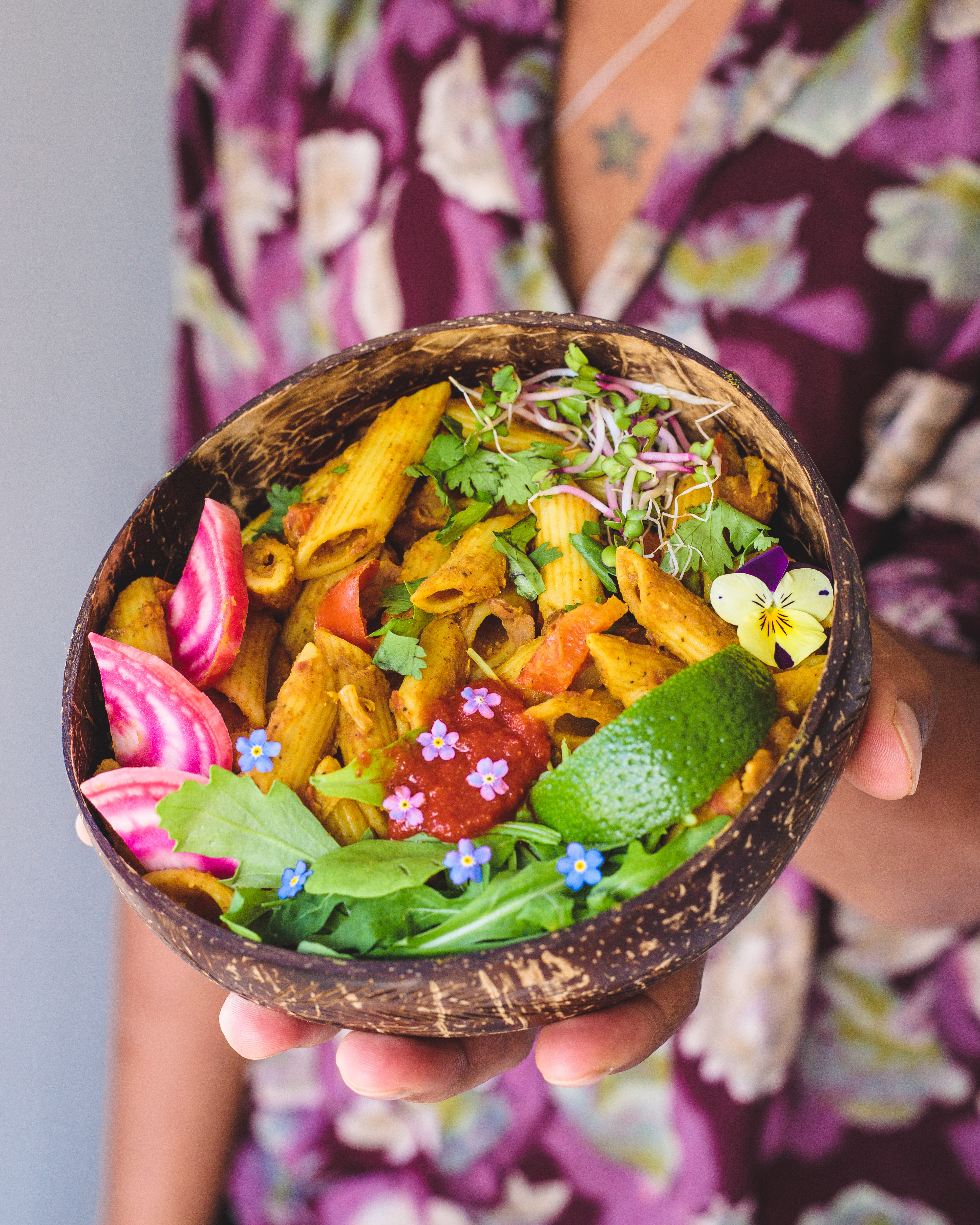 Now after having tried this dish, it would be selfish for me to keep it for myself, we all could use a bit of comfort in our lives. This is by no means anything traditional, but rather a symphony of different cultures and cuisines. I took the idea of rice and beans, a creole staple, swapped the rice for pasta and added a hint Indian cuisine and voila, a winner dish! This to me is comfort food at its best.
Like most of my dishes there are options to play with, for example the type of paste you decide to use, or what kind of beans you want to incorporate. My pick for this dish were brown beans because they are oh so comforting for me, but feel free to use kidney, garbanzo or maybe even black beans, to name a few.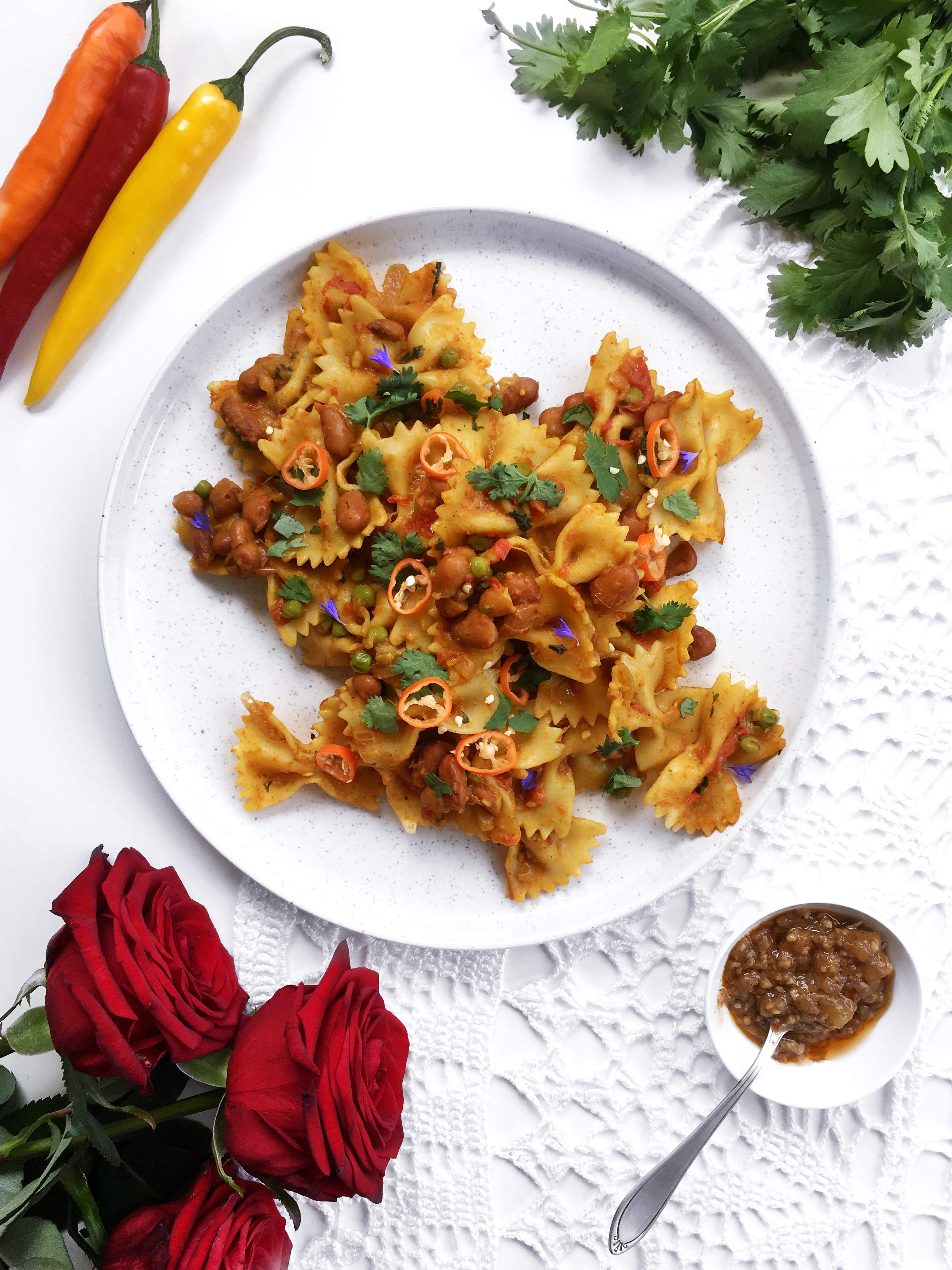 Now it is time to hit the stoves and create something delicious, and let me know in the comments down below what your favorite comfort food is!
If you decide to recreate this dish feel free to tag me on Instagram as I'd love to see your creations, and find me on Facebook!
One Love,
A.J.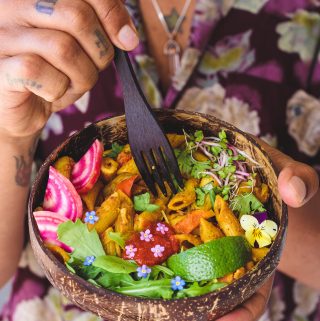 Curry Pasta
Curry and Pasta, comfort food at its best.
Ingredients
2 or 3

servings (or more)

pasta of choice

about 250 grams (dry weight)

1

red onion

chopped

7

cloves

garlic

minced

2

tomatoes

chopped

1

jar

Pinto Beans

1

bell pepper

1

cube

veggie bouillon

1

tsp

coriander

1

tbsp

curry massala

1

cup

water

1

pepper of choice

I used adjuma (extremely hot)

1

handful

cilantro

to taste

salt and pepper

1/2

tsp

mango powder

(optional)
Instructions
Add some oil to a pan and once hot add the chopped onions, cook these on medium for about 3 minutes before adding the minced garlic and cook for another 4 to 5 minutes or until slightly browned (not burnt). Now add the finely chopped tomatoes, curry massala and crumble a bouillon cube in the pan and stir to combine and cook for another 6 minutes until you get a nice sauce.

Now add the water, hot pepper, bell pepper and beans to the pan, bring it to a boil and let it simmer on medium for about 15 minutes or until you reached your desired constancy. You could add in some peas at the end for extra colour and texture. In the meanwhile you can boil the pasta.

Once the sauce and pasta are done you can mix them together and sprinkle with some cilantro to serve. Enjoy!