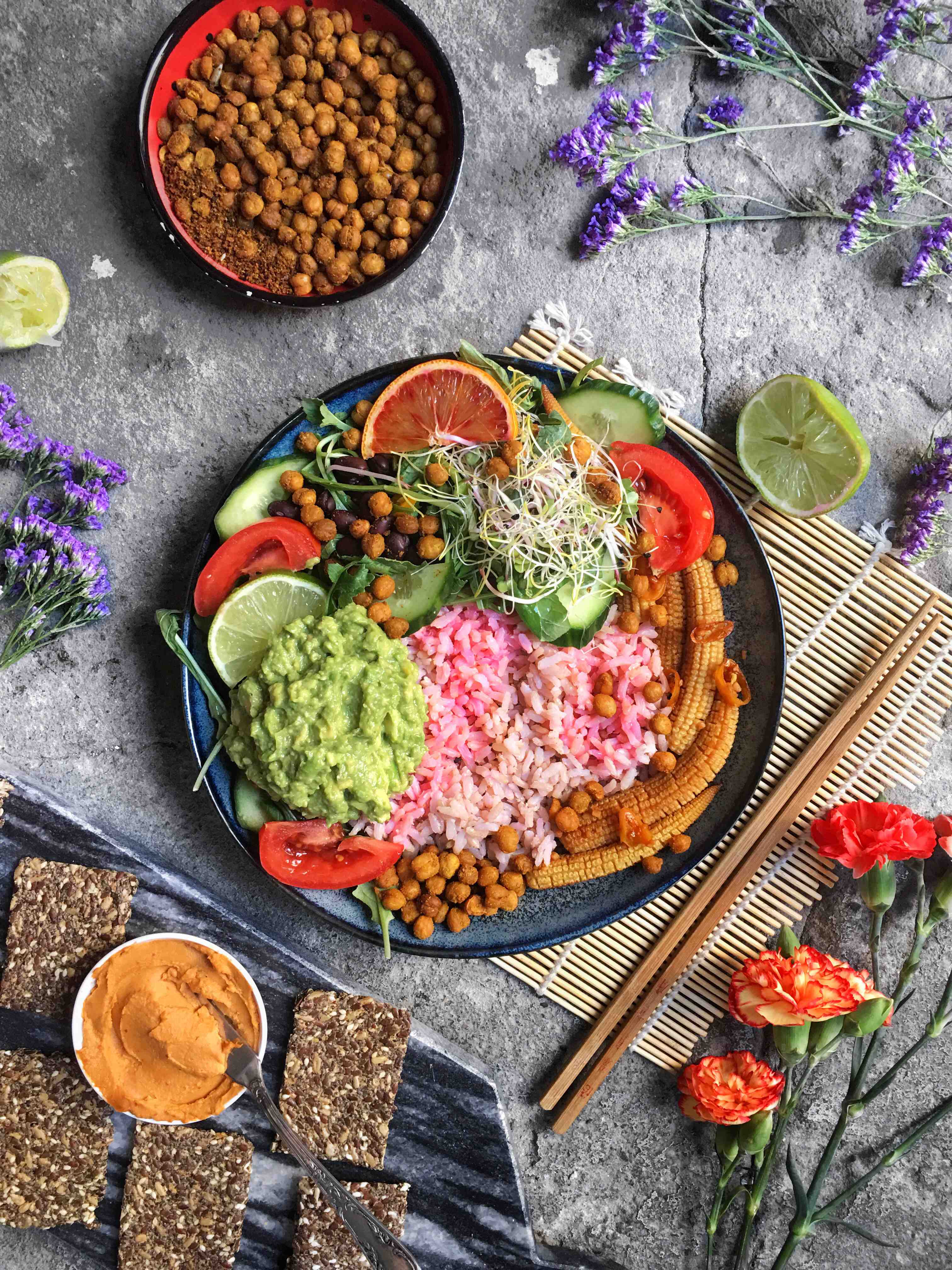 When people hear I'm vegan they usually think all I eat is salad and that I lack protein (lol), and although most of the statements made are false, I do love myself some salad! I could honestly probably eat salads for every meal, depending on what you call a salad of course. I'm not talking about just lettuce, tomato, cucumber and carrots dressed with some vinaigrette, oh no! We're talking about a salad jam packed with flavour that will leave you feeling satisfied and full until your next big meal.
And to those thinking you'll miss out on protein, I've got you! This salad combines (Unicorn) brown rice with black beans & crunchy chickpeas croutons, forming a complete protein.
Side Note: Keep in mind that if you do decide to make the colour changing Unicorn rice using brown rice that the colours will be more subtle (but still visible)!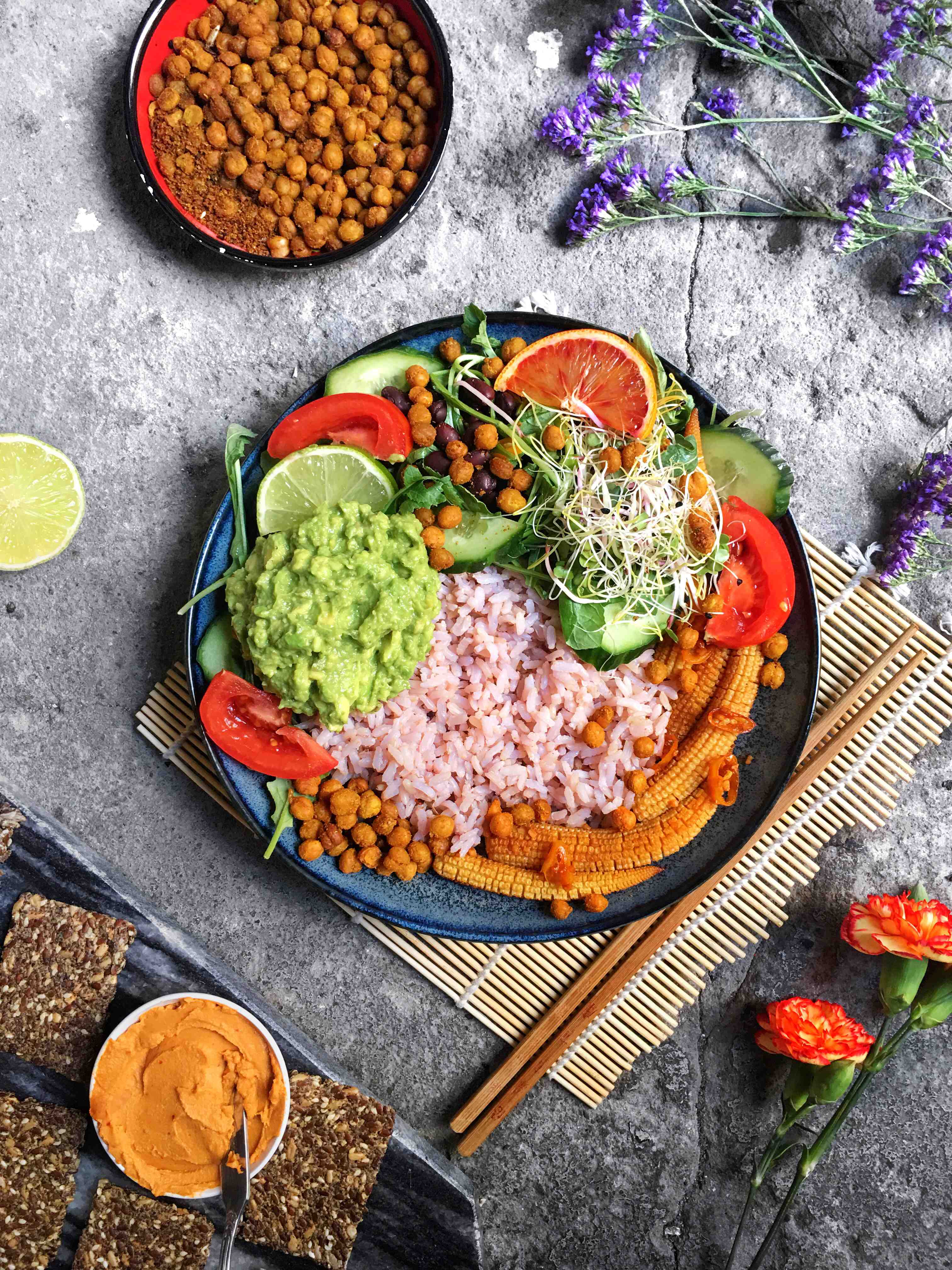 This Bowl combines an easy guac, sweet and spicy baby corn, rice, black beans, crunchy chickpeas, veggies and rice. When it comes to veggies you can use whatever you like, I went with wasabi arugula, which I found at my grocery store (albert heijn for all my dutch readers, not sponsored). This has a delicious wasabi taste without the heat, but feel free to use spinach, kale or whatever green you like instead. You could also take it up a notch by adding some (sriracha) hot sauce.
The roasted chickpeas are optionally as are the black beans. You can use whatever bean you like and replace the crunchy chickpeas with (gluten free) croutons or some nuts and seeds for added crunch.
Prepping tip: You can make a big batch of rice ahead of time (store in the fridge) & I made the crunchy chickpeas the night before (they store well in an airtight container). This will save you a lot of time.
Let me know if you liked the recipe in the comments below and if you decide to recreate this dish feel free to tag me on Instagram as I'd love to see your creations, and find me on Facebook!
One Love,
A.J.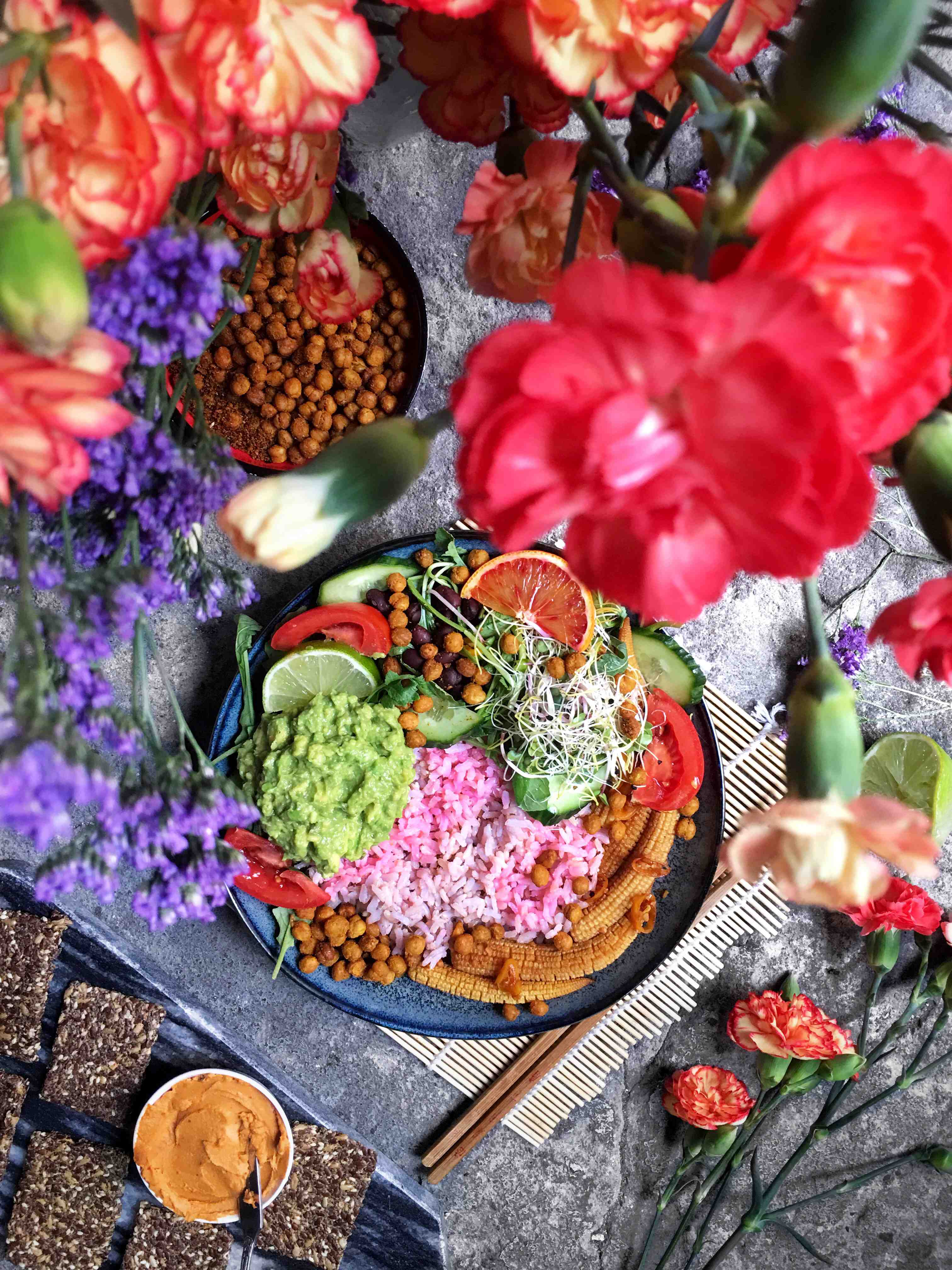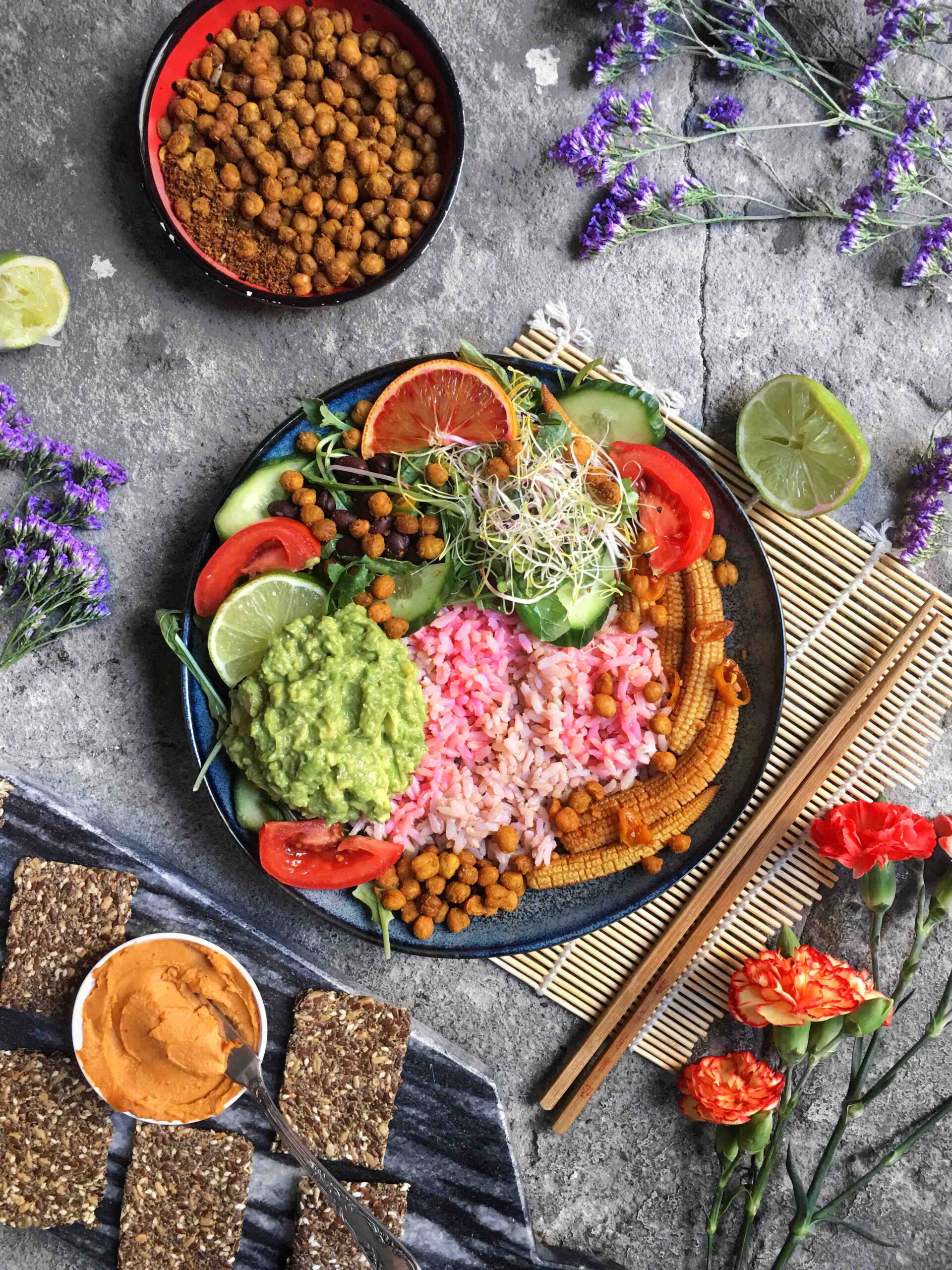 Guacamole Protein Bowl
Want to eat more healthy, but fear your losing out on protein? Look no further! I've got a delicious bowl with your name on it!
Ingredients
Guac and Salad
1

serving

brown rice

1

avocado

1

tsp

garlic powder

or 1 garlic clove

1

chili pepper

1

serving

sprouts

1

serving

arugula

or whatever green you prefer

1

serving

cucumbers

1

serving

tomatoes

1

serving

roasted chickpeas

recipe link in article

1

serving

black beans
Sweet & Spicy baby corn
1

can

baby corn

1

tsp

coconut sugar

1/2

tsp

soy sauce or tamari

1

chili pepper

1

tsp

garlic powder

or garlic chips

1

tbsp

water
Instructions
Sweet & Spicy Baby Corn
Start by making the baby corn. In a little bowl mix the water, soy sauce, coconut sugar and chopped chilli until combined. Simple wash and rinse the corn and now dry fry them in a pan on a low heat while occasionally tossing them until the corn becomes slightly brown. Now add the wet mixture on top of the corn (keeping the heat low) and let the water evaporate while mixing the corn well to get a nice sweet and savoury corn that's still quite juicy!
Simple Guacamole
Mash the avocado add minced garlic or the garlic powder, squeeze half a lime and add salt and pepper to taste. Optionally add some chopped chilli pepper and mix well. To make a real chunky guac add some chopped tomato, and diced red onion with some cilantro to take it to the next level.
Bowl
To make the bowl simply place all the ingredients (like pictured) in a bowl and serve with cold (or warm) rice. Optionally add some hot sauce. Enjoy!