By now you might now that I love trying out new vegan products, especially when it comes to food, let's face it I'm a foodie. Another thing you might know from me is that I love eating vibrant and colourful foods. Now with this knowledge on hand, you can understand I couldn't resist myself when I saw this pink pizza crust lying in my supermarket fridge. It's made using beets and another bunch of ingredients (all vegan I checked, not even a pinch of palm oil, win!), so excuse me while I call this a warm and crisp salad. Another thing I'd like to point out is that these posts are not sponsored unless it's stated as "sponsored content".
For as far I know this specific product is only available in the Netherlands at the Albert Heijn supermarkets, but I'm sure there are more beet pizza crusts around the world so keep reading for a yummy recipes, you'll love it! You can apply these toppings to any store-bought or home-made pizza crust, its simple yet delicious.
The company itself hasn't been around long, they are not exclusively vegan, but remember we vote with our money, so I'm always stoked to see non vegan companies making vegan products. Keep letting them know we are out there! Now I'm not gonna lie, I was skeptical when I first heard of this pizza, I was scared it would be to dry and crumbly.
I was pleasantly surprised when I took my first bite, the pizza wasn't dry at all and the bottom and crust had a nice crunch, another thing that I noticed is that the pizza didn't weigh me down and was easily digested. Would I buy it again? I'm sure I will! You know those days where you're feeling tired and don't want to spend more than five minutes preparing food but don't want to eat out or order food, well this is one of those dishes that's perfect for those days!
Now of course I can't let you go without a delicious recipe right!? Ok to be honest this is to simply to even call a recipe.
---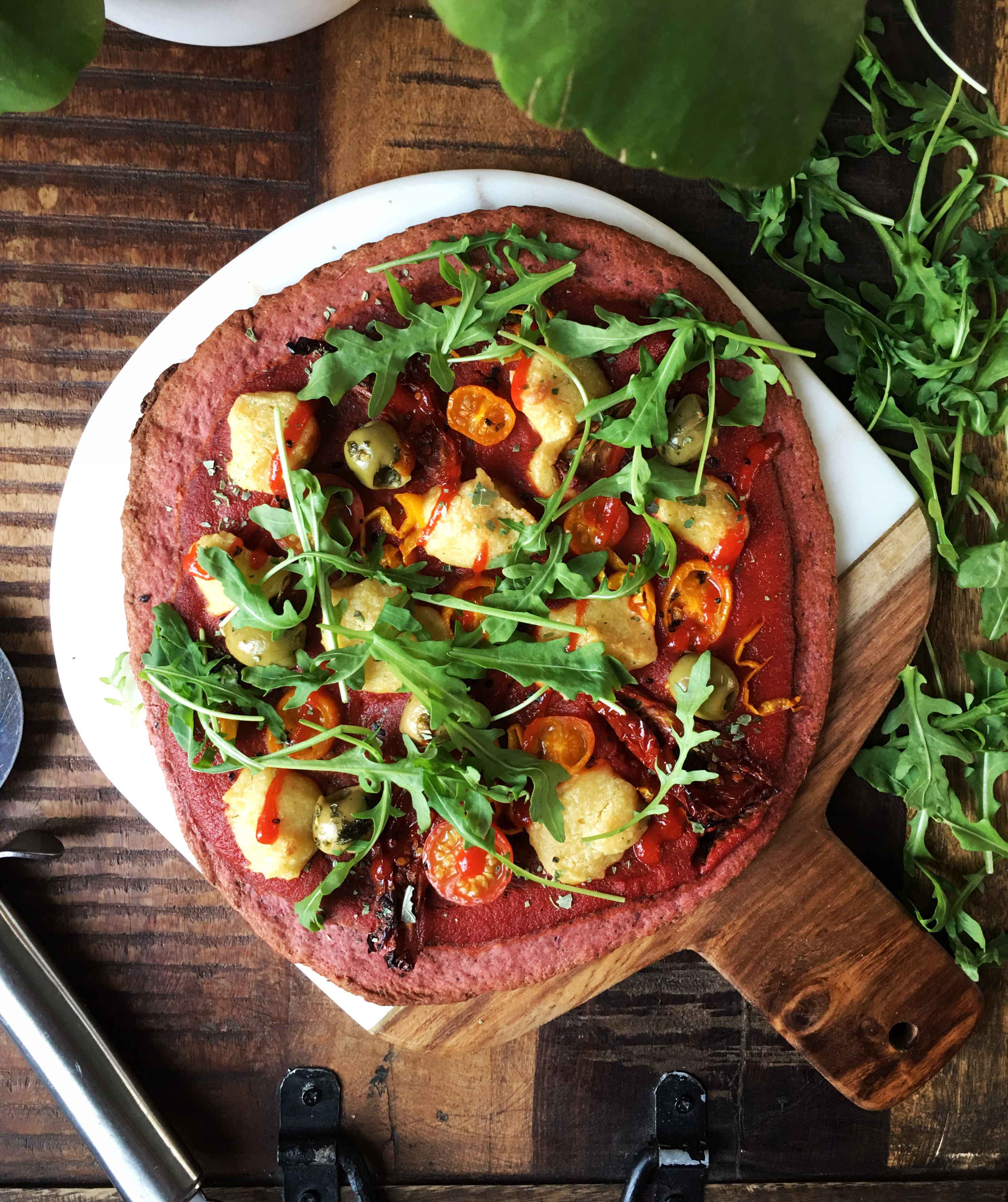 Ingredients:
Pizza Crust. I obviously used this beet pizza crust but any store-bought or home-made crust will work.
Tomato sauce
Cherry tomatoes, cut in slices
Olives, cut in slices
Hot peppers (optional), I used adjuma peppers, but keep in mind that my stomach is lined with sheets of metal and I'm basically a dragon.
Hummus, store-bought or home-made,
Arugula
Sun dried tomatoes
Hot sauce (optional)
Directions:
Start by adding the tomato sauce on top of the pizza crust, I used about 4 tbsp, but I'd say add as much as your heart desires.
Now place the remaining ingredients, except the arugula, on top of the pizza and add dollops of hummus, let's pretend its mozzarella.
Now cook the pizza in a preheated oven, this pizza had to cook for about 8 to 12 minutes in a temperature of 200°C or about 400°F
Add the arugula (and optionally hot sauce) on top en enjoy!


---
I hope you enjoyed this post, and feel free to leave a comment below sharing your favourite vegan product with me, or to tag me in your recreations on Instagram and don't forget to like my Facebook page.
One Love,
A.J.