If you'd ask me what my most comforting types of dishes are I'd go with soups, curries and casseroles, I'm definitely a savoury type of guy. Since we're in the middle of the holiday seasons it's about time we start sharing some delicious comforting dishes to share with the entire family. See this is what's so amazing about casseroles, they are the perfect dish to share with friend, families or random strangers on the street! I'll be serving this for my family and friends during christmas, its easy, affordable and of course delicious!
Every time I visit my sister-in-law she always makes the most delicious vegan dishes specially for me, one of my favourite dishes she makes for me is an eggplant dish similar to this from the oven, containing a tomato sauce and fried eggplants. No matter how many different dishes there are I always go for that one first! I love making dishes that spark my memory and this is definitely one, every time I eat it I'll be reminded of the times I visit my brother and sister-in-law and their loving home.
This casserole is a dish with a layer of sweet potato, chickpeas and baked eggplants topped with a delicious savoury tomato/coconut sauce. Instead of frying the eggplant I decided to bake it first to cut down the oil needed, especially since eggplant acts like a sponge. You can obviously sub certain ingredients if they don't fit your taste. For example try using regular potatoes instead of sweet or maybe add zucchini and use a different kind of bean instead of chickpeas, there are so many options! If you are HCLF you can even try baking it without oil, I'm not an expert so I don't know how this will work out, but feel free to let me know!
Now let's get baking! And feel free to leave a comment below sharing your favourite casserole dish with me, or to tag me in your recreations on Instagram and don't forget to like my Facebook page.
One Love,
A.J.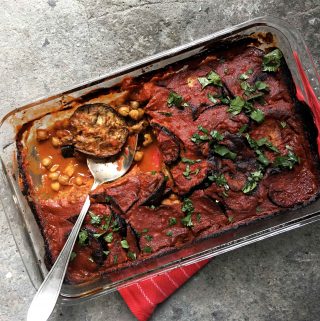 Sweet Potato/Eggplant Casserole
A warming and easy to make casserole perfect for the holidays, show your family and friends how delicious plant based foods are.
Ingredients
Baked Eggplants
2

eggplants

1/4

cup

extra virgin olive oil

1

tsbp

garam masala

1

tsp

chilli powder

(optional)

1/2

tsp

garlic powder

to taste

salt
Casserole
2

sweet potatoes

about 500 grams

1

can

chickpeas

2

cups

tomato sauce

1

cup

full fat coconut milk

4

cloves

garlic

minced

2

tsp

ras el hanout

1

tsp

cumin

to taste

salt
Instructions
Baked Eggplant
First we start by making the baked eggplants (you can also fry them, but I like to bake them as this uses less oil). Preheat your oven to 175 degrees celcius and make the oil mixture by adding the spices to the oil in your casserole dish (add salt to taste), this way your dish gets greased for the second part of this recipe. Slice the eggplants into about half an inch thick disks (or 1 centimeter) cover them all with the oil mixture and spread them out on a baking sheet covered with parchment paper. Bake them for about 20 to 30 minutes (depending on your oven) while flipping them halfway through. Remove them from the oven to finish the casserole.
Casserole
Increase the heat of your oven to 200 degrees celcius. Start by mixing the tomato sauce, garlic, coconut milk, ras el hanout, cumin and salt to taste. Now peel and cut your sweet potatoes the same way you did the eggplant, in disks. Place them on the bottom of the casserole dish, cover these with the drained and washed chickpeas. Now place your baked eggplant on top and cover it with the sauce. Bake it for about 40 to 45 minutes (depending on your oven). Remove the dish from the oven and it's ready to serve. Enjoy!